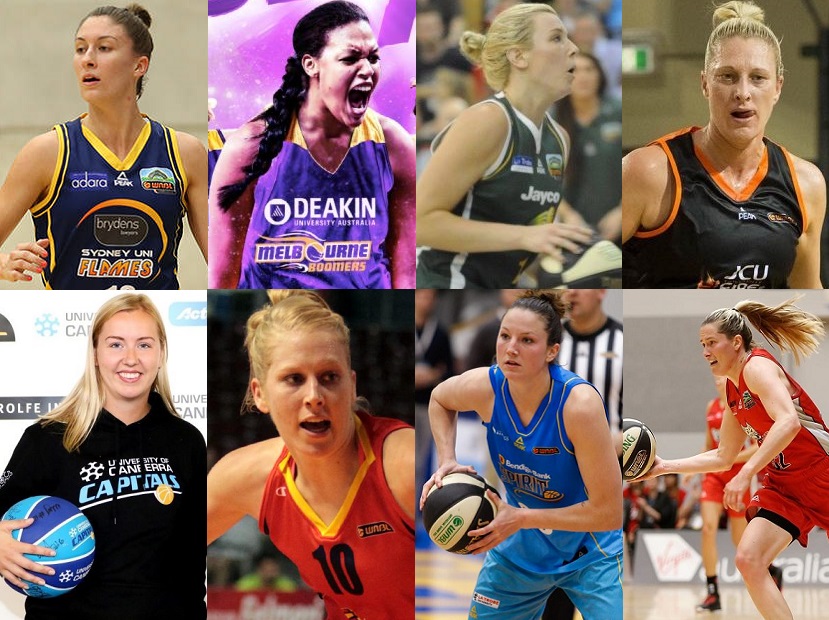 June 2, 2017 | WNBL news
Credit to Michelle Couling for Liz Cambage image.
A bevy of talent is set to hit the floor in the upcoming 2017/18 WNBL season with teams in the midst of signing a multitude of exciting national and international players during the off-season.
With approximately four months still remaining until teams will finalise their rosters for the beginning of the season, players with Olympic, WNBA and European experience have already been named alongside returning stars from the 2016/17 campaign and an injection of homegrown youth courtesy of Basketball AustraliaÕs Centre of Excellence.
Australian Opal Olympians
From last yearÕs Australian Opals Rio Olympic team, five players have already announced they will compete in the 2016/17 season.
Perhaps the biggest name in Australian womenÕs basketball, Liz Cambage has returned to the WNBL to play for the Deakin Melbourne Boomers and she will bolster the teamÕs front court alongside Jenna OÕHea (2012 London Olympian) after they won a WNBL Championship together in 2011.
An eight-year player in the WNBL, Tessa Lavey will make the move from the Perth Lynx to the Jayco Dandenong Rangers this season where she will reunite with old AIS team (and room) mates Carley Mijovic and Sara Blicavs.
Two Olympic debutants from Rio in Katie-Rae Ebzery and Cayla George (currently playing for Phoenix Mercury) will return to the WNBL after seasons in Europe, joining the Brydens Sydney Uni Flames and JCU Townsville Fire respectively.
Rounding out the Rio Olympic representatives, Rachel Jarry will play for the University of Canberra Capitals in 2017/18, fresh off a stint in France with Basket Lattes.
In addition to those Rio players, three-time Olympian Belinda Snell will also be back for the Flames.
In her 13th WNBL season, she was a critical piece of Sydney UniÕs Championship and in 2017/18, she should become just the 18th player to reach the 300-game milestone.
Returning Stars
Two members of that 300-game club will return to the Fire this season in Kelly Wilson and Suzy Batkovic.
Batkovic broke the record last year for WNBL MVPÕs, surpassing Lauren Jackson with a fifth award and she will now be aiming for a second three-peat while also going for her fifth Championship.
Wilson will move into the top ten in the league for games played during 2017/18 and alongside another veteran in Mia Murray, the two already have almost 600 games experience between them.
Abby Bishop, a team mate of BatkovicÕs at the 2012 Olympics, will reunite with the MAC Adelaide Lightning after playing there in 2011/12 and she arrives as the only player to interrupt BatkovicÕs MVP run, having been awarded the honour in 2015 as a member of the Caps.
Two ex-Boomers players have made the move west with Olivia Thompson (a two-time World Uni Games and Australian Under-17 representative) and Alice Kunek (ex-Melbourne captain and FIBA Oceania gold medallist) joining the Lynx.
A stalwart of the Bendigo Bank Spirit, Kelsey Griffin will once again lead the club in the front court and she will be aided by the inclusion of Betnijah Laney, who was a star in Perth LynxÕs 2015/16 run to the Grand Final.
MelbourneÕs two leading scorers in Brittany Smart and Maddie Garrick will complement their already impressive front court as the club significantly advance their Championship credentials for 2017/18.
The Jayco Rangers will welcome back last yearÕs co-club MVPÕs and now sisters-in-lawÕs Sara and Steph Blicavs while the addition of Spanish national captain Laia Palau will be a great benefit to those scorers andÊshe should also provide a mentoring role for Lavey as an experienced point guard.
WNBA
Currently representing the Connecticut Suns, Jordan Hooper is back in the WNBL after spending a season with SEQ in 2015/16, signing with the UC Capitals.
Jennifer Hamson, who has played for the LA Sparks, will aim to defend her Championship with the Flames while ex-Dallas Wings player Ruth Hamblin has made the move from the Lynx to the Lightning where she will operate alongside Bishop.
WNBA rookie Sydney Wiese has signed on with the Fire this season and already drained 22 points on 6-10 three-point shooting in her first season with the Sparks, following a college career in which she broke the Pac-12 Conference record for three-pointers made.
While only a couple of weeks into the season, the WNBA has already gotten a serious look at the offensive capabilities of Sami Whitcomb as she tied the league record for three-pointers in a half (six) while scoring 22 points in just 15 minutes in a game againstÊthe New York Liberty.
Last seasonÕs scoring leader with more than three points per game than any other player and one of the most exciting athletes to watch, Whitcomb will be back for Perth in 2017/18.
Basketball AustraliaÕs Centre of Excellence
In addition to that returning talent, three members of the Centre of Excellence will get their shot in 2017/18 with Townsville signing Zitina Aokuso while Rebecca Pizzey and Kiera Rowe will join the Rangers.
Still a teenager, Aokuso went viral last year when she dunked at the Australian Development Camp and alongside Cambage and Hamson who have achieved the feat at competition level, WNBL fans could very likely see the leagueÕs first ever dunk this season.
Pizzey and Rowe were a part of the Australian Under-17 team that won the World Championship gold medal in 2016, both playing all six games of the tournament.
Following the announcement in April that the WNBL has partnered with Fox Sports in a three-year broadcast partnership and a season spanning October-January, excitement continues to grow due toÊthese player signings with the 2017/18 fixture toÊbe released in the coming weeks.