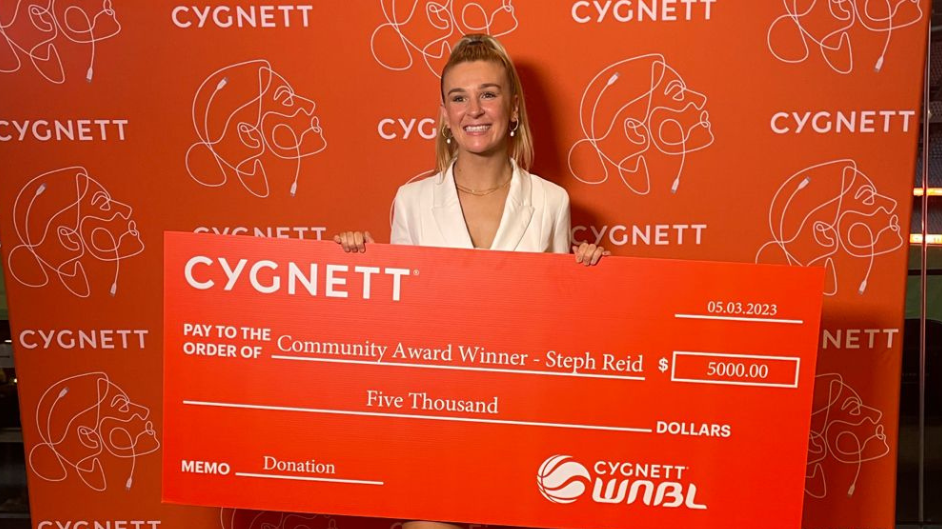 March 31, 2023 | WNBL news
WNBL Champion and inaugural Cygnett Community Award winner, Steph Reid, has donated the $5,000 reward to help benefit the Brighter Lives Townsville Hospital Foundation.  
The JCU Townsville Fire co-vice-captain had been keen to involve herself in the community since making the move up to North Queensland, and became a Brighter Lives Ambassador in November last year.  
Reid now devotes time in her busy schedule visiting patients in both the children and cancer wards at Townsville Hospital to brighten their days.  
"I have always believed being an athlete and having a platform we have such an opportunity to make a difference in the community. It's really important to give back to the communities that we become a part of and I'm really grateful Brighter Lives have given me an opportunity to do that," said Reid.   
"We are so impressed by Stephanie Reid, and she is a deserving winner of our inaugural Community Award and we're thrilled to know that the Brighter Lives Foundation in Townsville will be the beneficiary of Stephanie's $5,000 reward," said CEO of Cygnett, Paul Santoro.   
 "Stephanie is a remarkable and inspiring role model and thank her for all of her dedication and commitment to her local community. At Cygnett, we believe strongly in giving back to our community and Stephanie Reid shares this belief and we value her contribution and wish her all the best in her next chapter." 
In-line with the annual Brighter Lives Foundation's Giving Day on 30 March, a 12-hour fundraising event to help raise funds to support patients, visitors, staff and projects across Townsville Hospital and Health Service facilities, Reid paid forward her Community Award and set up a fundraiser for the Foundation, raising $5,500.  
View this post on Instagram

"This charity is so important to the Townsville community. With Townsville Hospital being the biggest in North Queensland and also home to many specialists, a lot of families relocate for treatments and surgeries," said Reid.  
"I hope that the $5K donation can help further their support they provide with their many volunteers but also increase funding towards new equipment that can help to treat its many patients from Townsville and the remote communities people travel from to come here." 
You can still donate to help the Brighter Lives Foundation reach their goal of $70K here.