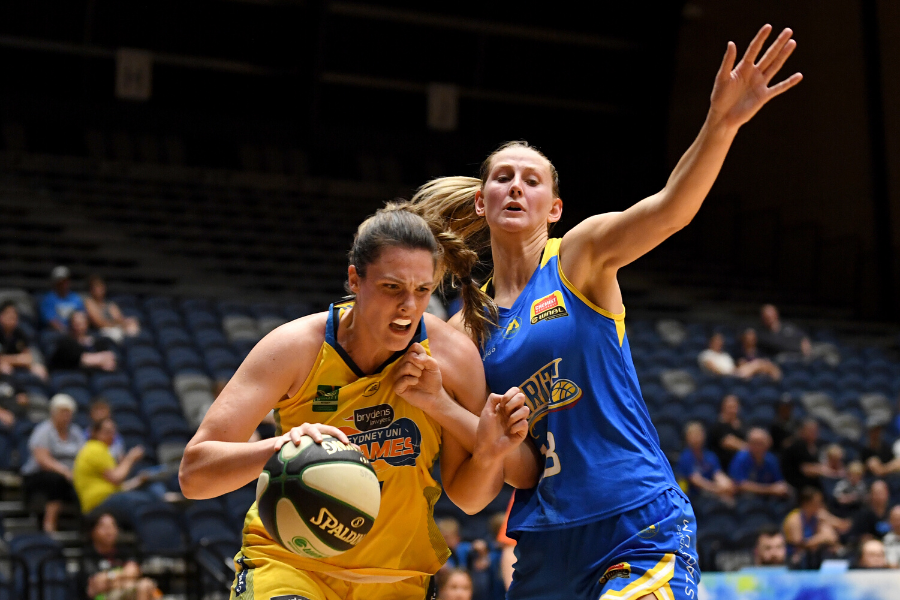 December 19, 2019 | WNBL news
In a season marred by setbacks, the Bendigo Spirit would have to pull out all the stops if they hoped to defend their home turf against the Sydney Uni Flames.
Though they showed exactly the kind of heart that has kept them competitive in most contests throughout the WNBL season, a late rally by the Flames proved too much in what turned out to be an absolute thriller, adding another loss to the Spirit's season, who were nevertheless far from outclassed.
With Bendigo leading through much of the contest, it was up to the Flames' steely-nerved veteran Alice Kunek (20 points, 6 rebounds, 2 assists) to keep things close. Jessica Kuster (20 points, 7 rebounds, 2 assists) then came alive with the game on the line, proving a menace on the boards and acting as a key finisher for Sydney Uni on the fast break.
Spirit forward Carley Ernst (20 points, 7 rebounds, 5 assists) made her presence known early and often, finding her spots and leading all scorers with 15 first-half points, while Kelly Wilson (19 points, 5 rebounds, 2 assists) displayed her trademark clinical precision, knifing through a tenacious Flames defence committed to shutting her down.
Though a victory was not on the cards for Bendigo's Gabe Richards (5 points, 5 rebounds), there was still cause for celebration as she passed 3,000 points for her WNBL career.
For the Flames, this victory pushes them closer to playoff contention as they eye the fourth and final postseason slot currently held by the Adelaide Lightning. They'll have an opportunity to close that gap even further when the two teams clash at Brydens Stadium in Round 11.
Bendigo won't have much time to reflect on the defeat, heading on the road for a tough matchup against the UC Capitals (8-3) on December 21. The Capitals could be out for blood following their defeat last week at the hands of the top-seeded Southside Flyers, and Bendigo will have to work hard for a better result than they had in Round 8, when the defending champions lead wire to wire in a 66-91 blowout.
The path ahead doesn't get any easier for the Flames, playing the dominant Flyers (12-1) in Dandenong this Saturday. Since suffering their lone defeat against the Capitals on November 7, Southside have reeled off 6 straight wins, outscoring their competitors by nearly 14 points per game in the process.
Sydney Uni held their own in their last encounter against the Flyers in Round 2, keeping up with the league's most impressive team until a fourth quarter flurry brought them down, 72-85.
WNBL ROUND 10
BENDIGO SPIRIT (Carley Ernst 20, Kelly Wilson 19, Abbey Wehrung 15)
SYDNEY UNI FLAMES (Alice Kunek 20, Jessica Kuster 20, Colleen Planeta 14)