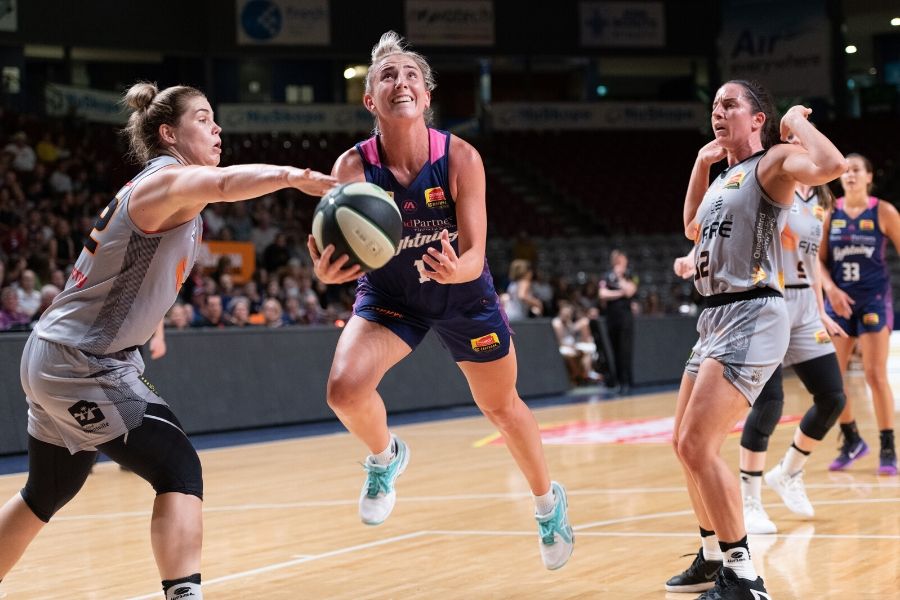 January 17, 2020 | WNBL news
Opals Olympian Steph Talbot tonight stamped her imprimatur all over Adelaide's 77-60 win over Townsville at Titanium Security Arena with 162 seconds of pure winning magic.
The Fire had cut the deficit to 10 on a Tess Madgen 3-pointer but with 2:42 left, Talbot turned up her game with a tough basket, splitting the Townsville defence for 69-57.
Fire coach Shannon Seebohm took time-out and Julie Vanloo immediately struck a rainbow triple for 60-69.
Talbot then swished a long basket, and Nicole Seekamp scored inside, before Talbot intercepted a pass in Townsville's offence. That led to a Brianna Turner fast-break lay-up.
Inside the last minute, Talbot threw a slick assist to Kathryn Westbeld before securing a defensive board at the other end, her 10th, making for a double-double with her 16 points.
It wasn't just the Talbot show though: Turner had 15 and 9 rebounds; Lauren Nicholson 14 and 7, while Seekamp added 12 points and 9 assists in what was an all-round display of the Lightning's depth.
On the flipside, scoring was tough for the visitors: Although Madgen led the Fire with 19 points, she had 11 in the first quarter and had to earn every subsequent look against a tight Talbot defensive effort. Darcee Garbin's 16-point, 10-rebound double mitigated the blanketing of Madgen to a degree, but the Fire simply couldn't sustain their early intensity for the game's duration.
Nevertheless, that energy, which has been on show during their recent resurgence, gave plenty of reason for Lightning fans to be frightened at the end of the first quarter.
Madgen opened the game in full flight in front of a cluster of fans who followed her stellar junior career in South Australia, dominating proceedings.
Hitting a three, dishing assists, drives, mid-range buckets: The Fire skipper unveiled her full offensive arsenal with an aforementioned 11-point first quarter on 5-of-6 shooting. She largely was the reason scores were locked 22-22 at the first break, Townsville actually edging ahead 24-22 after Vanloo opened the second period with a basket.
That flicked the switch for the Lightning: Talbot drove the lane to tie it, before Chelsea Brook sank consecutive threes against the Fire zone, sandwiching a great defensive stand on Garbin in between to help force a turnover.
It was at 5:34 when Madgen drove to get the scoreboard ticking again, but it just set off another Adelaide time-bomb: Seekamp with a lay-up, then a long jumper, before Talbot exploded to the hoop.
At 36-26 ahead, Adelaide had uncorked a 14-2 run and Lightning were ahead 40-28 when Turner followed up her own miss inside the last two minutes to half-time.
A triple by Carleton and a Garbin basket meant the Fire trimmed five off the deficit, leaving Adelaide ahead 40-33 at the main break, Madgen still crucial with 13 points for the half, but only 1-of-6 in the second quarter after facing considerably more pressure.
Nevertheless, the Lightning's second quarter burst foreshadowed the game's remainder, as Adelaide eventually charged ahead and confirmed its spot for the playoffs, the win crucial as it fights against the UC Capitals and the Melbourne Boomers for a top 2 spot.
Speaking after the game, Lightning coach Chris Lucas was pleased with his side's defensive work in a game he deemed "a bit of a grind".
"It wasn't pretty but we got the result and held them to 60 points. I think that's a pretty good defensive effort after they scored 185 points last weekend in their two games," Lucas said.
Meanwhile, for the Fire, coach Shannon Seebohm was consolatory, pointing to his side's efforts early in the match as a positive.
"It's certainly better than the first quarters we've had against them the last two times we played," Seebohm explained.
"That was our goal obviously, to ensure we were in the game at quarter time."
LOOKING AHEAD
The Lightning will enjoy the rest of the weekend off, before turning their attention to a Round 15 fixture against the league-leading Southside Flyers at Dandenong Stadium (Saturday, 25/1, 2.05pm AEST).
Meanwhile, the Fire will now look to regroup ahead of a flight to Perth, where they'll take on the Lynx this coming Sunday afternoon at the Bendat Basketball Centre (2.05pm AWST).
ADELAIDE LIGHTNING 77 (Talbot 16, Turner 15, Nicholson 14)
TOWNSVILLE FIRE 60 (Madgen 19, Garbin 16, Vanloo 10)