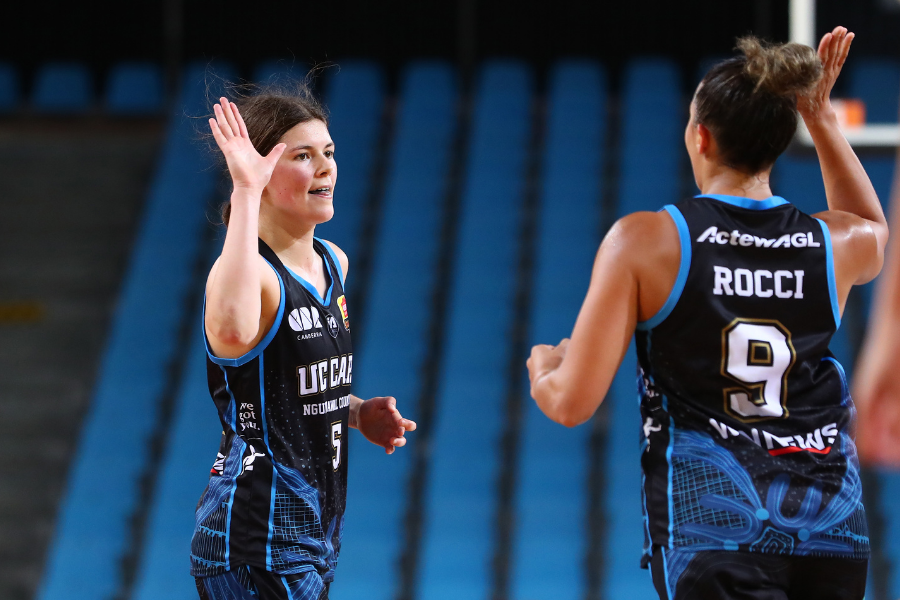 November 26, 2020 | WNBL news
It seemed only something special would snatch a victory for UC Capitals in their 2020 Chemist Warehouse WNBL clash with a spirited Perth Lynx in Cairns on Thursday.
Enter Jade Melbourne.
The boom teenager added another clip to her ever-expanding highlights reel by nailing a last gasp match-winner as the Capitals finally overcame the gutsy Lynx 73-70.
In just her seventh WNBL game, the 18-year-old who has only just completed her year 12 exams nailed a booming three-pointer with barely seven seconds left on the clock to ice the Capitals' sixth straight win.
Melbourne has been the find of the season to date, already touted as a future Opal after remarkably forcing her way into the two-time defending champion's starting five in her rookie year.
Yet she had little impact on the scoreboard initially as second-last Perth threatened to pull off what would have been the upset of the season.
Still smarting from their 40-point loss to Jayco Southside Flyers on Wednesday, the Lynx hit back against ladder leaders the Capitals and at one stage led by nine.
Inspirational leader Kelsey Griffin, who had a game high 21 points plus 12 rebounds, and fellow Opals Maddie Rocci (11 points) and Marianna Tolo (nine points, six rebounds) did their best to keep the Capitals in the game after a major fright from the Lynx.
Indeed Melbourne was just 1-7 from the field with two points to her name in the dying moments.
However, it hardly dented the youngster's confidence as Melbourne stepped up to drop the clutch three-pointer without batting an eyelid.
"She wants the big moment and she doesn't shy away from it," a relieved Capitals coach Paul Goriss said of Melbourne.
"I don't coach her. I just let her play."
Melbourne was given the chance to seal the result after the Capitals reeled in the Lynx in the final 90 seconds.
Big threes by Griffin and bench weapon Tahlia Tupaea locked up the scores at 70-70 with 49 seconds left before Melbourne stood tall for the Capitals (6-1 record).
"I was ready to knock it down. I get heaps of confidence from my teammates, they trust you," a beaming Melbourne said.
"I am fortunate to be part of a great team. I am loving every minute of it."
Perth's Opals guard Katie-Rae Ebzery (17 points, five assists) missed a chance to lock up the scores in the dying moments after Melbourne's heroics as a gutted Lynx slumped to a 1-7 record.
It was a rare miss by Ebzery who was ably assisted by fellow Opal Darcee Garbin (14 points, 11 rebounds) and livewire Alex Ciabattoni (13 points, 5-5 from the field).
"That is a super talented side, the reigning champs and all that, I am proud of how we went out there," Ciabattoni said.
"I thought we definitely did take it to them."
The Capitals led 28-19 at the first break before the Lynx turned the tables, grabbing a 43-39 halftime buffer before scores were locked up at 55-55 at the final interval.
The Capitals next face Villawood Properties Bendigo Spirit on Saturday while Perth play the Spirit on Tuesday, both in Townsville.
Laine Clark is a freelance contributor to WNBL.basketball
UC Capitals – 73 (Griffin 21, Rocci 11, Tolo 9)
Perth Lynx – 70 (Ebzery 17, Garbin 14, Ciabattoni 13)