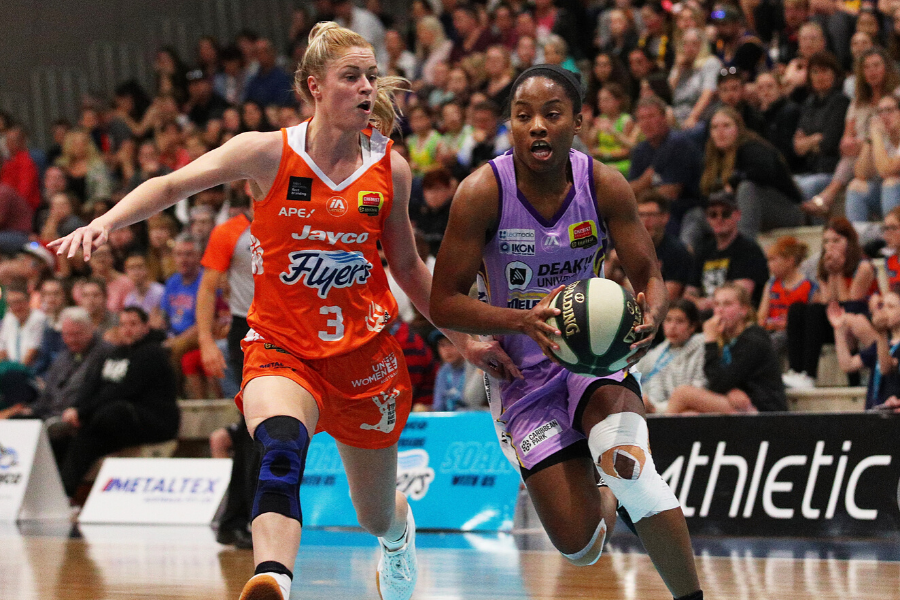 December 7, 2019 | WNBL news
Just when you thought life couldn't get much better for the table-topping Southside Flyers, Cheryl Chambers' team delivered a costly loss to their rival Melbourne Boomers.
If crosstown rivalries spark passion no matter where either side sits on the ladder, then this match-up between the table-topping Southside Flyers and third-placed Melbourne Boomers had to be classified as a bona fide blockbuster. The fireworks certainly came quickly and came often.
WNBA Star and Melbourne Boomers point guard Lindsay Allen made her intentions known early in the Dandenong Stadium encounter. The Washington DC product dazzled from the get-go and raced to 13 points in the first half alone.
Complemented by Opal Cayla George's robust work inside, Guy Molloy's team threw the gauntlet at Cheryl Chambers' Flyers. But on the back of an incredibly well-rounded team display, where four of the five starts boasted 8 points or better at half-time, the Flyers again proved too much.
It was Flyers captain Jenna O'Hea who was most exemplary, turning in a 22-point, 6-assist performance that cannot be defined merely by numbers. Court-side, her vocal leadership is most impressive and shows why she is such a factor for the Opals heading into Tokyo.
The contributions of Sara Blicavs (17 points, 10 rebounds) Leilani Mitchell (18 points, 6 assists, 4 rebounds), and Mercedes Russell (14 points, 9 rebounds) were critical in crucial stages – particularly when the Boomers made a fourth-quarter charge that the Flyers repelled.
It was left to a clutch lay-up from Mitchell with fewer than 3 minutes to go that ended a Boomers 11-0 run which saw them threaten a miraculous comeback.
That granted the Flyers the breathing room they needed – 4 points, at the time – and saw them cruise through the final seconds to an 89-82 win.
With FIBA Hall of Famer Michele Timms watching on, the Flyers secured the coveted Michele Timms Cup with the victory.
Boomers coach Guy Molloy said it was a "weird game" and his side was drawn into playing into the Southside game plan.
"We kept letting them get out to a weird game that seemed insurmountable," he said.
The Flyers next host the Townsville Fire (1-7) at Dandenong Stadium on December 13, a match that even the most optimistic Fire fan would admit is an incredibly imposing fixture for the visitors.
If Molloy is expecting to have the Flyers figured out next time they meet, Southside coach Cheryl Chambers said they could expect more changes.
"We're all about trying to improve our defence so we tried a couple of things differently," she said.
"We tried a few things and next time we play them we'll try a few different things."
That's followed by an away trip to Canberra to face the UC Capitals (8-2) on December 15, which shapes as one of the most mouth-watering match-ups of the season, and a potential grand final preview.
The Melbourne Boomers now must ready for a 2-game series against the Perth Lynx. The first at the State Basketball Centre on December 8 before the return leg in Perth at Bendat Basketball Centre on December 15.
WNBL ROUND 8
SOUTHSIDE FLYERS 89 (Jenna O'Hea 22, Leilani Mitchell 18, Sarah Blicavs 17)
MELBOURNE BOOMERS 82 (Cayla George 19, Maddie Garrick 18, Lindsay Allen 15)