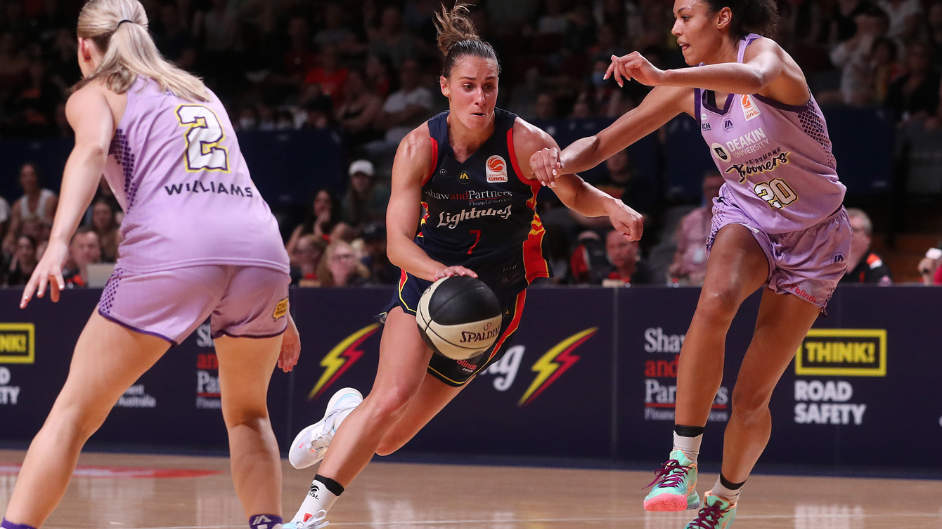 June 16, 2023 | WNBL news
Friday proved to be a big news day as a star skipper and young gun inked new deals ahead of #WNBL24, this is The Week That Was.
Lighting strikes 4 times
Adelaide Lightning and Steph Talbot have shown their long-term commitment to each other for the next four years.
The World Cup All-Star Five member ruptured her ACL late last WNBL season and while she will miss the majority of #WNBL24 Talbot will add her high basketball IQ to Nat Hurst's coaching staff.
"Rehab is going well, I'm on track. I started running last week which is a bit exciting, very slow and uncoordinated but a big milestone," she told Lightning Media.
Read more on the Lightning website here.
Swain Train arrival
After departing Canberra, the Swain Train has arrived in Sydney.
WNBL young gun and 2023 WNBA draftee Shaneice Swain has signed with the Flames for the next three seasons with the final year a mutual option.
The 19-year old, who averaged 14.5 points, 3.4 rebounds and 2.1 assists for the Caps last season, joins a hot roster featuring Tess Madgen, Cayla George, Lauren Nicholson, Kiera Rowe and Emma Clarke.
Read more from the Flames here.
Cubillo joins unwanted but illustrious club
Two-time WNBL champion Abby Cubillo has leaned on Kristy Wallace, Gemma Potter and Steph Talbot as she recovers from surgery on an ACL injury that will sideline her in #WNBL24.
The Adelaide Lightning guard suffered the blow while representing the Brisbane Capitals in her hometown of Darwin in NBL1 North last month.
View this post on Instagram
Cubillo, 24, is four weeks post-surgery.
"Looking at them gives me a lot of confidence," told The Week That Was.
"I spoke to Wally (Wallace) pretty soon after and Gemma reached out to me. Wally sent me me a list of questions to ask the surgeon and Gemma was giving me the rundown on everything which was great.
"Talby (Talbot) said 'welcome to the prestigious ACL club!' so those girls have been really great for me especially pre surgery when I had no idea what I was doing."
Storm Form
In the WNBA, Sami Whitcomb (18 points, 6 rebounds, 4 assists) had a night out in the Storm's 83-69 win over Phoenix Mercury on Wednesday before Ezi Magbeor earned Player of the Game honours with a 23-point-11-rebound double-double in Friday's 96-63 defeat to Cayla George (2 points, 1 rebound, 1 assists) and her Las Vegas Aces.
Also on Friday, Alanna Smith teamed 11 points with 8 rebounds, 4 assists and 2 steals for Chicago against Indianna. Former Perth Lynx star import Marina Mabrey recorded a career-high 36 points for the Sky.
Familiar Ferns
WNBL players past and present will represent the Tall Ferns at this month's FIBA Asia Cup in Sydney.
Tahlia Tupea, Penina Davidson, Stella Beck, Krystal Leger-Walker have all been selected in the 12-player team which will be coached by 2021-22 Melbourne Boomers championship coach Guy Molloy.
New Zealand are in Pool A with the Opals in Pool B.