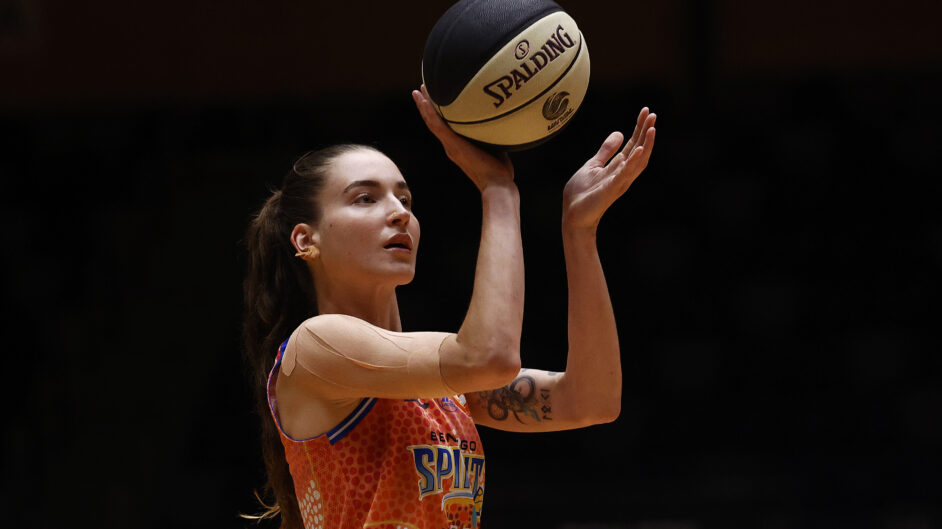 June 23, 2023 | WNBL news
Another massive move highlighted why this is the biggest free agency period in WNBL history, two young guns will begin their league careers in #WNBL24 while the Opals team has been announced for next week's FIBA Asia Cup, welcome to The Week That Was.
The 2021-22 Suzy Batkovic Medallist Anneli Maley is going west.
Bendigo Spirit, where she's played for the past two seasons, announced on Thursday afternoon that coach and player had mutually agreed to part ways which cleared the path for Perth Lynx to announce on Friday morning that they'd landed the World Cup bronze medallist's signature.
Lynx coach Ryan Petrik is delighted with his boom recruit.
"Anneli is the best rebounder I've seen in my time in the WNBL, but there's way more to her game than that," he said.
"The tenacity and intensity she plays with, each and every possession, is infectious, and lifts everyone around her to play harder for longer. But it's also the rate of improvement that's scary, every season she comes back with new weapons to her game because she puts in the work.
"The way Anneli likes to play, inside our pace and space styled system, should be a match made in heaven, and we cannot wait to start working with her."
View this post on Instagram
Maley joins a Perth roster which features Amy Atwell, Mackenzie Clinch Hoycard, Chloe Forster, Miela Goodchild and Steph Gorman.
Sydney Flames announced that Sydney product, Vanessa Panousis has re-signed for the #WNBL24.
Panousis, who becomes the Flames' seventh rostered player for WNBL24 alongside Cayla George, Lauren Nicholson, Tess Madgen, Shaneice Swain, Kiera Rowe and Emma Clarke, has re-signed with the club on a one-year deal.
FOWLER CAPS WNBL DREAM
Alex Fowler grew up in Townsville attending Fire games, idolising league stars and will now forge a WNBL career of her own.
The 21-year-old, who carved out a brilliant college career with the Portland Pilots, has joined a UC Capitals roster brimming with young talent where she reunites with Australian under-17 and 19 teammates Jade Melbourne and Gemma Potter.
"I'm really excited but also really nervous, playing in the WNBL is something I've always wanted to do," Fowler told The Week That Was.
"As a kid, I was doing all the little camps, Fire academy, I'd go to every single game, there wasn't a single player I didn't admire and look up to so it's going to be cool when we travel to come play Townsville."
Fowler is excited for what the Caps can build under coach Kristin Veal.
"I'd heard really great stuff about Vealy as a coach and a person. I'm hoping I can make some impact towards more success this season. I feel like we'll come in almost as underdogs, the way people may perceive us this season, we are a young group from the players that have been announced."
ISSIE SQUARED
What's better than one exciting young Australian star called Issy? Two!
That's the case for Adelaide Lightning coach Nat Hurst who not only has Isobel Borlase on her team but now Isabelle Bourne after signing the University of Nebraska graduate and Gems star in a major coup.
Hurst said she was delighted Bourne, one of the most sought-after Aussie collegiate players turning pro this year, chose the Lightning and that the 22-year-old can make an instant impact.
GREEN AND GOLD GO TIME
The Opals return to the court in Sydney next week for the second FIBA tournament in less than 12 months and there's WNBL talent in every position and throughout the coaching ranks.
The 12-player team features eight WNBL champions, a league MVP and core of players who will be in action in #WNBL24.
The team is led by reining Coach of the Year and championship coach Shannon Seebohm, his assistants include Southside Flyers coach Cheryl Chambers, Melbourne Boomers assistant Kristi Harrower and emerging mentor Renae Garlepp, a two-time WNBL champion as a player.
View this post on Instagram
Opals team: Amy Atwell, Chloe Bibby, Keely Froling, Darcee Garbin, Shyla Heal, Chantel Horvat, Alice Kunek, Tess Madgen, Anneli Maley, Lauren Nicholson, Maddy Rocci, Lauren Scherf.