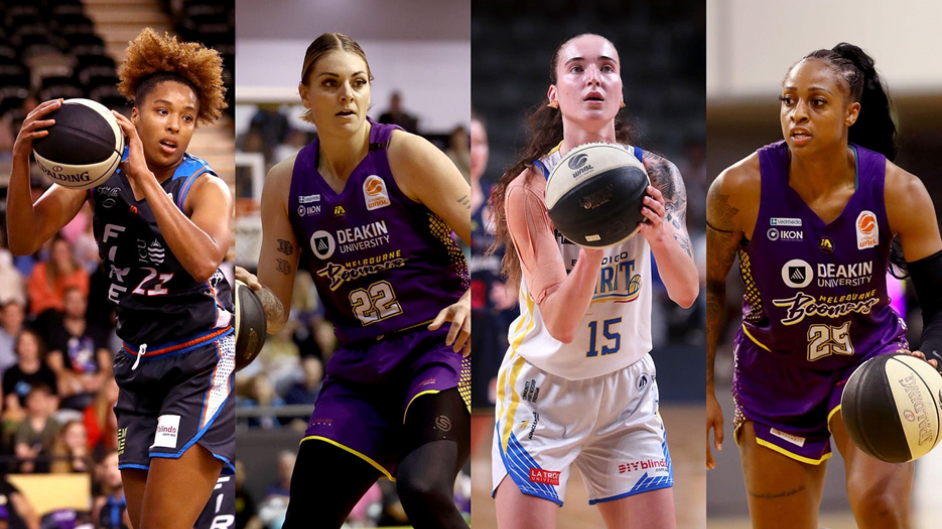 February 19, 2023 | WNBL news
By Hayley Wildes | The Pick and Roll
There's still plenty to play out in the 2022/23 WNBL season with a couple of weeks remaining in the regular season and all playoff positions up for grabs. It's been a season to remember so far and you get the feeling the post-season action is going to be electric with such an even upper-echelon of teams.
With that in mind, it's the superstars across the league that have helped shape their respective teams' Championship hopes so far this season and it's time to take a look at the contenders for the Suzy Batkovic Medal, awarded to the WNBL's Most Valuable Player.
The 2023 WNBL MVP will be crowned at the WNBL Awards Night, being held on Sunday 5 March at the Medallion Club, Marvel Stadium. Tickets are available here.
MVP voting is decided by both coaches and the lead referee conducting a 3-2-1 vote at the conclusion of each regular season game.
Cayla George (Melbourne Boomers)
18.9 points, 11.8 rebounds, 4.7 assists, 48% FG, 41% 3FG, 17 games.
It's been an incredible season for Cayla George, to say the least. Averaging the most minutes in the league at just under 38 per game – she played every single second of the double-overtime classic against Townsville earlier this week – George is a force on both ends of the court.
Her ability to stretch the floor (she's second in the league for three-point makes per game at 2.8) and go to work inside is what makes her a match-up nightmare, while on the defensive end she moves her feet well to defend fellow bigs and fights for every rebound.
Second in the league in scoring and first in rebounding, George has recorded a double-double in 13 of 17 games played, including the masterpiece performance against Canberra in January when she tallied 37 points and 17 rebounds.

Perhaps the biggest issue to George's MVP case is the fact that Tiffany Mitchell and Kristy Wallace have both put together dominant seasons in their own right and will undoubtedly take some votes away from George. It's certainly not the worst problem to have for Boomers fans hoping for back-to-back Championships.
Tiffany Mitchell | Melbourne Boomers
19.5 points, 5 rebounds, 5 assists, 48% FG, 43% 3FG, 14 games.
The leading scorer in the league, Tiffany Mitchell has gone to a new level in her second WNBL season and is one of the toughest players to guard in the league, especially when she's driving to the bucket with assertiveness.
There's been stages in games this season when Mitchell has looked a class above others on the court and has made the game look so much easier than it really is. Whilst she starred in the Boomers' Championship run in 2022, this season Mitchell's shooting efficiency has skyrocketed and thus made her that much more of a threat.
She shot 39% from the field last season and currently boasts a 48% shooting clip, while her three-point shooting improvement is remarkable, rising from 27% in 2021/22 to 43% this season. It's a credit to the work she's put in and she's also doubled her assist rate to 5.2 per game as the Boomers have made it a collective effort to cover the loss of the injured star point guard Tess Madgen.
While Mitchell's playmaking has improved, turnovers remain an issue. For the 5.2 assists per game, she dishes out, she's also turning the ball over nearly as much, averaging a league-high 4.6 turnovers per game.
The same goes for Mitchell as it did for George in terms of the Boomers' big three potentially taking points away from each other. Mitchell also missed three games due to injury, which may be tough to overcome.
More: A chip on the shoulder: How Tiffany Mitchell became an MVP contender
Anneli Maley | Bendigo Spirit
16.4 points, 11.5 rebounds, 2.2 assists, 41% FG, 30% 3FG, 19 games.
Anneli Maley is a force of nature as she runs up and down the court with reckless abandon (in the very best way possible) every second she's in the game. It's what has made Maley a star in this league and will see her back challenging for a WNBA roster spot with the Chicago Sky in a couple of months.
Maley has had a lot more help this season in Bendigo with the four huge additions of Kelsey Griffin, Kelly Wilson, Alicia Froling and Abbey Wehrung all playing their part. While those four have made their presence felt, it's still Maley who is leading the way, especially with Griffin missing the last few games.
After starting the season hot, the Spirit certainly have a fight on their hands to qualify for the post-season, and having Maley – the reigning WNBL MVP – on their team might just be the biggest trump card of them all as she can single-handedly turn a game on its head.
Tianna Hawkins | Townsville Fire
17.2 points, 8.6 rebounds, 1.8 assists, 54% FG, 33% 3FG, 18 games.
Townsville is on a tear right now and while Aussie stars Steph Reid and Lauren Nicholson have been sidelined at times recently, the constant for the Fire has been Tianna Hawkins. She played all 50 minutes of the double-overtime classic against Melbourne on Wednesday night, finishing with 17 points, 14 rebounds, 4 steals and 3 assists. She than backed that up last night with a monster 32-point outing against the Spirit.
Hawkins has been beasting all season long, scoring in double figures in all bar three games and her presence on both ends – alongside Mikaela Ruef – has been a huge factor in the Fire's success.
Townsville's import selections have been spot on this season, with Hawkins proving to be one of the best bigs in the league and Karlie Samuelson's shooting (leading the league in field goal percentage and three-point makes per game) a real difference-maker.
Kayla Thornton | Southside Flyers
16.9 points, 7.4 rebounds, 2.7 assists, 48% FG, 39% 3FG, 17 games.
The Southside Flyers have an extremely well-rounded team with an array of players capable of stepping up on any given day, which is a huge reason as to why they're entrenched in the top four, but import Kayla Thornton has been the one.
Leading the team in scoring and rebounding, from the moment Thornton arrived in the league she has been one of the toughest match-ups to cover. Her strength and athleticism makes her capable of matching up against most players in the league, while those aspects of her game also make her so potent offensively as she so often overpowers her opponent or just rises above them with ease.
Despite Lauren Jackson's season-ending injury, the Flyers are very much still a Championship threat and that's got a lot to do with Thornton and her aggressive play.
Sami Whitcomb | Perth Lynx
17.2 points, 4.7 rebounds, 5 assists, 46% FG, 33% 3FG, 15 games.
The Perth Lynx just keep fighting and remain in the playoff hunt. While Chloe Bibby and Lauren Scherf have become one of the best big combos in the league, Sami Whitcomb remains central to everything the Lynx do.
Whitcomb's three-point shooting efficiency has dipped this season, but she still demands resolute defensive attention because as soon as one shot goes in, the opposition could be in for a long night.
Top six in the league for scoring and assists, Whitcomb is one of the best offensive players in the league, and coupled with her dogged defensive work, she's the type of player that every coach would love to have on their team.
Keely Froling | Sydney Flames
17.2 points, 8.1 rebounds, 1.5 assists, 47% FG, 31% 3FG, 17 games.
Keely Froling doesn't know how to take a backwards step and it's that relentless attitude that makes her such a dominant figure in the WNBL. Despite Sydney not being in the playoff hunt, Froling has been a warrior for the Flames, doing everything in her power to keep them in games.
Froling continues to improve and her shooting efficiency this season proves that. After struggling from the field last season at 36% shooting, she's connected on 47% of shots this season and while she's scoring just under what she was last season, taking better shots and being more under control has made her a better player for the Flames.
With the voting system the way it is, Froling may not tally too many three-vote games due to Sydney's poor record, but she could make plenty of noise with one and two-vote games.