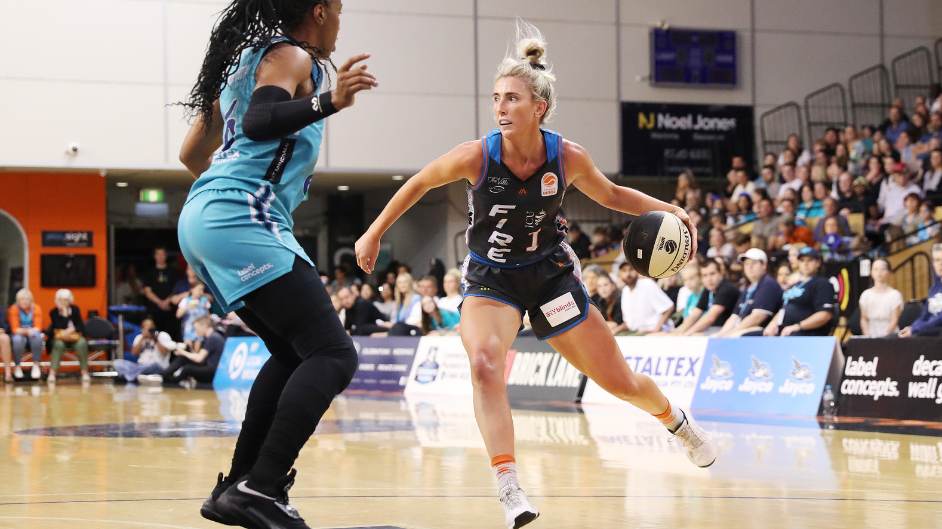 June 21, 2023 | WNBL news
Matt Hickey | The Pick and Roll
The NBL1 is stacked with WNBL talent all across the country.
No matter what conference you follow, you'll find players who will be suiting up for WNBL24, or just completed a season in the country's premier women's league.
There's no way we could highlight every single player plying their trade, but here are some of the WNBL players that are dominating NBL1 in 2023.
Lauren Nicholson (Sutherland)
Lauren Nicholson is shouldering the load of the Sutherland Sharks this season.
She is leading the NBL1 East in scoring (27.38ppg) and is second in assists (6.5apg). Throw in seven rebounds per game and 50% shooting from the field and you have the leading MVP candidate.
Nicholson has already had one triple-double but it wouldn't be a surprise if she had at least another one or two before the end of the season.
A superstar at the peak of her powers, sit back and enjoy.
Shyla Heal (Sydney)
Shyla Heal is up to her usual scoring brilliance this season, averaging 25.8 points per game for the Sydney Comets.
Along with Vanessa Panousis (see below), she has led her team to an impressive 11-3 record that has them sitting fourth but poised for a top-two finish.
Heal has shown some a new element to her game as well, averaging an impressive 7.5 rebounds per game despite her size.
A star of the game, Heal is locked in this NBL1 season and with a smooth offseason, will be one to watch in the new WNBL year.
Vanessa Panousis (Sydney)
Vanessa Panousis and Shyla Heal have combined to be one of the best duos across all of the NBL1 conferences in the country.
Panousis is also averaging over 25 points per game and has been dishing out six assists per outing, which is good for third in the league.
The Sydney Flames sharpshooter has been efficient in her play and could be set for a big season in the WNBL.
Keely Froling (Launceston)
Launceston may be struggling this season but Keely Froling is putting together another impressive campaign.
She is averaging an impressive double-double (25.9ppg & 10.1rpg), has had five games of at least four assists or more, and even had a fixture where she recorded seven steals.
It seems unlikely that the Tornadoes will make the finals, but it means that Froling will be ready for her new club Melbourne, who she signed for last month.
Alicia Froling (Knox)
The Froling sisters just dominate NBL1.
Keely has been starring for Launceston, whilst Alicia has been doing her work for Knox.
The Raider is putting up similar numbers to her sister, averaging 25.2 points and 11 rebounds per game whilst shooting over 50% from the field. She is in the top 10 in the league for scoring, rebounding and blocked shots, and has recorded a double-double in all but five games.
It's another possible MVP year for Alicia Froling who came into this NBL1 season after a strong campaign with the Spirit.
Chloe Bibby (Frankston)
It's no surprise Chloe Bibby is on this list, especially considering she was just named to the Opals Asia Cup team.
For Frankston, she is putting together a great season, helping the Blues to an 11-4 record by averaging a league-leading 28.1 points per game. Despite having the greenlight, she is still shooting almost 50% from the field and has formed a formidable duo with Lou Brown.
Bibby has had four 30+ point games and even though she will miss some time at the Asia Cup, she will be back for the NBL1 South finals.
Marena Whittle (Ringwood)
Adelaide will be ruing the fact that Marena Whittle is heading to Europe after the NBL1 season and not coming back to the WNBL.
She has been a star once again for the Ringwood Hawks, getting it done in a variety of ways. The Victorian is averaging 22.2 points, 11.8 rebounds and 4.2 assists per game, all whilst shooting at just under 50% from the field.
The highlight of Whittle's season so far came against Keilor, where she recorded 37 points and 17 rebounds.
Amongst all her NBL1 highlights, Whittle has also been starring in the 3×3 format of the game, claiming bronze for Australia at the recent World Cup.
Kelly Wilson (Bendigo)
Kelly Wilson was my midseason pick for MVP in the South because she is doing it all this year.
Not only is her team an incredible 15-0, but she is one of only two players across both men's and women's conferences that is averaging over 10 assists per game (Jason Cadee is the other).
Wilson's numbers (10.8ppg, 11.5apg, 6.5rpg & 2.73spg) have come whilst shooting over 55% from the field. She has also recorded two triple-doubles, although it seems likely that number will increase before the end of the season.
Miela Goodchild (Mount Gambier)
The Perth Lynx's newest recruit has taken the NBL1 South by storm.
Miela Goodchild has been a crucial signing for the Pioneers and is putting together one impressive campaign. She is averaging 26.7 points, 7.8 rebounds and three assists per game and a strong back half of the season could see her join the 50/40/90 club.
The Duke product still finds a way to perform even when things aren't going her or her team's way. Take for example the recent contest between Mount Gambier and Ringwood. The Hawks dominated and Goodchild had quiet patches, but she still finished with 25 points and six rebounds.
Courtney Woods (Northside)
Northside are 13-1 this season and one of the big reasons is Courtney Woods.
The Townsville Fire championship player is doing it all for the Wizards, averaging 26.7 points, seven assists and seven rebounds per game. Her defence has also been impactful, registering two steals per outing.
She is likely to be leading the MVP race in the North conference at the moment and the Fire will be glad she is already locked away for the upcoming WNBL season.
Mikaela Ruef (Logan)
Mikaela Ruef is dominating the paint in the NBL1 North.
She is averaging a stunning 20.9 points, 20.2 rebounds and just over five assists per game so far this season. Five times this season she has posted a 20-20 game and her efforts have her well and truly in the MVP discussion.
Logan currently sits third on the ladder with a 10-4 record and they boast the best defence in the league, allowing just 68.2 points per game.
Ruef recently re-signed for the Townsville Fire and will undoubtedly be ready for a big year.
Steph Reid (Townsville)
The Flames have had a mixed season in 2023, but Steph Reid has still managed to shine.
She is leading the NBL1 North in assists with just over eight per game and is also averaging 22 points, 5.8 rebounds and 2.4 steals.
It wouldn't have been a surprise if she started this season slowly considering the epic WNBL23 campaign she had, however, Reid blasted out of the gates with two massive double-doubles in the first three games and she only missed by one assist in the other outing.
Reid is locked in with the Fire for the upcoming WNBL season and will be one to watch.
Alex Sharp (Willeton)
Alex Sharp decided to test out the open market for the upcoming WNBL season, and considering how well she has played in the NBL1 West, it was no surprise.
She is leading the league in rebounding (13.5rpg) and is also in the top five in scoring (22.3ppg). Nine times this season she has recorded at least 14 rebounds, and she has only missed out on a double-double three times.
Sharp has landed with the University of Canberra for WNBL24, in what is a great signing for the Capitals. Her role isn't clear now, but it's obvious she'll take some serious form into the campaign.
Emma Clarke (Perry Lakes)
Emma Clarke is another player whose WNBL team (Sydney Flames) will be happy that they have her locked away for the upcoming season.
She has been putting in some serious work for the Perry Lakes Hawks, averaging 21.5, 8.8 rebounds, and 3.7 assists per game. Her biggest performance of the campaign so far came against the Eastern Suns, where she recorded 33 points, 15 rebounds, and four assists.
Clarke should be a contender for the All-Star Five this year, especially if the Hawks can push inside the top four.
Alex Wilson (Norwood)
Alex Wilson is the second 3×3 World Cup medallist on this list, and for good reason.
The Norwood star is putting together a great campaign in the NBL1 Central and will be firmly in the MVP discussion. Her team is third on the ladder with an 8-5 record and she is averaging an impressive 19.6 points, 9.6 rebounds and 7.1 assists per contest.
Wilson has already had one triple-double so far this season, but remarkably it hasn't been her best individual performance. That came against North Adelaide when she poured in an outrageous 48 points.
She is locked in for the Bendigo Spirit for WNBL24 and should be ready to explode.
Brooke Basham (North Adelaide)
Brooke Basham is a WNBL free agent at the moment, but it seems unlikely that it will remain that way for long.
She is having a fantastic season for North Adelaide, leading the NBL1 Central in scoring (24.5ppg), whilst averaging 6.3 rebounds and 4.2 assists per game.
North Adelaide has a big run home to the finals, currently sitting in a major mid-pack that stretches from 3rd to 7th on the ladder. Basham will be crucial to that run and if she can maintain her level of play, she should secure a spot on a WNBL roster.