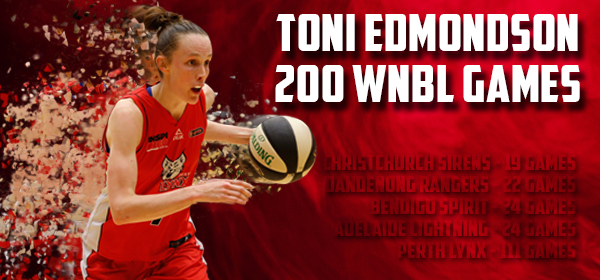 January 4, 2017 | WNBL news
Toni Edmondson is set to play her 200thÊWNBL game this Saturday, when the Perth Lynx host the Bendigo Spirit.
Having started her career in 2007 with the Christchurch Sirens, the New Zealand native enjoyed single year spells in Dandenong, Bendigo and Adelaide before settling in Perth ahead of the 2012/13 WNBL season.
Edmondson has played 110 games for the Perth Lynx/West Coast Waves, and becomes the ninth active player to reach 200 league appearances.
The 29-year-old guard has shown no signs of slowing down, averaging 28.2 minutes per game this season, the second highest mark of her career.
Throughout her time in the league, Edmondson has averaged 6.5 points, 2.7 rebounds and 1.3 assists per game, while shooting 37.9 per cent from the field.
ÒI knew it was coming up, I just didnÕt know it was so soon,Ó said Edmondson.
ÒIÕm pretty happy to have played that long.Ó
ÒWhen you start you donÕt think that youÕre going to be around that long Ð I generally just take it season by season.Ó
Edmondson averaged a career high 13.2 points per game in the 2013/14 WNBL season, and is currently averaging career highs in rebounding (4.2rpg) and assists (2.7apg).
The former New Zealand Tall Ferns captain has also earned four FIBA Oceania silver medals throughout her time with the national team.
ÒItÕll be a good milestone but, at the end of the day, itÕs just another game.Ó
The Perth Lynx host the Bendigo Spirit this Saturday 7 January, with tickets availableÊhere.