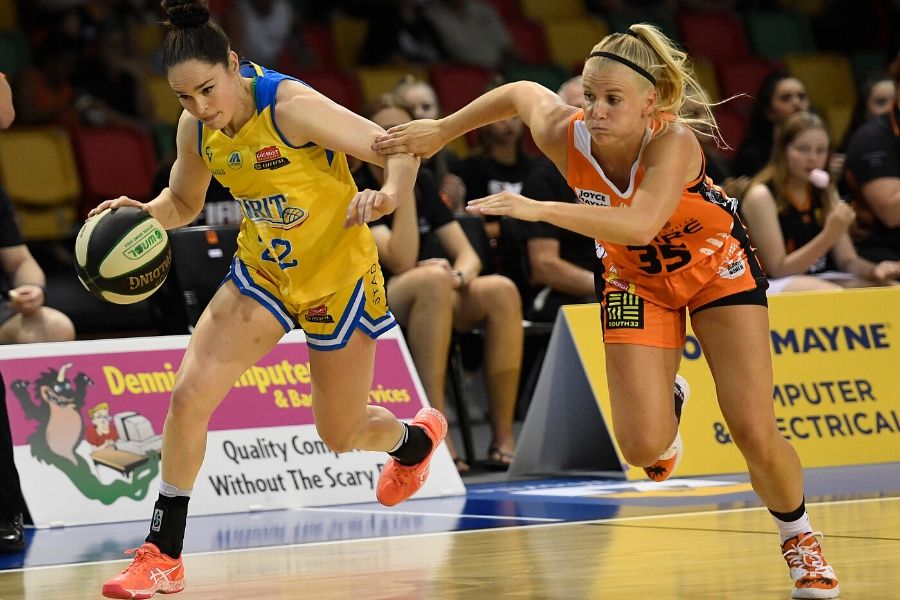 December 8, 2019 | WNBL news
The Townsville Fire have broken the scoring shackles to notch up a massive 94-80 round 8 WNBL win over the Bendigo Spirit.
Prior to this match, the Fire had spluttered in offence with just 1 win and an average of 72 points per match.
They not only shattered that average but notched up their biggest scoring tally of the year – beating the 93 points scored in the club's other win against Perth in round 4.
Darcee Garbin was unstoppable with 27 points, 7 rebounds and 3 assists, but she didn't play a lone hand with Bridget Carleton (18 points, 7 rebounds), Tess Madgen (17 points, 6 rebounds, 5 assists) and Julie Vanloo (15 points, 9 assists) all reaching double figures.
Demi Skinner toiled for the Spirit with 26 points while Tessa Lavey (14 points, 8 rebounds, 6 assists) had some joy in the paint, but ultimately Bendigo was reduced to passengers as the Fire lit it up from beyond the arc – at one point shooting at a clip well over 50 per cent.
It was the home side that started the match with the greater defensive intensity with some early steals and pressure that translated to points as the Fire opened up an early 5-2 lead.
It lifted Townsville, who extended the lead to 6 as the Spirit made early changes to arrest the run.
Bendigo needed a spark and found it through Demi Skinner who drained a much-needed triple to bring the Spirit back into the match.
The visitors were hurting the Fire in the paint, but Tess Madgen kept the home side in the front with 5 rapid-fire points.
Skinner's hot streak continued with an open triple that pushed her personal tally to 12 and put the Spirit in the lead for the first time since the opening exchanges.
Back-to-back triple handed the Fire the lead back at the first break, though, and they carried that form into the second term to push the lead out to 30-22.
The Fire threatened to let the Spirit back into the match with some careless handling, but Julie Vanloo buried back-to-back triples and suddenly Townsville was leading 43-29.
Townsville was simply shooting the lights out, going at a clip of 61 per cent and 50 per cent from long range in a slick offensive display.
The 3-point rampage continued into the third-quarter for the Fire, but defence became an issue as the Spirit found easy lanes to the bucket to remain in the hunt.
With captain Abby Bishop in foul trouble, the Fire went with a smaller lineup but it made little difference as they took a commanding 75-59 lead into the final quarter – a mountain that was too big for the Spirit to climb.
WNBL ROUND 8
TOWNSVILLE FIRE 89 (Darcee Garbin 27, Bridget Carleton 18, Tess Madgen 17)
BENDIGO SPIRIT 82 (Demi Skinner 26, Tessa Lavey 14, Rebecca Tobin 10)