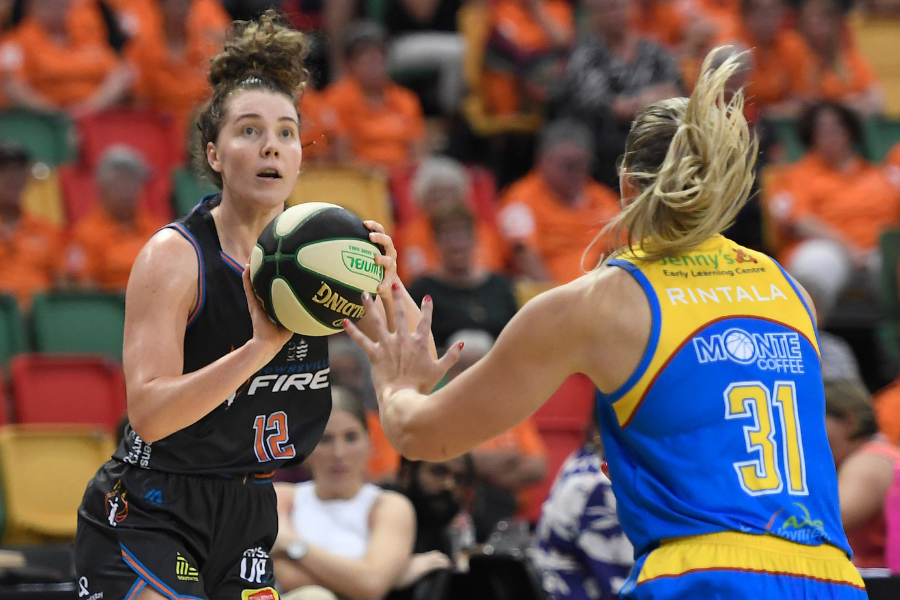 November 24, 2020 | WNBL news
JCU Townsville Fire blasted their way into the top two of the Chemist Warehouse WNBL with a ruthless 48-point drubbing of winless Villawood Properties Bendigo Spirit on Tuesday.
Playing their fifth straight game at Townsville Stadium in eight days, the Fire came out in hot shooting form on their way to a 99-51 win.
A third straight victory lifted Townsville (5-2) up to second and Bendigo dropped to 0-6.
Townsville made their first five-three pointers as they charged to a 19-2 lead.
They buried 17 long bombs for the game, with seven players finding the target in the three-point frenzy.
Five Fire players made double digit scoring contributions headed by Nadeen Payne and Megan McKay with 18 each, while Townsville also enjoyed success inside.
Payne was one of the chief architects of Townsville's red-hot start, nailing six three-pointers in the first 11 minutes.
"A lot of focus at the start of the game got us off to a great start and then we just continued to play that way throughout," Townsville coach Shannon Seebohm said.
"That was a great game for us. Obviously the scoreline blew out a little bit for us."
By quarter time Townsville were up 30-10, with the Fire shooting 64 per cent from the field to Bendigo's 26 per cent.
Spirit dug in at the start of the second, but Townsville finished the quarter with a 15-3 run in their favour to lead by 28 at halftime.
A 20-2 run to Townsville's advantage after halftime ballooned their advantage to 43 points and it was 38 at three-quarter time.
Seebohm rested almost all his starters for the final quarter, but the bench got the lead up to 53.
"It was just a chance to get some over people on the floor and get them some confidence," Seebohm said.
Six straight field goal misses to end the game left them just short of triple figures.
Mary Goulding and Jennie Rintala each scored 10 for Bendigo.
Townsville racked up 12 more assists and steals and committed 11 less turnovers.
"We have play phases where we're a little out of sync and a little bit too individual, and then our next movement became predictable," Spirit's assistant coach Mark Alabakov said.
"We had a high turnover account and a low assist count which is not the brand of basketball we want to play.
"We got far better with that in the second half, but we've got to be able to put four quarters together to beat good teams at this level."
Adrian Warren is a freelance contributor to WNBL.basketball
JCU Townsville Fire 99 (N Payne 18, M McKay 18, L Nicholson 12)
Villawood Properties Bendigo Spirit 51 (M Goulding 10, J Rintala 10, A Todhunter 7) l