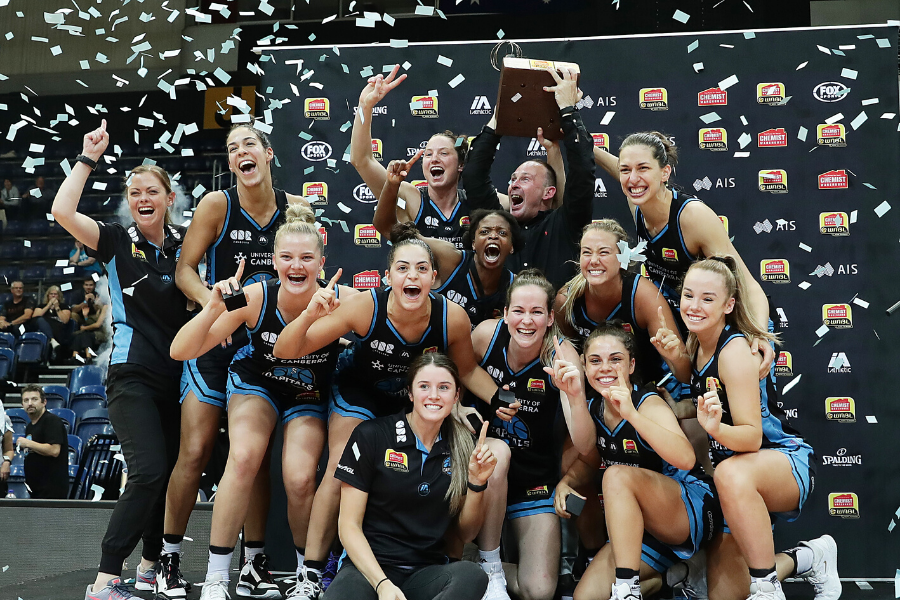 March 4, 2020 | WNBL news
The University of Canberra Capitals claimed their ninth Chemist Warehouse WNBL title at AIS Arena tonight in front of a home crowd of 4,600.
The Capitals earned the historic win off a huge second half comeback led by league MVP, Kia Nurse, and WNBL Grand Final MVP, Rachael Sporn Medalist, Olivia Epoupa.
The Capitals got off to a shaky start in the first half, shooting only 36% from the court compared to the Flyers, who finished the half with 49% shooting and 6/13 from long-range. Rebecca Cole scored 21 of her 23 points in the first half to lead the charge for the Flyers.
Southside would commence the second half up 45-35, but a 15-0 run by Canberra to start the third quarter put the Capitals back in the game.  Epoupa helped Canberra outscore the Flyers 21-9 in the 3rd quarter and would go on to post 14 points in the second half after only scoring two points in the first.
The fourth quarter was a hard-fought, see-sawing battle with neither team able to gain significant momentum in the final minutes until Nurse hit her biggest three pointer of the season with only 20 seconds remaining to give Canberra a two-point lead.
The Flyers tried to stop the clock with intentional fouls, but a game-sealing rebound from Tolo of a missed free-throw by Nurse would clinch the game.
"We just locked down defensively in the second half," says Nurse.  "I think we got a lot of key stops when we needed to and at the same time we were great in our offensive transition."
"The key was our third quarter defense," says Tolo. "Defense wins championships and I think we showed that today.
Epoupa's MVP performance saw her finish the night with 16 points, 11 assists and seven rebounds whilst Mariana Tolo contributed a team-high 19 points, 12 rebounds and three blocked shots in Canberra's win. Kia Nurse scored 18 in the game and was 4/9 from three-point range.
Mercedes Russell had 14 points and 13 rebounds in Southside's losing effort.