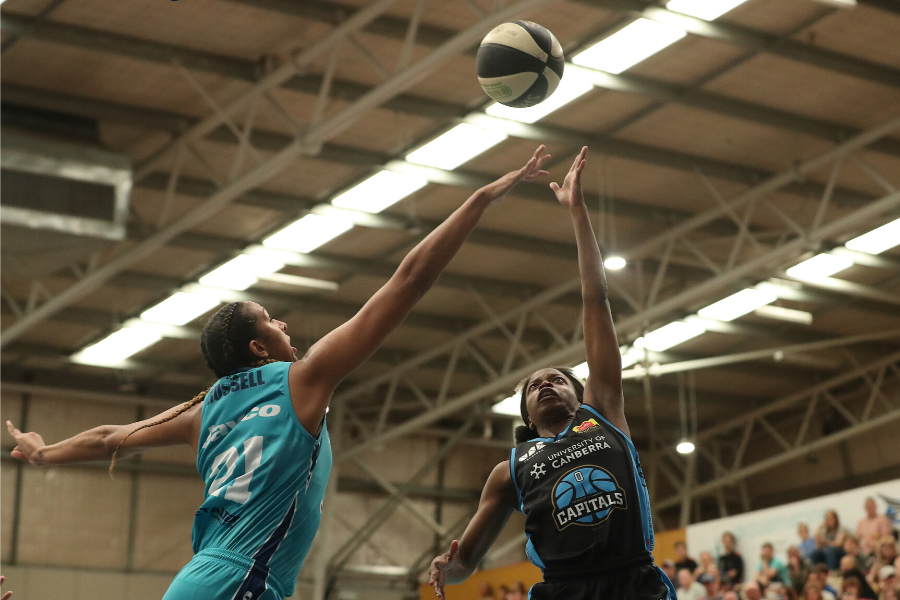 March 1, 2020 | WNBL news
The UC Capitals have moved one game closer to back-to-back WNBL titles today after a fourth quarter comeback led by import stars Kia Nurse and Olivia Epoupa helped Canberra steal Game One on the road from the Jayco Southside Flyers in their best-of-three Chemist Warehouse WNBL Grand Final.
In a game that saw 15 lead changes and neither team able to gain a significant lead, league MVP Kia Nurse (19 points) drained a clutch three pointer around the three minute mark in the final quarter that would give the Capitals a critical two-point lead and swing momentum Canberra's way one final time.
The team that won the rebound advantage has won every game they've played this season and rebounds would once again play a big role in Canberra's fourth quarter swing. Epoupa and Kelsey Griffin grabbed critical offensive rebounds late in the game to give the Capitals the second chance points they needed to emerge victorious. Canberra would finish the game with a 41-35 rebound advantage of the Flyers.
Leilani Mitchell, who would finish the day with 15 points, five rebounds and five assists, had a chance to tie the game for Southside in the final seconds with a drive into the paint, but came up short to seal the Capitals win.
With both teams fairly even throughout, the Capitals made the most of the opportunities they were given, with 21 points off turnovers and 10 second chance points scored.
Griffin would finish the night with 18 points, 12 rebounds and two assists while Epoupa contributed 14 points, nine rebounds and six assists for the Capitals.
Rebecca Cole had 23 points (18 in the first half), two rebounds and seven assists and Leilani Mitchell scored 15 points with five rebounds and five assists in the Flyers' losing effort.
The Capitals head home to AIS Arena where they'll look to sweep the series against the Flyers in Game 2.
Chemist Warehouse WNBL Grand-Final Schedule:
Game 2:          Wednesday, 4th March at 7:30pm EDT (AIS Arena)
Game 3:          Sunday, 8th March at 1:00pm EDT (Dandenong Stadium if necessary)
Tickets still available through Ticketek