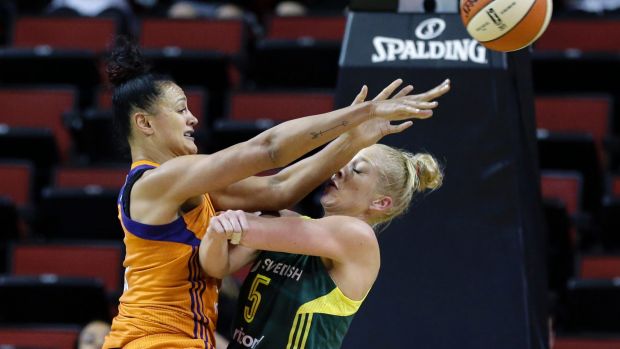 August 3, 2017 | WNBL news
WNBA title winner and new mum Mistie Bass is ready to make her mark in the WNBL after signing with the University of Canberra Capitals for the 2017/18 season.
Bass, who just completed a season as a graduate assistant coach with the Indiana Hoosiers, has signed a one-year deal with the club to secure the final spot on head coach Paul GorissÕ roster.
The 33-year-old and her husband, former NFL quarterback Shane Boyd, welcomed the arrival of son Braven on 21 June.
Bass said she was relishing being a mum but was excited to take the court again and play her role for the UC Capitals.
ÒIÕve always wanted to play in Australia,Ó Bass said.
ÒMany WNBA players speak highly of the league and its competitiveness. I am excited to play for the UC Capitals this season and help the team be as successful as possible.
ÒMotherhood is certainly an adjustment; there are long nights and not much sleep. I absolutely love being a mother though, it has given me a new outlook on life and a fresh perspective on how to approach basketball.
ÒI love the physical element of basketball so my personal goal is to get back to dominating consistently.Ó
Bass graduated from Duke University in 2006 and was drafted by WNBA club the Phoenix Mercury before being traded to the Houston Comets. She has also played for the WNBAÕs Chicago Sky and spent time in Turkey and France.
In 2014, she achieved a career highlight winning a WNBA championship with Phoenix.
More recently, she was a graduate assistant coach with the Indiana Hoosiers. She said it was a valuable learning experience and would like to pursue a career in coaching in the future.
University of Canberra Capitals head coach Paul Goriss said Bass brings toughness and experience to the roster.
ÒThere are some terrific big players in the league this year and we needed someone with that veteran experience to go alongside Lauren Scherf and Ezi Magbegor,Ó Goriss said.
ÒMistie will be a great mentor to our younger players. We have great flexibility and depth at all positions which we identified as an area of improvement from last season.Ó