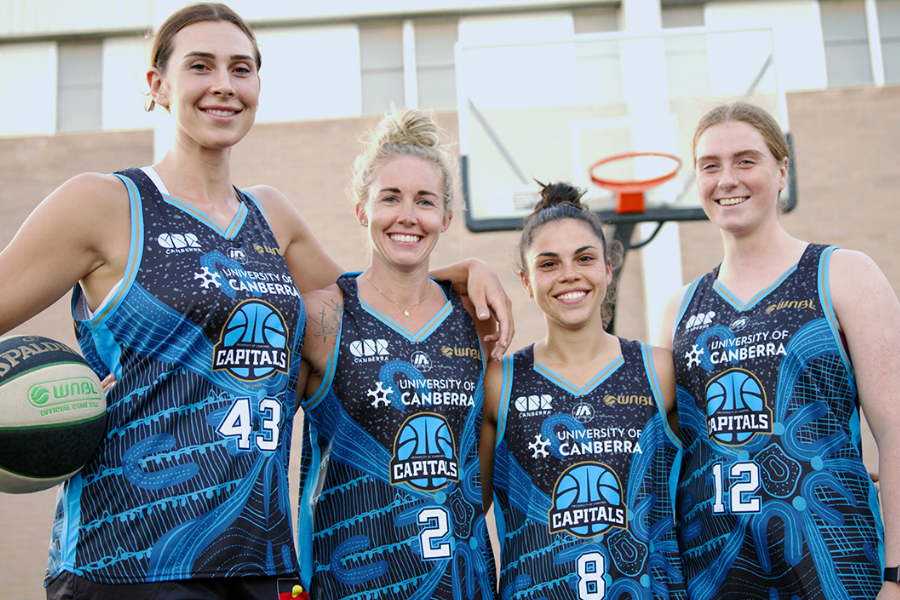 February 27, 2022 | WNBL news
Closing out round 12 with their final home game for the season, the UC Capitals will host Indigenous Round celebrations with the Canberra faithful.
Unveiling their Indigenous jersey design earlier in the week, the Caps worked in collaboration with both the University of Canberra's Office of Aboriginal and Torres Strait Islander Leadership and Strategy and local Ngunnawal/Wiradjuri/Kamilaroi artist, Lynnice Church.
The themes behind the artwork include:
Trust: The turn-key for change. Allowing better and more open relationships to form and build.
Culture and Respect: Acknowledging the past and identifying a more inclusive future.
Diversity: Everyone bringing unique input allowing for strength in diversity.
Innovation: Allow us to push boundaries to re-establish what we consider core business.
About Lynnice Church:
A Ngunnawal/Wiradjuri and Kamilaroi woman, Lynnice Church is part of a large family whose Ngunawl connection is through her father's maternal bloodline. Her passion for her people, culture and country is represented through her art.
The UC Capitals have also launched their YouTube 'Live Sessions' series, the initiative highlighting the conversation around the pathway for Indigenous basketballers. Over a 5 week period, players from the UC Capitals will host live online basketball clinics and engagement with local Indigenous basketballers and a dedicated session with local ACT youth players. Launching during the week, episode 1 featured Caps' players, Abby Cubillo and Kelsey Griffin. The second episode with Jade Melbourne and Britt Sykes is set to take place next Wednesday afternoon.
The Caps have committed to wearing their Indigenous jersey for the remainder of the season.
View this post on Instagram