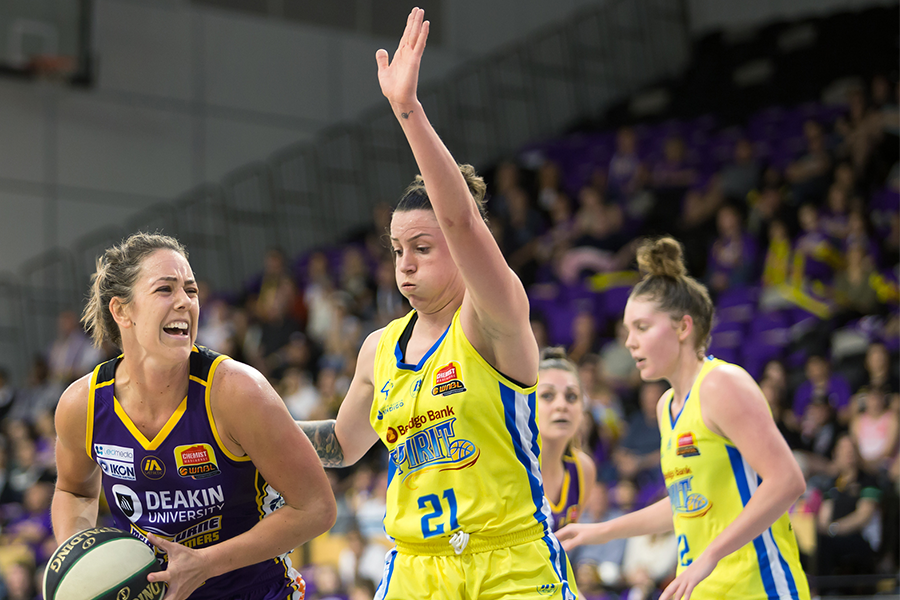 October 19, 2018 | WNBL news
By Megan Hustwaite
THERE were debuts aplenty in the opening round of the Chemist Warehouse WNBL and players stepping out in new colours for the first time, but when it comes to first outings none were more influential than Bendigo Spirit's Marena Whittle.
Part of the Townsville Fire's roster in their championship year in #WNBL18, the 24-year-old forward never hit the court but when she made her long-awaited debut against a dazzling Melbourne Boomers team last Saturday night one thing was for sure, it was worth the wait.
Whittle set the tone and compiled a game-high 21 points, four steals and three assists as the Spirit upset the Boomers, 82-72, on their home floor at the State Basketball Centre.
The Nunawading Spectres product showed hustle, grunt and a desire to work and also hit 10 second-quarter points as Bendigo went on a 29-5 run.
She told The WNBL Show she was still buzzing after her debut but more importantly a brilliant team win.
Whittle says the foundations for the opening-round victory were laid during pre-season preparations.
"Knowing we'd have eight games under our belt together with practically our whole squad was awesome in building our strengths and understanding what everyone brings to the court.
"Also knowing the Opals (coming into the Boomers team) had only been back a few days let alone a few practices, so knowing this was really our chance to really get them when they weren't expecting it and really get them when they'd only just come back to Australia and only just introducing themselves into the team.
"We really jumped at the opportunity and I'm really, really happy we got the win."
While Whittle was playing her first minutes in the national league, it was a WNBL champion who was a calming influence in the heat of battle.
Boom Bendigo recruit and seven-time champion with Canberra, Nat Hurst led from the front and filled her younger and less experienced team mates with confidence down the stretch.
"I've spoken to Nat about it as well, I think she was the captain and the team leader on the court that we needed,'' Whittle says.
"When we were all a little bit frantic, knowing that the crowd was there, knowing it was the first game and we were up at half time it was a little bit like a deer in the headlights, like 'oh my god I can't believe this is actually happening'.
"They did go on a little bit of a run in the third and just having Nat on court with us, able to settle us, calm us down, lead us from the front, call the right plays and obviously get our heads right on the court whether it was a "Oi, chill out", a little word here or there, that's all you need sometimes.
"She was absolutely brilliant, I'm really proud of her and glad she's on court with us."
Whittle and team mate Rebecca Tobin both won reward for their Round 1 efforts with selection in the WNBL Team of the Week.
The Spirit are back in action this Saturday night with their first home game against the Jayco Rangers.
Listen to Marena Whittle on The WNBL Show HERE
The WNBL Show airs every Tuesday during the Chemist Warehouse WNBL season.