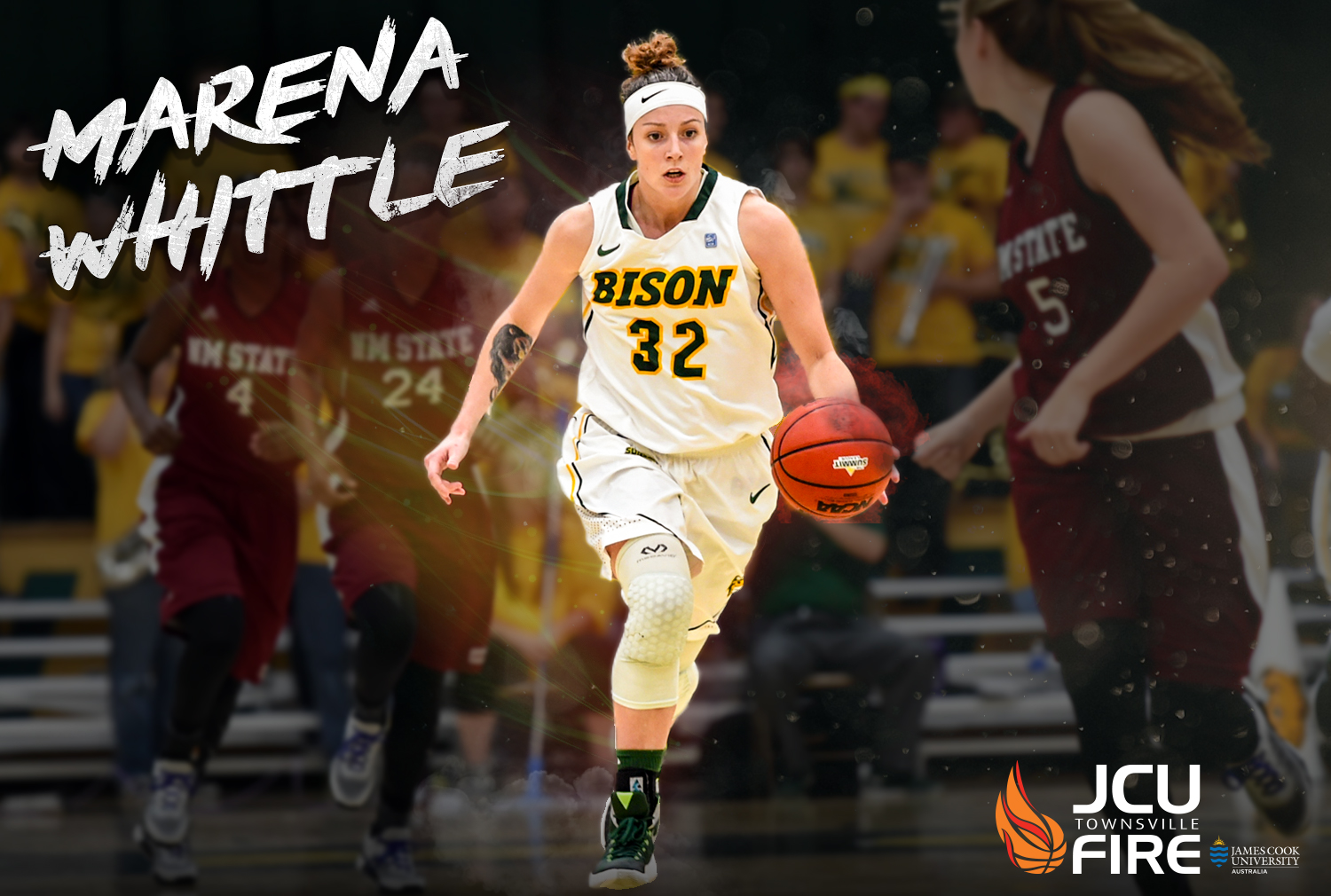 May 26, 2017 | WNBL news
Former college star Marena Whittle will make her WNBL debut next season after linking with the JCU Townsville Fire.
Having completed an impressive college career at North Dakota, the 23-year-old, who is currently averaging 15.8 points, 9.0 rebounds and 1.9 assists for Nunawading in the South East Australian Basketball League, reached terms with the Fire earlier this week and is the clubÕs seventh signing.
Whittle joins a star-studded roster that includes Olympians Suzy Batkovic, Micaela Cocks and Cayla George, as well as WNBL championship winners Darcee Garbin, Mia Murray and Kelly Wilson.
During her time in the U.S, Whittle averaged 11.3 points, 7.9 rebounds and 1.9 assists with the Bison and was a starter in all seasons bar her freshman year.
As a senior, the Melbourne-raised guard averaged 16.8 points, 10.3 rebounds and 2.9 assists as she was named to the All-Summit League 1st Team.
Fresh off signing with the two-time WNBL champions, Whittle said she was looking forward to the challenge of competing against the nationÕs best players.
ÒThe Fire offer an incredible opportunity to step up and challenge myself in a brand-new atmosphere,Ó Whittle said.
ÒThe team itself excites me to learn under Claudia (Brassard) and the coaching staff, as well as grow in the light of the great players returning to the club.
ÒI want to ruffle some feathers as a rookie, with my resilience on the court and persistence to focus on always growing my game.
ÒTownsville have a great community that truly supports its players and the basketball programs, I think itÕs going to be very easy to step in and feel welcome.Ó
Having spent the past 18 months liaising with Whittle, Brassard said she was thrilled to have finally landed her as a recruit.
The versatile guard is expected to play a key role in the FireÕs rotation after the North Queensland powerhouse failed to feature in the WNBL Grand Final for the first time in five seasons.
ÒIÕm excited to have Marena joining our program,Ó Brassard said.
ÒWeÕve been talking to her for a long time now and we think that she has a lot to offer at both ends of the floor.
ÒSheÕs clearly a very good rebounder Ð she has some real length and size on the permitter which is also handy Ð but sheÕs enjoyed a great college career and weÕre sure that sheÕll help us improve our line-up.Ó
With two import positions still available, the Fire are working behind the scenes to round out their roster ahead of 2017/18 memberships going on sale from June 1.
2017/18 JCU Townsville Fire squad: Suzy Batkovic, Micaela Cocks, Darcee Garbin, Cayla George, Mia Murray, Marena Whittle and Kelly Wilson.