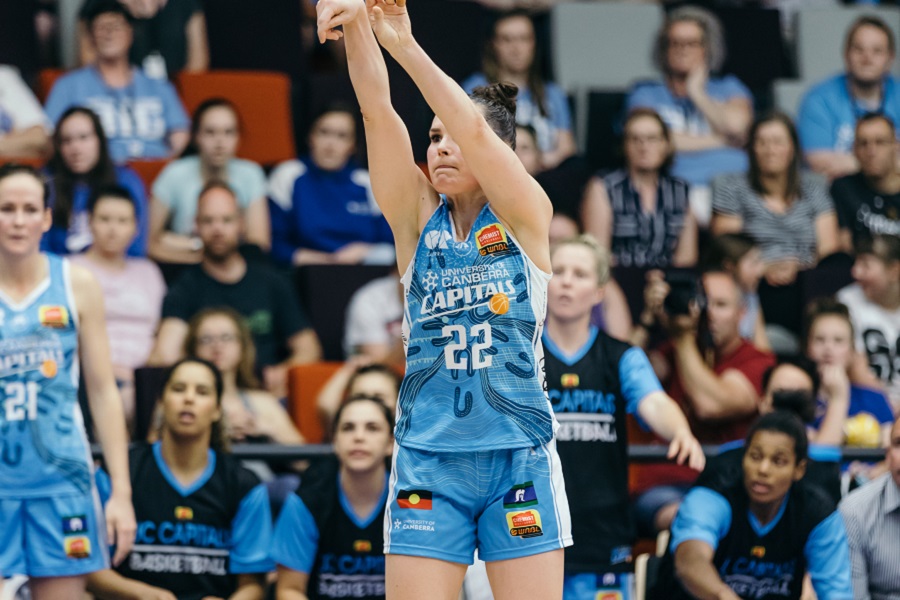 January 25, 2019 | WNBL news
Written by Megan Hustwaite.
Twelve months ago, after winning her third WNBL championship, veteran guard Kelly Wilson was unsure whether she would play on for a 17th season.
Fast forward to day one of the 2018/19 Chemist Warehouse WNBL finals and the 34-year-old is delighted she opted to continue and join the University of Canberra Capitals, who finished top of the ladder and hold home-court advantage going into their semi-final series against the Perth Lynx.
Wilson told The WNBL Show it was an old team mate who encouraged her to move to the nation's capital following a championship with the JCU Townsville Fire last season.
"When you win a Grand Final in your 350th match it's that decision about should you finish now on such a high but at the end of the season I had no idea what I was going to do and I was happy to see what happened," Wilson said.
"I knew I was going to go back to Bendigo in the off-season, go back to work and play SEABL.
"Midway through the season I had a phone call from an old friend in Kelsey Griffin and her wife Erin and they planted the idea in my head that it would be a really great idea for me to head to Canberra. Initially I didn't think too much about it but I spoke to coach Paul Gorris and here I am in Canberra.
"To get the chance to play with Kels again was a huge motivating factor for me, we had some great success in Bendigo together so that was an incentive."
Wilson paid tribute to the club and Canberra community who have provided incredible support and backing as the UC Caps turned their fortunes around on court.
"We've been so lucky this season to get Canberra's backing. The crowds have been great, we've had some great showings at the National Convention Centre and if we can get a lot of people to the AIS Arena I think it's going to be really hard for the opposition.
"It'd be great to see as many people there as possible. At the start of the season Canberra really knuckled down and looked at what they could do to get people back to WNBL basketball in Canberra. Lucille Bailie, Carrie Graf, Dan Jackson and everyone that's been involved has done such a great job behind the scenes of publicising the UC Capitals."
And while the Caps haven't contested post-season action since they came runner-up to Bulleen in 2010-11, their current players enjoy a wealth of WNBL finals experience.
Wilson has won three championships, two with Griffin at Bendigo, Marianna Tolo has already enjoyed dual titles with the Caps, Leilani Mitchell was Grand Final MVP with Sydney in 2016-17 while Lauren Scherf was part of Dandenong's losing side that season.
"Gorrie's done such a good job of recruiting certain players to this team and I'm not sure whether he envisaged that the group would get along so well together, but I think a lot of credit needs to go to him for that,'' Wilson explained.
"Obviously finals experience is great but it is finals basketball so anything can happen and I think it's honestly going to be about that home-court advantage and getting wins at home. We're pretty lucky we've put ourselves in a good position but we'll see what happens on Friday (Game 1)."
Listen to Kelly Wilson on The WNBL Show here.
The WNBL Show airs every Tuesday during the Chemist Warehouse WNBL season.