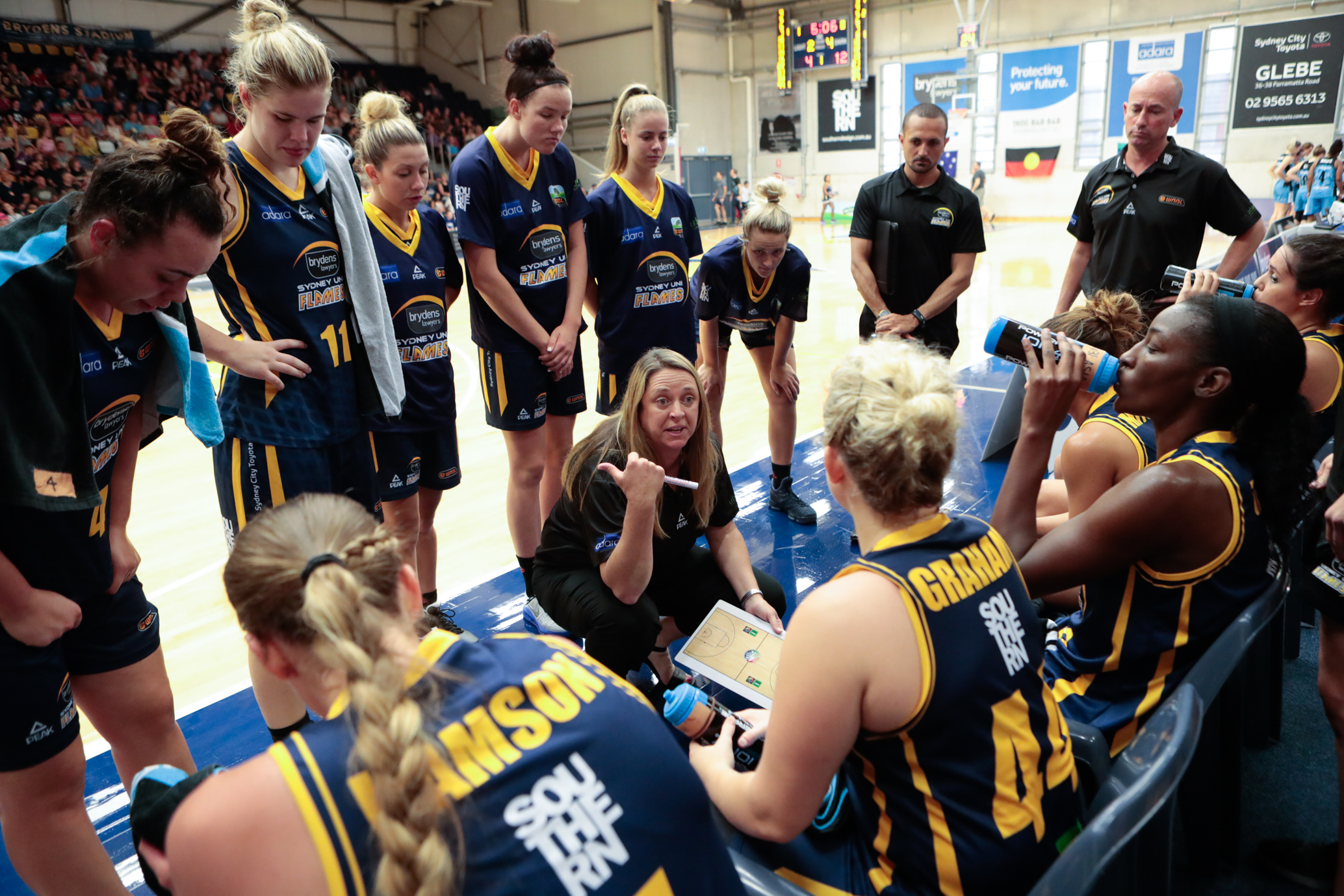 February 24, 2017 | WNBL news
Photo courtesy of Geoff Tripp Photography.
Cheryl Chambers of the Brydens Sydney University Flames has been named the WNBL Coach of the Year for 2016/17 in her first year leading the club.
Chambers was the clear winner of the award, receiving 33 votes as nominated by the leagueÕs captains and coaches and was awarded with ten maximum three-vote ballots which was eight more than any other coach.
ÒIt's really humbling, there are lots of good coaches that have won it over the years so it's exciting," Chambers said.
Joining the Flames after a previous eight-year stint with the Bulleen Boomers, Chambers led the club to a league-best 18-6 record through the regular season, their seventh minor premiership since 1981.
Having previously won the award in 2004-05 and 2008-09, Chambers' third honour moves her just one award behind Tom Maher's record tally of four andÊshe is one of just seven coaches to have won the award multiple times.
While finishing on top of the ladder, the Flames also proved themselves time and again in clutch situations this season, owning a 9-3 record in games decided by six points or less and finished with the second most productive offence in the league (80.6 points per game) while shooting the three-ball at the best clip (39%).
They defied many early season injuries to then come together in the second half of the season, winning their final eight games heading into the playoffs.
Their two leading scorers in Asia Taylor and Leilani Mitchell combined for 32.7 points per game and both sat in the top eight in the league for scoring while Taylor (8.2 rebounds) was joined by Jennifer Hamson (8.4) in the top six for boards per game.
ÒI was looking at tape (pre-season) and really wanted an X-factor, not just a run of the mill import," said Chambers.
"We are so pleased with (Asia), she's just a pure athlete and has been a delight to have around the club."
Mitchell was also the competitionÕs leader in assists with 6.2 per game and Belinda Snell finished fourth with 4.6 assists.
"(Leilani) is the ultimate floor general. Tahlia had gone down and we weren't actually looking at Leilani but to get her and to get to know her has been fantastic. You don't see her flustered and she's quite happy to throw the ball off to someone else to score, she doesn't have to be in the limelight. She has been awesome."
SeeÊthe full interview with Cheryl Chambers below.
The top three vote-getters for the 2016/17 Coach of the Year award:
1. Cheryl Chambers (Brydens Sydney University Flames)
2. Chris Lucas (MAC Adelaide Lightning)
=3. Andy Stewart (Perth Lynx)
=3. Paul Goriss (University of Canberra Capitals)
Media Contact:
Sally Phillips
Head of WNBL
0425 768 462
sally.phillips@basketball.net.au