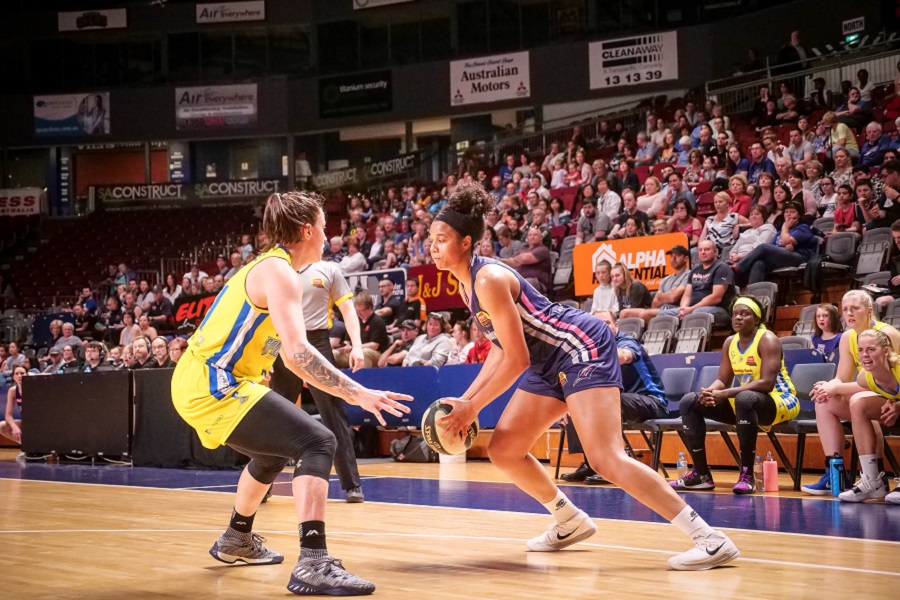 November 1, 2018 | WNBL news
Broadcast Game of the Week
Jayco Rangers v Deakin Melbourne Boomers at Dandenong Stadium, Saturday, 3pm (local time)
An age-old rivalry will be renewed when the Boomers head to Dandenong Stadium on Saturday afternoon to take on the Rangers with former Boomer Bec Cole also facing her old side for the first time.
The Boomers are beginning to find form after a slow start to the season with a couple of key players taking time to integrate into the team.
Since an 0-2 start, the Boomers have bounced back to win their last two games on the trot and they are receiving an even contribution from their core group on the scoreboard.
The Rangers' record over the last four games contrasts Melbourne's, as they won their opening two games before swiftly dropping back to 2-2.
Led by Cole and star import Betnijah Laney, the Rangers will look to recover against their cross-town rivals after coach Larissa Anderson was disappointed in their endeavour against Perth last weekend.
Cole has been enjoying a career-best season at the offensive end with 15 points and 2.3 assists per game. Kayla Pedersen and Laney will also keep the Melbourne big's busy and they will have to deal with the athleticism of Laney who is averaging 14.3 points and 8.5 rebounds per game.
At the other end of the floor, Dandenong will need to limit the output of Boomers' crafty point guard, Lindsay Allen. She has been putting up 16.8 points and six dimes per outing, proving to be a key cog for coach Guy Molloy.
With five players averaging double-digits, the Boomers have an array of scoring options that the Rangers could struggle to contain.
Watch: FOX Sports Australia channel 503 and SBS.
Tickets: https://rangersboomerswnbl.in-tix.com/
Livestats: http://www.fibalivestats.com/u/wnbl/913491/
Brydens Sydney Uni Flames v Perth Lynx at Brydens Stadium, Thursday, 7pm (local time)
It's first vs. last on the ladder in this Thursday night match-up but no one is expecting a one-sided affair, with the pesky Flames nearly toppling the reigning champs last week when they were missing three starters.
Flames champion Belinda Snell is hopeful to return from a calf injury this weekend which would be a major boost for the hosts as Snell is edging towards fourth place on the WNBL all-time leading scorers list.
The health of FIBA World Cup silver medallist Alex Bunton and young gun Tahlia Tupaea is still up in the air though as the Flames get set to take on the Lynx who are coming off a sweep of their road double in Round 3.
Perth opened the weekend with a win over the then undefeated Spirit, blowing their opponents out of the water in a dominant first half before just holding on as they scored only 16 points after half-time.
Andy Stewart had his troops correct their second half-woes against Dandenong two days later, using a 21-6 third term to secure a comfortable victory.
Star imports Asia Taylor and Brittany McPhee led the visitors with Taylor earning Player of the Week honours and Sydney Uni will be keen to bolster their front court in time to help minimise her impact.
Live Stream: https://www.foxsports.com.au/live
Tickets: https://www.eventbrite.com.au/e/flames-v-lynx-thursday-1st-november-7pm-tickets-50468968042?aff=erelexpmlt
LiveStats: http://www.fibalivestats.com/u/wnbl/913490/
Bendigo Bank Spirit v Adelaide Lightning at Bendigo Stadium, Saturday, 7pm (local time)
After opening the season with two wins, the Spirit had a disappointing Round 3 with consecutive defeats.
They faced the Doomsday Double and came away empty handed, giving up an insurmountable lead in the first half to Perth and then struggling against Adelaide in a 28-point loss as Nia Coffey recorded a 20-20 game.
The Lightning will now be aiming to repeat the dose as they meet for the second time in less than a week and that front court advantage will play a major role. Coffey pulled down eight offensive rebounds last time, helping Adelaide score 36 points in the paint while also finishing with a +6 advantage in second chance points and Becca Tobin had her quietest game of the season for Bendigo.
Expect her to bounce back though after an impressive first three weeks overall and Louella Tomlinson will be full of confidence too after collecting 16 points off the bench in their Round 3 meeting.
If Marena Whittle can improve her shooting percentage after hitting 2-9 from the field in that game, the Spirit will be right in it on Saturday night.
Live Stream: https://www.foxsports.com.au/live
Tickets: https://premier.ticketek.com.au/shows/Show.aspx?sh=SPIRITAL18
Livestats: http://www.fibalivestats.com/u/wnbl/913492/
JCU Townsville Fire v Perth Lynx at Townsville Stadium, Saturday, 7pm (local time)
Townsville face a tough test at home when they come up against the red-hot Lynx in Round 4.
After only just toppling the short-handed Flames last round, the Fire will have their work cut out for them but they will be aiming to take advantage of Perth who are playing their fourth game in nine days in a brutal stretch.
Suzy Batkovic is doing Suzy Batkovic things and with an average of 23 points per game as well as coming off a 30-point effort last weekend to lead the Fire over Sydney Uni, she is closing in on the WNBL all-time scoring record.
If this contest is close down the stretch, Perth will know where the ball is going but they need the likes of Kayla Steindl and Taylor to step up their defensive pressure while also battling fatigue on the back of consecutive double-headers.
The Lynx got the better of the defending Champs in Round 2 though when Brittany McPhee exploded for a league-high 32 points and Perth drilled 15 three-pointers, answering Townsville's 13 triples as a team.
Tickets: https://whatson.townsville.qld.gov.au/events/community-events/jcu-townsville-fire-v-perth-lynx
Livestats: http://www.fibalivestats.com/u/wnbl/913493/
University of Canberra Capitals vs Sydney Uni Flames at National Convention Centre, Sunday, 2pm (local time)
Despite losing their first game of the season last weekend, the Caps still sit on top of the ladder alongside Perth and now host the Flames who will be playing their second game of a double-header.
Sydney Uni are winless after three rounds but have looked dangerous and the Caps will not be taking them lightly.
That being said, Canberra are shaping as the early title favourites, racing to a 3-1 record with the likes of Marianna Tolo and Kristy Wallace still to return from injury and Leilani Mitchell just now settling into the rotation.
Kia Nurse has been an offensive monster so far this season and the Flames will need to cull her influence while Sydney's prowess from beyond the arc, that saw Brittany Smart and Ally Wilson combine for ten three's last weekend, will be in coach Paul Goriss' scouting report.
Tickets: https://premier.ticketek.com.au/shows/Show.aspx?sh=CRT0418
Livestats: http://www.fibalivestats.com/u/wnbl/913494/
Deakin Melbourne Boomers v Bendigo Bank Spirit at State Basketball Centre, Monday, 7:30pm (local time)
Round 4 culminates on Monday night, Melbourne Cup Eve, in a game that has been billed as one of the biggest of the season.
With both teams locked at 2-2 coming into the weekend, this game shapes as an important one as we complete a quarter of the season.
These two teams met in the opening round and Bendigo shocked many with a clinical performance against the Boomers on their home floor.
The Spirit have dropped their past two on the road but will be confident in returning to the State Basketball Centre, even with the Boomers beginning to gel after a rough start to 2018/19.
Cayla George will be keen for revenge after Becca Tobin impressed in her WNBL debut while Marena Whittle caught fire and must be slowed down by the Boomers if they are to reverse the Round 1 result.
Live Stream: https://www.foxsports.com.au/live
Tickets: https://www.trybooking.com/book/sessions?eid=376176&ses=1112051
Livestats: http://www.fibalivestats.com/u/wnbl/913495/