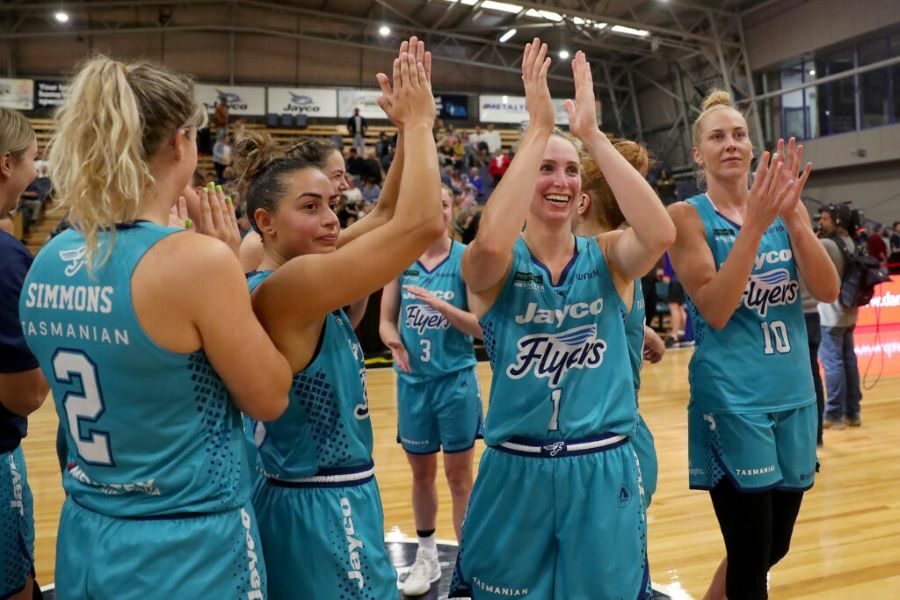 August 29, 2022 | WNBL news
The 22/23 WNBL team rosters are starting to take shape as the end of the Free Agency period edges closer. From returning stars to new imports, we take a look at the teams as they stand heading into the upcoming season.
DP- Development player
*- International import
MELBOURNE BOOMERS
Head Coach: Chris Lucas
Returning: Cayla George, Tess Madgen, Tiffany Mitchell*, Penina Davidson, Lily Scanlon, Rachel Brewster, Lou Brown, Sophie Burrows (DP), Lauryn Hippolite (DP)
New: Kristy Wallace (Southside Flyers), Mia Murray (Townsville Fire)
Departing: Ezi Magbegor (Hungary), Lindsay Allen* (Europe), Izzy Wright (retired)
Free Agents: Carley Ernst, Charlise Dunn, Tess Heal, Bella Niven Brown
The reigning Champs have held on to their core group for the upcoming season, headlined by George, Madgen and Mitchell. Two huge outs in Magbegor and Allen but have signed two superstar replacements in Wallace and Murray who bring experience and firepower to the roster. Led by new Head Coach, Chris Lucas, can this team go back-to-back?
PERTH LYNX
Head Coach: Ryan Petrik
Returning: Sami Whitcomb, Alex Sharp, Lauren Sherf, Tayah Burrows, Mackenzie Clinch Hoycard, Emma Gandini, Jessie Edwards
New: Robbi Ryan (Joondalup Wolves), Chloe Bibby (Kilsyth Cobras), Amy Atwell (Los Angeles Sparks)
Departing: Emma Clarke (Sydney Flames), Darcee Garbin (Hungary), Marina Mabrey* (Italy)
Free Agents: Alex Ciabbatoni, Mia Jacobs, Ashleigh Isenbarger, Mia Satie, Jackie Young*
This season the Lynx have elevated several players to the main roster. Hoycard, Burrows, Gandini and Edwards have been dominating this season in NBL1 so it's easy to see why they've been elevated back to the main roster. Fan favourites in Whitcomb, Sharp and Sherf return and bring with them experience. It will be exciting to watch the new signings for the Lynx this season, particularly Atwell, who returns home from playing college basketball and was drafted in the WNBA this season.
TOWNSVILLE FIRE
Head Coach: Shannon Seebohm
Returning: Steph Reid, Lauren Nicholson, Zitina Aokuso, Courtney Woods, Lara McSpadden
New: Tianna Hawkins* (Washington Mystics), Morgan Yaeger (Sydney Flames), Mikaela Ruef (UC Capitals), Karlie Samuelson* (Phoenix Mercury), Krystal Leger-Walker (NZ)
Departing: Mia Murray (Melbourne Boomers), Micaela Cocks
Free Agents: Alecia Sutton*, Aliza Fabbro, Carla Drennan, Monique Billings*, Nadeen Payne
Townsville's squad this season is full of talent. Their returning players provide plenty of spark and with the added impact the international players can provide, Townville is looking like one of the teams to watch this season.
SYDNEY FLAMES
Head Coach: Shane Heal
Returning: Shyla Heal, Keely Froling, Kalani Purcell, Kiera Rowe.
New: Emma Clarke (Perth Lynx), Tiana Mangakahia (Russia), Hannah Sjerven* (Minnesota Lynx), Jocelyn Willoughby* (New York Liberty), Vanessa Panousis (Sutherland Sharks), Maddy Allen (Southern Districts Spartans)
Departing: Lauren Mansfield (Adelaide Lightning), Morgan Yaeger (Townsville Fire), Rebecca Pizzey (UC Capitals), Sherrie Calleia (UC Capitals)
Free Agents: Chelsea Dungee*, Chyra Evans, Emma Mahady, Funda Nakkasoglu, Katie Deeble, Stephanie Watts*, Shaquille Shaw, Maria Blazejeweski, Rennia Davis*
The Flames have several new players signed to their roster this season including the imports, Sjerven and Willoughby from the WNBA. Froling and Purcell are coming off the back of stellar NBL1 seasons. As well as NBL1 North's MVP, Tiana Mangakahia combining with Shyla Heal to form a fierce duo for the Northside Wizards. Great to see Vanessa Panousis back for the Flames who has also been in good form in NBL1. Still some fantastic players on the Flames' Free Agent list like Funda Nakkasoglu and the up-an-coming Katie Deeble.
SOUTHSIDE FLYERS
Head Coach: Cheryl Chambers
Returning: Abby Bishop, Aimie Rocci, Maddy Rocci, Sara Blicavs, Bec Cole
New: Lauren Jackson (returning from retirement)
Departing: Kristy Wallace (Melbourne Boomers), Emilee Whittle-Harmon (UC Capitals), Rachel Jarry (Retired), Jenna O'hea (retired)
Free Agents: Chelsea D'Angelo, Taylah Gillam, Kate Gaze, Saraid Taylor, Tayla Simmons
So much experience in this Flyers side. Bishop (back from an injury that ended her season) re-joins Aimie and Maddy Rocci and Cole, along with World Cup bound Australian Opal, Blicavs. The Flyers got the signing of the season in Lauren Jackson coming back to the WNBL after retiring. This team will be so exciting to watch this season.
ADELAIDE LIGHTNING
Head Coach: Nat Hurst
Returning: Steph Talbot, Marena Whittle, Brooke Basham, Chelsea Brook, Sam Simons, Ella Batish, Tayla Brazel
New: Abby Cubillo (UC Capitals), Lauren Mansfield (Sydney Flames)
Departing: Alanna Smith (Poland), Abigail Wehrung (Bendigo Spirit)
Free Agents: Kylee Shook*, Taylor Ortlepp, Isabel Borlase, Jasmine Fejo, Kiana Williams*
Captain, Steph Talbot returns to the Lightning, fresh off the back of a season with Seattle Storm where she is currently playing in the Playoffs. Along with fan favourite and 3×3 bronze medallist, Marena Whittle. Young gun, Abby Cubillo and Lauren Mansfield will also provide some big energy to the line-up. The Lightning are yet to announce their imports this season so will be keeping an eye out for that.
UC CAPITALS
Head Coach: Kristen Veal
Returning: Jade Melbourne, Shaneice Swain, Alex Bunton, Tahlia Tupaea, Brittany Smart, Gemma Potter
New: Emilee Whittle-Harmon (Southside Flyers), Rebecca Pizzey (Sydney Flames), Dekeiya Cohen*, Sherrie Calleia (Sydney Flames)
Departing: Mikaela Ruef (Townsville Fire), Brittany Sykes* (Hungary), Kelsey Griffin (Bendigo Spirit), Abby Cubillo (Adelaide Lightning)
Free Agents: Kelly Wilson, Alicia Froling, Bronte Clark, Abby Solway, Casey Samuels
New Head Coach, Kristen Veal has a lot of talent to work with in this Capitals side. With Cohen the newest international signing to the squad. The 6'2 forward from South Carolina played for Israel for the 21/22 season for Hapoel Rishon Lezion where she has averaged 13 points, 2.5 assists, 9.4 rebounds and 2.3 steals per game. Still some big names for the Capitals on the Free Agent list in Wilson and Froling.
BENDIGO SPIRIT
Head Coach: Kennedy Kereama
Returning: Anneli Maley, Alex Wilson, Mary Goulding
New: Kelsey Griffin (UC Capitals), Abigail Wehrung (Adelaide Lightning)
Departing: Maddie Garrick (Europe)
Free Agents: Tessa Lavey, Carly Boag, Megan McKay, Cassidy McLean, Jennie Rintala, Alana Goodchild, Demi Skinner, Dyani Avaniev, Piper Dunlop, Isabella Stratford, Leilani Mitchell
2021/22 league MVP, Anneli Maley is locked into Bendigo for another two seasons. Both Griffin and Wehrung return to Bendigo after stints at the Capitals and Lightning respectively. Wilson returns for another season with Bendigo with a Commonwealth Games Bronze. Lots of announcements still to come for the Spirit with several of their stars still on the Free Agency list.