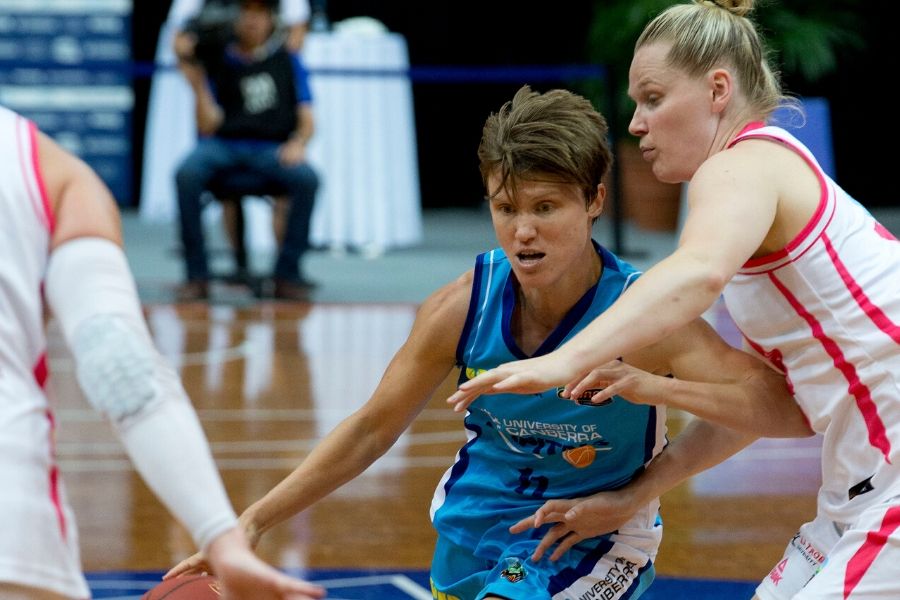 December 7, 2019 | WNBL news
To celebrate the 40th season anniversary of the Chemist Warehouse WNBL, Megan Hustwaite catches up with some of the greats of the game in a series of interviews to discuss their time in the league.
Jess Bibby is one of the WNBL's greatest tales.
A serious back injury nearly cruelled her career at age 23, but she would overcome adversity to play the most games in the history of the league, breaking Lucille Bailie and Rachael Sporn's record of 387 in 2015.
When she retired in 2016, she'd registered a remarkable 394 games for the Dandenong Rangers and Canberra.
"It's been nearly four years and it feels like a completely different life now because so much has happened since I retired,'' Bibby said.
"Because I played so many games I played with so many people and have so many amazing relationships, that's the thing that sticks out in my mind. The people I was able to meet and connect with made dedicating every second of 20 years of my life worth it."
After four years on the sidelines with injury, Bibby joined the Rangers. It was Gary Fox, who coached Bibby as a junior at Kilsyth, who gave her an opportunity and a contract.
An amazing few seasons followed with the Rangers winning their first-ever WNBL title in 2003-04, going back-to-back the following season before making, but ultimately losing, the decider to the Caps the following year in 2005-06.
"Those teams were super special. We had a young Carly Wilson, Jacinta Hamilton, Sammy Richards and the likes of Caitlin Ryan and Emily McInerny and it was the first time for all of us experiencing something like that, championship success,'' Bibby said.
"It wasn't about a superstar at Dandenong, it was the perfect group for me to come back into from injury because everyone contributed and it was all about us as a group. Nobody was interested in having their name up in lights and at the end of the day, we all got the ultimate reward.
"The year of the second championship, we lost two games for the whole season and got to host that Grand Final against Sydney. We were the best team all year and had amazing chemistry and camaraderie.
"Even the third year, I was injured that season but we bought a young Kathleen McLeod and Jenna O'Hea into our group. To go that close to winning a threepeat with that team of girls was an absolute career highlight."
The Rangers lost to the Caps that year but fast forward 12 months and Bibby was celebrating a Canberra championship having taken up a lifeline from champion coach Carrie Graf.
"It was such a great team and it invigorated me. I was back feeling like I used to feel. I ended up in Canberra 12 years and it literally changed my life and I owe it all to Graffy,'' she reflects.
"There'd be some days after games or sessions where my back wouldn't feel wonderful and there was never any pressure from her, she monitored me so well and almost had to save me from myself at times. I completely owe it to her and the faith that she had in me that enabled me to play 250 games after playing nearly 250 with the Rangers."
Along with the prestigious games record, Bibby played in seven consecutive WNBL Grand Finals for an incredible five championships.
Post basketball, Bibby donned the footy boots for the inaugural AFLW season with Greater Western Sydney in 2017.
She became a Mum for the first time in March this year, welcoming baby Maisyn and remains a popular fixture around Canberra running her coffee business Shotclock Espresso.