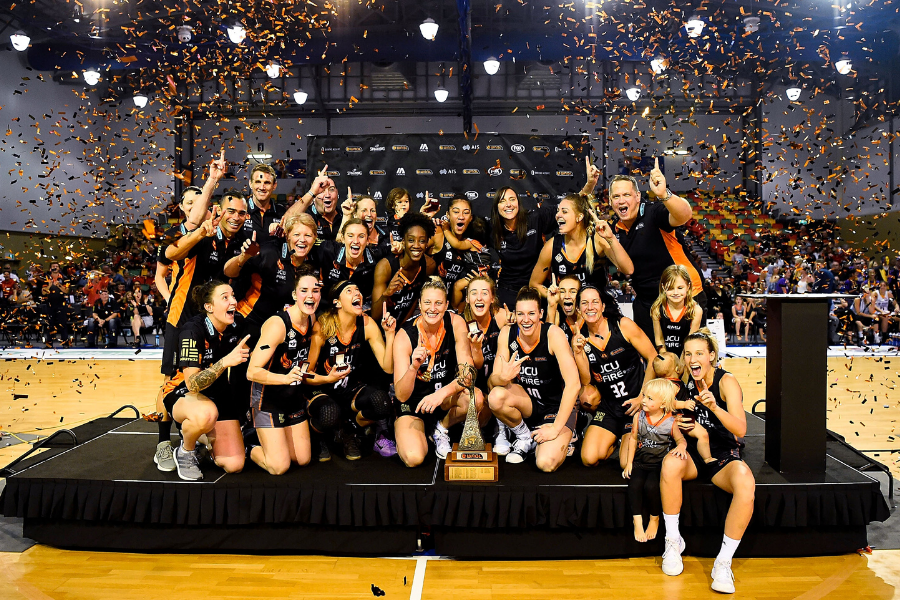 January 10, 2020 | WNBL news
The Chemist Warehouse WNBL's most northern team dominated the decade with the Townsville Fire and the league's greatest ever player reigning supreme.
The Fire won the most championships and recorded the highest winning percentage with superstar Suzy Batkovic winning six Most Valuable Player awards (4 at Townsville, 2 with Adelaide).
The Fire were a league force from 2010 to 2019 delivering three championships and a winning percentage of 58% with 145 wins and 104 losses.
Chris Lucas was the mastermind in 2014-15 and 2015-16 with his protégé Claudia Brassard guiding the Fire to victory in 2017-2018.
Under Bernie Harrower, the Bendigo Spirit claimed their maiden title in 2012-13 then went back to back the next season. With Simon Pritchard then Tracy York at the helm, the Spirit ended the decade with a 57% winning percentage and 135-102 record.
The Dandenong Rangers, later Southside Flyers, came in third with a 57% record (137 wins, 104 losses) headlined by a championship coached by Mark Wright in 2011-12 and runner-up title in 2016-17 under Larissa Anderson.
The Bulleen Boomers won their first ever championship and the first of the decade with legendary Tom Maher coaching one of the most talent-laden teams the competition has ever seen. The rebranded Melbourne Boomers experienced a few low years before returning to their winning ways, a 133-105 record giving the club a 56% winning rate.
Despite two titles under Carrie Graf, the UC Capitals came in at 50% having missed post-season action during the middle of the decade.
Sydney (49%) just missed a split record despite a Cheryl Chambers-led championship in 2016-17.
Adelaide's up and down decade was reflected with a 48% winning percentage and Perth (37%) had a lean start before making a Grand Final series among four straight finals' series appearances in coach Andy Stewart's rein.
Suzy Batkovic was the undisputed player of the decade, leading scoring, rebound, block and steals categories over the 10-year period.
She amassed 4,119 points followed by Steph Blicavs (Dandenong, Townsville, Adelaide) with 2,988, Katie-Rae Ebzery (Sydney Uni Flames, Perth Lynx) came in with 2,788 in front of Abby Bishop's 2,671 points for the Caps, Lightning and Fire and Kelsey Griffin (Bendigo, UC Capitals) at 2,609.
Batkovic was also queen of the boards with 2,056 rebounds ahead of Fire championship teammate Cayla George (1,672), Kelsey Griffin (1,525), Bendigo powerhouse Gabe Richards (1,521) and Abby Bishop (1,391).
Closing in on the all-time games record, Kelly Wilson dished out the most assists (948) during her championship-winning years with the Spirit, Fire and Caps ahead of Leilani Mitchell (782), Jenna O'Hea (686), Kristi Harrower (651) and Katie-Rae Ebzery (639).
Batkovic's blocked 290 shots ahead of Marianna Tolo (264), George (227), Louella Tomlinson (181) and Liz Cambage (179) and also snared the most steals (298) with Sara Blicavs (254), Kelsey Griffin (250), Leilani Mitchell (230) and Bec Cole (217) rounding out the top 5.
Watching #WNBL20 from the sidelines after having her first baby, Arlo, in October, Blicavs has still played the most games in the decade with 232 just one ahead of Kelly Wilson, with Toni Farnworth (227), Maddie Garrick  (221) and Micaela Cocks (216) behind.