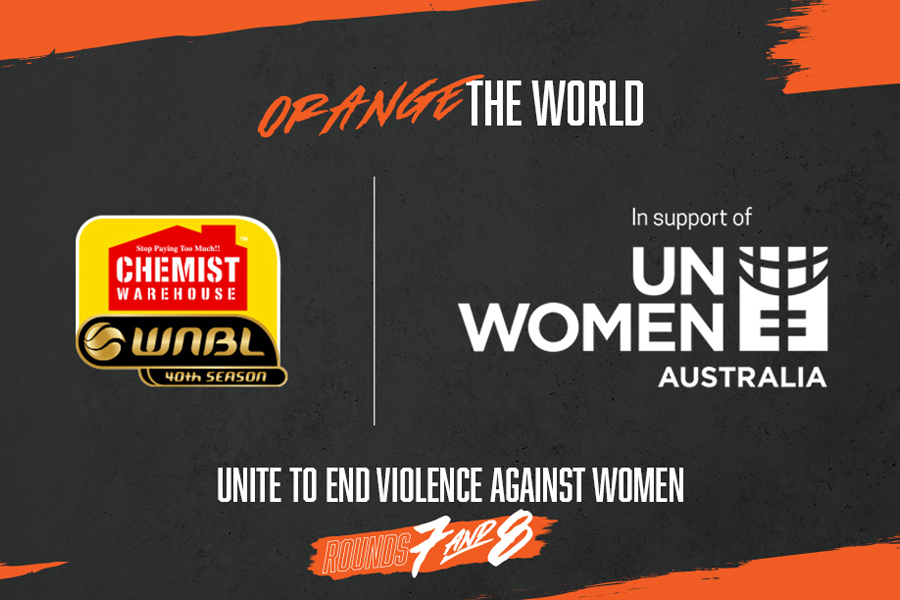 November 15, 2019 | WNBL news
Basketball Australia and the Chemist Warehouse WNBL are proud to support UN Women Australia with 'Orange the World' themed WNBL Rounds as a part of the 16 Days of Activism Against Gender-Based Violence campaign.
The '16 Days' campaign is a global initiative that takes place annually and runs from the 25th of November to the 10th of December and calls for the prevention and elimination of violence against women and girls.
Over the course of Rounds 7 and 8, the WNBL and its clubs will be championing this 'Orange the World' initiative through donation collections and a number of other game day activities.
Fans can show their support by dressing in orange while attending games, alongside the home teams who will be wearing specially designed orange themed uniforms, which will be launched in the coming days.
The colour orange symbolises a brighter future, free from violence and creates a solidarity globally in eliminating all forms of violence against women and girls.
Lauren Jackson, Head of Women in Basketball and UN Women Australia Champion, said the campaign is an important initiative for Basketball and the WNBL to support.
"I think it's really significant that we're using our platform to highlight that sport can be a place to create change," Jackson said.
"We are extremely passionate about gender equality and women's rights and we hope that by supporting UN Women Australia during the 16 days we can bring positive discussion on this issue."
Janelle Weissman, Executive Director UN Women Australia, said she looks forward to seeing the campaign highlighted in the WNBL space.
"One in three women and girls experience violence in their lifetime – that is one too many. We can change these statistics, but we must stand together in order to put an end to violence against women and girls," said Weissman.
"So, having the support of Basketball Australia and the WNBL during the 16 days, generating awareness of the issues and opening conversations, is really incredible.
"We know that sport has the power to unite and we look forward to seeing Australians join together during this campaign."
The donations from throughout the 16 days will go towards funding UN Women Australia's grassroots programs that work to create safe spaces for women and girls, free from violence, as well as supporting those who have been affected by violence firsthand.
Basketball Australia and the WNBL encourage fans to show their support by texting 'LIGHT' to 0497 222 444, to donate $5 directly to UN Women Australia.
The UN 'Orange the World' themed rounds will be run over Rounds 7 and 8 of the Chemist Warehouse WNBL season. To view the full fixture click here.