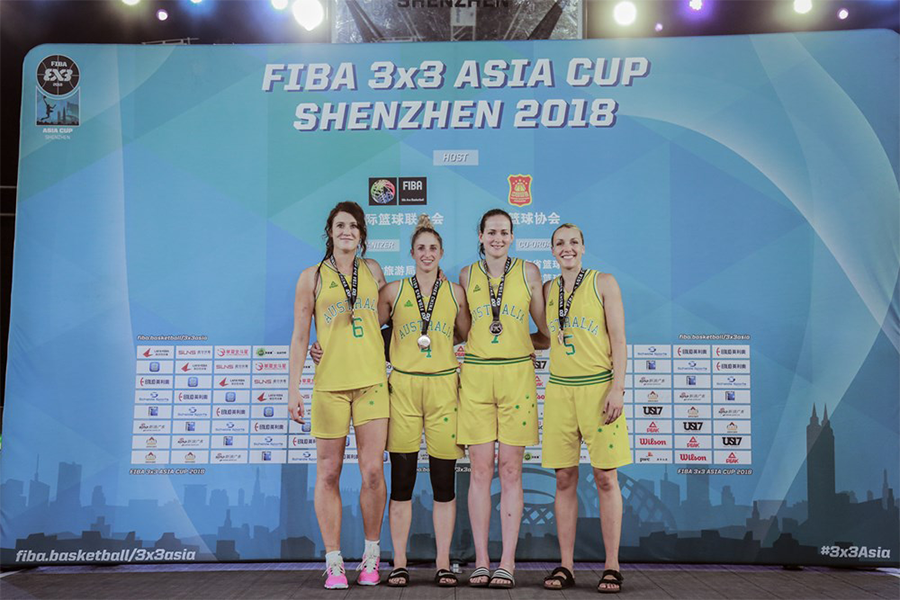 May 2, 2018 | WNBL news
The Australian women began their last day of competition with a mammoth 21-3 victory over Indonesia in the Quarter-Final which included a 7-0 run to set up the win.
Backing up a few hours later against New Zealand in the Semi-Final, a bevy of WNBL talent was on display with seven of the eight players a part of last season.
It was a defensive battle between the sides, tied at 5-5 halfway through the contest before Maddie Garrick got her mid-range game going which sparked two-pointers from Keely Froling and Bec Cole for a 7-1 run.
The highlight of the game came when Carlie Smith and Cole connected on an alley-oop which gave Australia a seven-point cushion with 1:30 to go but New Zealand were not done with.
Toni Edmondson, Chevannah Paalvast and Kalani Purcell and nailed two's in quick succession before Paalvast hit a reverse which sent the game into overtime as the Kiwi's came from nowhere in a frantic final minute.
In the extra period, both teams struggled to make a shot but the Aussies lost Micaela Cocks off a rebound and the Townsville Fire WNBL Champion drained the long-range basket, breaking the hearts of the Australians in a 19-18 win to end their dreams of defending their FIBA 3×3 Asia Cup gold medal.
Putting that disappointment behind them, Australia took on Japan for the bronze medal in a re-match of their pool stage game and in similar fashion, the Aussies utilised the height of Froling to block any Japanese lay-up attempts whileGarrick's harassing perimeter defence helped restrict the opposition to just one point in the first four minutes.
Australia were struggling to score as well- the effects of a busy few days on the 3×3 court taking their toll- and they only led by a point at the halfway mark.
Once a couple of shots fell from Garrick and Cole though, the onslaught began and a 13-0 run set up a comfortable 17-5 victory to claim the bronze medal.
In addition to the podium place, Bec Cole was named to the Team of the Tournament.
Watch the replay of both the women's bronze medal playoff and the men's gold medal playoff (including Garlepp's game-winner) below.
However Australia wasn't the only WNBL filled team with success, as New Zealand went on to claim gold in a thrilling 14-11 point win over China, with Micaela Cocks named MVP.
You can watch the replay of both the men's and women's games HERE