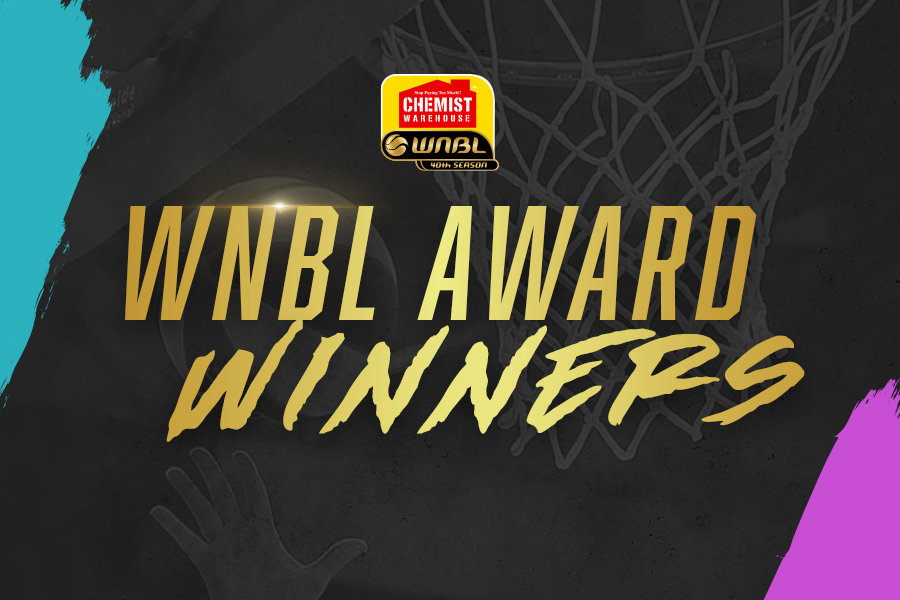 February 17, 2020 | WNBL news
Following the announcement of Caps star Kia Nurse as this season's MVP, the WNBL announced today the rest of its 2019/20 season award winners as well as the WNBL All-Star First and Second Teams.
The WNBL's player awards process has changed from previous years, with the league to recognise individual winners during the semi-finals in front of their home crowds and an event planned on the day prior to game one of the WNBL Grand Final, which will celebrate awardees, life members, athletes and the success of the WNBL's 40th season.
Coach of the Year Winner
Paul Gorris (Canberra Capitals)
He led his side to the Chemist Warehouse WNBL championship last year and in #WNBL20, UC Capitals coach Paul Gorris has earned another accolade, voted Coach of the Year.
Gorris, who steered the Caps to a second-place finish, polled 22 votes to win from Southside Flyers' Cheryl Chambers and Melbourne Boomers' Guy Molloy on 20 votes. Adelaide's Chris Lucas (13 votes) and Sydney's Katrina Hibbert (12) rounding out the top 5.
The Capitals, under Gorris' guidance, showed great character and resilience overcoming injuries to key stars and bouncing back from defeats to produce some sensational basketball, securing them the home-court semi-final advantage.
This is Gorris' first WNBL coach of the year award.
Coaches and captains cast a vote for first, second and third-place selections for Coach of the Year at the end of the regular season. The coach with the highest points total, regardless of the number of first-place votes, wins the award.
Betty Watson Australian Youth Player of the Year Winner
Ezi Magbegor (Melbourne Boomers)
Formerly known as Rookie of the Year, honouring one of our greatest ever contributors to the sport, this award has undergone a makeover this season with new criteria seeing Australian players 23 years old or under eligible.
Melbourne Boomers young gun Ezi Magbegor was a runway winner with 38 votes, ten clear of Bendigo Spirit rising star Shyla Heal (28 votes) and UC Capitals championship player Maddy Rocci (11 votes).
A Chemist Warehouse Opal, Magbegor was crowned WNBL Rookie of the Year back in 2017-18 when she played for the Capitals, and now adds yet another accolade to her impressive and growing resume. In a campaign where she averaged 13 points and 6.5 rebounds per game, she polled 38 from a possible 42 votes.
Coaches and captains vote on this award but cannot vote for their own players.
Robyn Maher Defensive Player of the Year Winner
Mercedes Russell (Southside Flyers)
Named after one of the best defenders our league and Australia has ever seen, Southside Flyers import Mercedes Russell collects this gong in her debut Chemist Warehouse WNBL season.
The towering centre scored the first-ever points for Southside but has made a name for herself at the other end of the floor with her brilliant rebounding; she averaged 9.6 per game and jaw-dropping blocks.
The 24-year-old totalled 23 votes to win from UC Capitals French point guard Olivia Epoupa (18 votes) and fellow Cap Marianna Tolo (14 votes).
At the end of the regular season, coaches from each team selected the two best defensive players from their team. Each coach and club then cast 1st, 2nd and 3rd-place votes to determine the winner.
Sixth Woman of The Year Winner
Alison Schwagmeyer-Belger (Perth Lynx)
A new award in #WNBL20, this accolade celebrates the depth in the Chemist Warehouse WNBL and the incredible talent coming off the bench.
Perth Lynx star Alison Schwagmeyer-Belger was the obvious winner with 24 points ahead of Melbourne Boomers duo Kalani Purcell (14 points) and Stella Beck (13 points).
The dynamic guard averaged 15.3 points, 5.6 rebounds and 1.9 assists per game for Perth.
Players that have started in more than 50 per cent of games are not eligible for Sixth Woman of the Year.
ALL-STAR WNBL FIRST AND SECOND TEAMS:
WNBL ALL-STAR FIRST TEAM: Kia Nurse (UC Capitals), Brianna Turner (Adelaide Lightning), Leilani Mitchell (Southside Flyers), Jenna O'Hea (Southside Flyers), Katie-Rae Ebzery (Perth Lynx)
WNBL ALL-STAR SECOND TEAM: Mercedes Russell (Southside Flyers), Bec Cole (Southside Flyers), Steph Talbot (Adelaide Lightning) Cayla George (Melbourne Boomers), Alice Kunek (Sydney Uni Flames)
The outstanding talent of our home-grown players and world-class imports is showcased in this season's All-Star first and second teams.
The first team features newly crowned Suzy Batkovic Medallist Kia Nurse, Adelaide's star import Brianna Turner who has taken all before her in her debut season, Southside's experienced duo of Jenna O'Hea and Leilani Mitchell and Perth's inspirational leader and playmaker Katie-Rae Ebzery.
The second team includes Robyn Maher Defensive Player of the Year Mercedes Russell, her Flyers teammate Bec Cole, Alice Kunek who shone in her first season with the Flames before an injury ended her campaign plus Opals teammates Cayla George and Steph Talbot.
The two teams are selected by coaches and captains at the end of the season from a list of 20 players who received MVP votes during the regular season. Coaches and captains can't select players from their own team. Players are selected on their season performance rather than position.