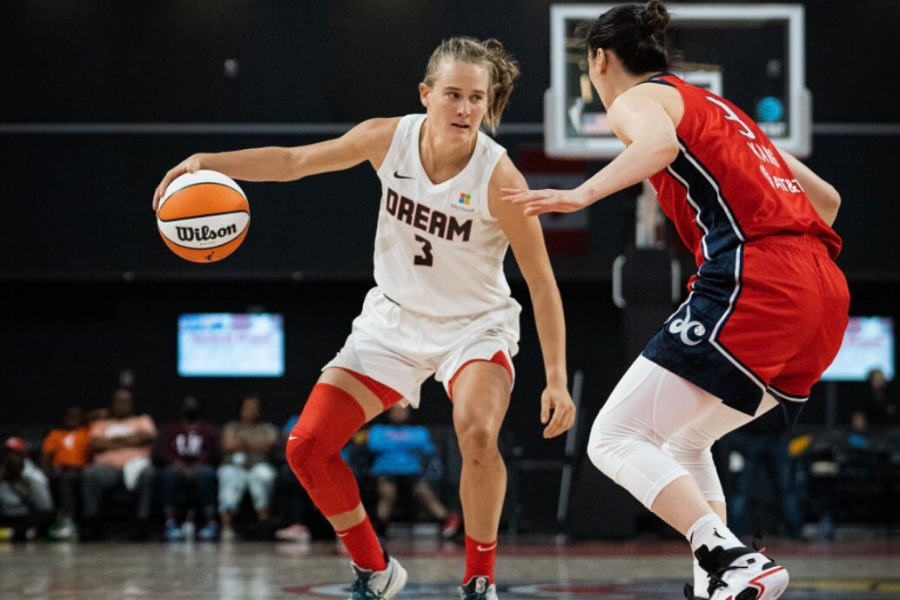 May 13, 2022 | WNBL news
By Jessica Robinson.
WNBL finalists, champions and our season MVP are all in full swing of the WNBA season, while the story of one Southside Flyer is pulling on the heartstrings.
Returning to Atlanta Dream for her first WNBA season since she ruptured her ACL for the second time in 2019, Kristy Wallace scored her first WNBA points and has come through the first two games of the season unscathed.
Playing 20+ minutes across both games, Wallace's 2022 season is off to a 'dream' start, recording back-to-back victories- alongside previous Opals' assistant coach, Paul Gorris.
Defense ➡️ Offense

Kristy is now shooting 60% from the field 🔥#DoItForTheDream pic.twitter.com/YollOykVoW

— Atlanta Dream (@AtlantaDream) May 12, 2022
After signing a replacement player contract with Chicago Sky, WNBL MVP, Anneli Maley has settled in smoothly. Doing what she does best, Maley's defensive game was on show as she notched up four rebounds and three steals on debut.
Her second game came with a victory over some familiar faces, as Maley took the chocolates over Opal, Sami Whitcomb and national team coach Sandy Brondello when Chicago defeated New York Liberty.
"I'm so grateful to the Chicago Sky for providing this opportunity. I've worked hard to get here and have enjoyed the whole experience so far, the coaches, players and staff are all amazing and great to be around, so to actually be a part of the Chicago roster and get the chance to hit the court, I'm pretty thrilled," Maley told WNBL Media.
"I'll be working harder than ever to give myself the best chance to hopefully secure a permanent roster spot in the future, but for now I'm just focussed on doing the best I can for the team."
Speaking of New York Liberty, Sandy Brondello achieved her first dub in her new colours, while Sami Whitcomb came out firing in her first season outing, hitting 15 points, five rebounds, five assists and three steals. Fellow Aussie, Bec Allen will also be set to re-join NY post-Europe season.
Our Seattle Storm duo in Ezi Magbegor and Steph Talbot are back in action and back on the same team, after a competitive WNBL semi-final series that saw them go head-to-head only a few weeks ago. Meanwhile, Alanna Smith also secured a permanent roster spot with the Indiana Fever, alongside WNBL Champion import, Tiffany Mitchell. After two losses to start the season, the Fever achieved their first victory over Minnesota, with Smith featuring in all three games.
ST3PH WITH THE FIRST STORM THREE IN @ClimateArena! 👌👌👌 #TakeCover pic.twitter.com/yeLYwQQVZ2

— Seattle Storm (@seattlestorm) May 7, 2022
Upcoming games to watch:
Indiana Fever v New York Liberty.
Atlanta Dream v Indiana Fever.
Chicago Sky v Seattle Storm.