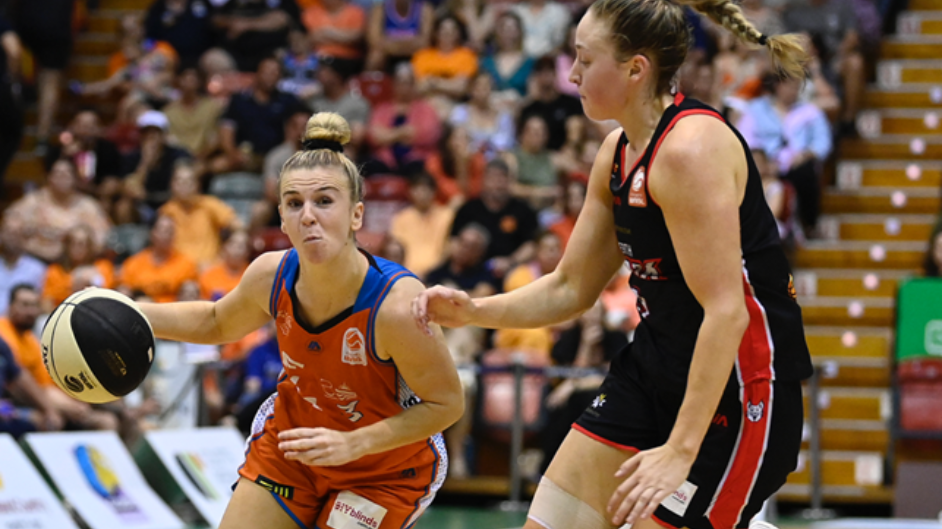 March 9, 2023 | WNBL news
The Townsville Fire contained the Perth Lynx in Game One of their Cygnett WNBL Semi-Finals series, 81-68.
The Lynx, led by Sami Whitcomb, started the game off 5-0 as they looked to have the momentum early. Whitcomb and Lauren Scherf were beginning to be hard to contain but the Fire kept in touch to make it a close game of basketball.
Steph Reid looked to be the driving force for the Fire as she found space on the offensive end to convert buckets. The end of the half was highlighted by a three on the buzzer by Karlie Samuelson of the Fire.
Despite the Fire being able to shut down the Lynx's 3-point style of play, they were still able to find ways to score on the floor to trail by only 7 going into the fourth. The high turnover count for the Lynx proved costly in the end as the Fire took out Game One of their Semi Final series.
Top performers:
· Steph Reid (Townsville Fire): 24 pts, 5 reb, 3 ast, 1 stl
· Sami Whitcomb (Perth Lynx): 22 pts, 5 ast, 1 reb, 1 stl
· Lauren Scherf (Perth Lynx): 18 pts, 6 reb, 5 ast, 1 blk
The next WNBL showdown will see the Melbourne Boomers host the Southside Flyers in Game Two of their Cygnett WNBL Semi-Finals Series on Saturday 11th March at 7:30pm AEDT at Melbourne Sports Centre- Parkville. The Boomers will look to tie up the series at home while, the Flyers will want to lock away the win to book their sport in the Grand Final Series. You can watch it live on ESPN.