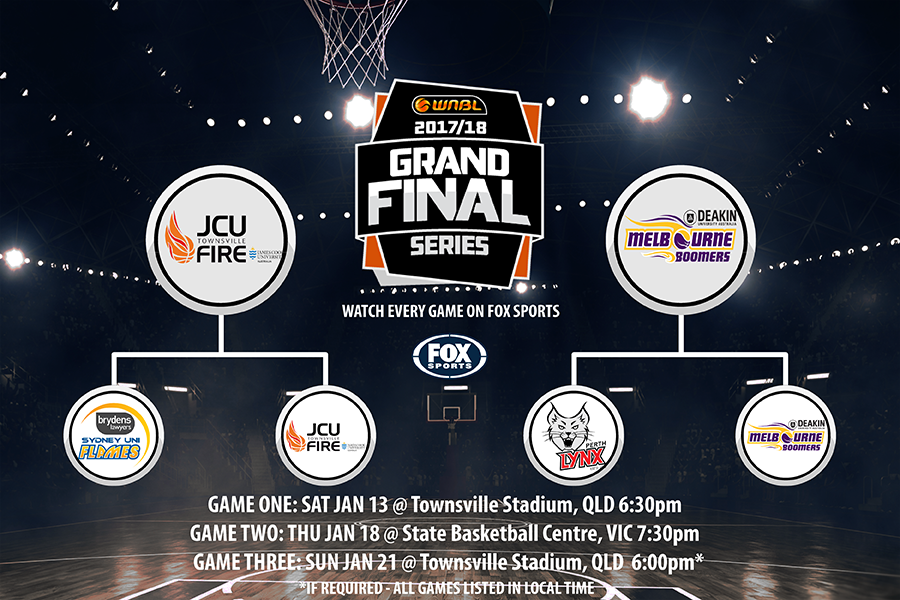 January 7, 2018 | WNBL news
After thrilling games in both semi-final series, the Deakin Melbourne Boomers and the JCU Townsville Fire will face each other in the 2017-18 WNBL Grand Final series.
Finishing third on the regular season ladder, Townsville Fire defeated Sydney Uni Flames in two straight games, first at home in Townsville. The Fire commanded a strong win at home securing game one 78-49, before taking game two in a thriller in Sydney, 65-68.
Suzy Batkovic's leading form continued through both games as she and teammates, Darcee Garbin and Cayla George worked hard to ensure the Fire's chance at another championship. The Flames put up an incredible fight, Asia Taylor, Jennifer Hamson and Belinda Snell rallying to keep their team in contention.
The Fire were too strong and now hold a home court advantage for the best of three Grand Final series.
After their record being winning streak, Perth Lynx appeared to struggle in their on road clash against the Melbourne Boomers when they traveled to Melbourne for game one. The Boomer's shooting proved too strong for the Lynx, the Boomers winning 92-76. Game two saw the Boomers travel to Perth, where a blockbuster game took place, the Boomers securing the grand final sport with 69-78.
Captain Jenna O'Hea, Bec Cole and Maddie Garrick all starred, while powerhouse Liz Cambage was unstoppable at the ring, the Boomers now with their first chance at a championship since their loss in the 2011-12 season.
Alice Kunek, Sami Whitcomb and Courtney Williams didn't make it an easy win for the Boomers, the three shooters fighting until the last minutes to stay in the series.
The Boomers will host game two of the grand final series after finishing fourth on the regular season ladder.
"The Grand Final series will be one of the most hotly contested in years, it will be the perfect opportunity for basketball fans to witness some of the world's best female athletes in action. I'm extremely proud of what our players and clubs have all achieved throughout this season." said Head of the WNBL Sally Phillips.
"The battle between two of the best basketballers this country has ever produced in Batkovic and Cambage, promises to be a highlight."
The series being broadcast LIVE on FOX SPORTS gives fans more access to elite women's basketball than ever before.
"I'm thrilled that all games will be broadcast live on FOX SPORTS, their support this season has been simply awesome, they've been an amazing broadcast partner and we are truly grateful for their unwavering support." Phillips said.
Don't miss a moment of this grand finals series, with every game broadcast LIVE on FOX SPORTS. Check your local FOXTEL guide for times and channels.
WNBL 2017-18 GRAND FINALS SERIES
Game One: Sat January 13th, Townsville Fire v Melbourne Boomers @ Townsville Stadium, 7:30pm AEDT
Game Two: Thu January 18th, Melbourne Boomers v Townsville Fire @ State Basketball Centre, 7:30pm AEDT
Game Three: Sun January 21st, Townsville Fire v Melbourne Boomers @ 7:00pm AEDT (If Required)
Tickets available online now!