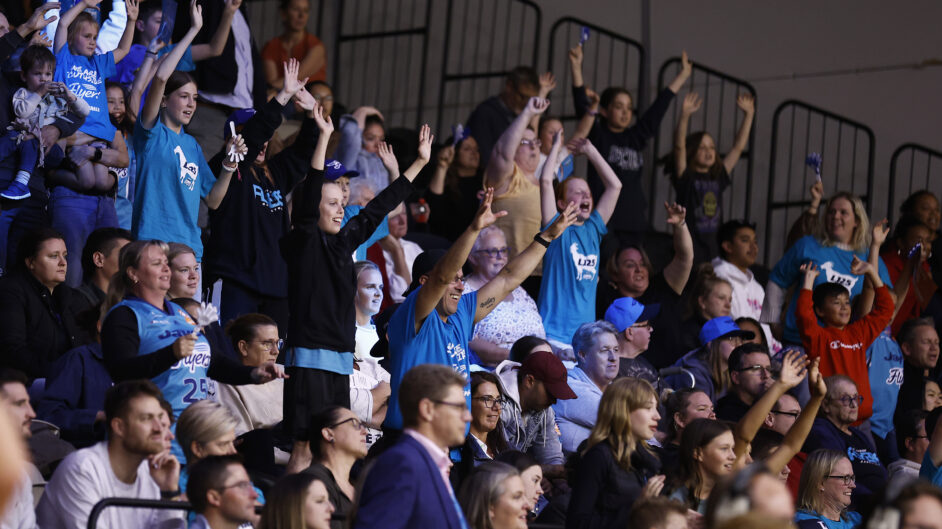 September 4, 2023 | WNBL news
Strong feedback from WNBL fans, who made it very clear they wanted more opportunities to engage digitally with the league, Clubs and athletes, will see the introduction of a WNBL App and WNBL Tik Tok channel prior to the upcoming season.
Head of WNBL, Christy Collier-Hill, stated that the league was committed to listening more to fans needs and wants, and this is a great example of that.
"Last year was the first year of the fan survey, and from that we implemented a range of changes and initiatives. This year even more fans have given us their feedback, and we're thrilled to again be able to provide some tangible outcomes off the back of that.
We know the majority of fans watching games are also on a second device, wanting stats, news and more, and we're excited to finally be providing a free WNBL App for that.
Further to that, we know so many of our fans are on Tik Tok, and want that short form entertaining content, and therefore we'll also be bringing that to life."
Collier-Hill confirmed both would be live prior to the commencement of the WNBL 23/24 season.
Over 850 fans from around the country completed the recent WNBL Fan Survey, sharing their thoughts on the season that was, and providing suggestions for improvement on the season ahead and beyond.
For the second consecutive year fans were asked for their views on a range of items, including broadcast, membership, game day, merchandise, scheduling of games, content, digital engagement, awards, themed rounds, innovation and general sport.
A new initiative in the 22/23 WNBL season was the introduction of 'WNBL Wednesdays'. Feedback from fans on this was positive, stating they realise there is a gap in the market that the WNBL could own, and therefore wanting to see it continue. To improve, feedback was that game times needed to be later and more consistent, which has been achieved in the 23/24 WNBL Fixture.
Fans also requested that the voting and selection for the WNBL Awards be reviewed, which the league has confirmed will take place prior to the upcoming season. Specific items to be reviewed will include whether the All-Star Teams should be limited to two (2) imports (the current rule), who, when and how voting should occur for the league MVP.
"Fans are the heart and soul of the WNBL, and we're really grateful for their honest feedback", said Collier-Hill. "We want to continuously grow and evolve the league, and the fans are a big part of that".
WNBL Fans who participated in the Fan Survey were given the chance to win 1 of 10 $50 vouchers to the WNBL Shop. The 10 winners have been notified via email and their voucher is on the way.