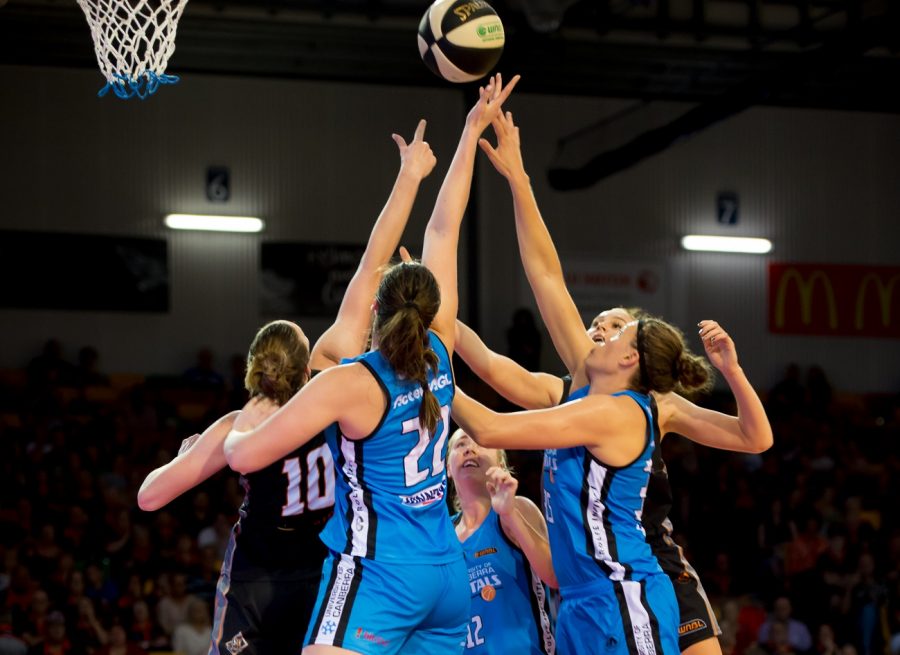 October 16, 2017 | WNBL news
Photo courtesy of Townsville.
The JCU Townsville Fire are the only undefeated team after two rounds while the Deakin Melbourne Boomers have also started in fine form, owning a 3-1 record following a heavy schedule to start season 2017/18.
MAC Adelaide Lightning 89 def. Perth Lynx 81
Abby Bishop led the Lightning to victory on Thursday night with a monster double-double of 35 points and ten rebounds along with three steals and three blocks. Lauren Nicholson also starred with 14 points and 12 boards as Adelaide shot 50% from the field as a team to overcome a ten-point deficit. Courtney Williams stood out for the Lynx again, pacing them with 25 points while Kayla Standish (14 points, ten rebounds, four assists, four steals) impacted both ends. Despite the loss, Perth knocked down 13-26 from beyond the arc with only their second-half defence letting them down.
Boxscore: http://www.fibalivestats.com/u/wnbl/681908/
Marcus Wong, Lightning assistant coach: "We learned from the Canberra game and we had belief we could come back. All credit to the girls, they really turned it around in the second half and our execution was a lot better at both ends of the floor."
Deakin Melbourne Boomers 90 def. Bendigo Bank Spirit 63
An undersized Bendigo could not contain the Boomers in the paint as Liz Cambage collected 25 points and 14 rebounds in the absence of Kelsey Griffin and Gabe Richards. Putting on a show in front of the Geelong crowd, Melbourne were also serviced by Courtney Duever's 12 points as their bench tallied 38 and the home side also punished Bendigo on the glass with an 11-0 advantage in second chance points. The Spirit were jumped from the opening tip but did win the final term 25-16 as Nadeen Payne had 16 points while role players Ebony Rolph and Ash Karaitiana combined for 21 points and five steals.
Boxscore: http://www.fibalivestats.com/u/wnbl/681910/
Guy Molloy, Boomers coach: "We turned the ball over way too many times tonight, we had 19 turnovers. But I was really happy with the process we went through to find Liz, there was nothing that was forced, we just ran our plays and got her the ball at the right times so that was pleasing."
Betnijah Laney, Spirit: "We spoke about breaking our season down into mini-seasons and this weekend we need some wins. We've been really focused at practice and need to translate that into our game."
JCU Townsville Fire 76 def. University of Canberra Capitals 65
In a battle of two undefeated teams, the Fire continued their perfect start as reigning MVP Suzy Batkovic returned to her best form with 20 points and 12 rebounds while Cayla George (14 points, nine boards) and Laurin Mincy (13 points, three assists) impressed. Lauren Scherf (13 points, eight rebounds) and Nat Hurst (13 points, five boards, six assists) opened up a healthy lead for the Caps at the main break but they could not respond to a 28-41 second half.
Boxscore: http://www.fibalivestats.com/u/wnbl/681909/
Claudia Brassard, Fire coach: "We were scoring in transition and we knew that we could always get those scores but it was the half-court stuff that we wanted to improve. We are a deeper team and we're a fit team and I think that showed in the second half."
Paul Goriss, Caps coach: "It's not a reality check, we were definitely in the game. Townsville are always tough at home and we were travelling on the road for the first time. We didn't have a great start to the third term but overall it was a good quality game."
Bendigo Bank Spirit 106 def. Perth Lynx 71
The Spirit grabbed their first win of 2017/18 on the back of a 62-28 second half demolition of Perth, cracking the century mark for only the second time in their history and moving the visitors to an 0-3 record. With 42 points at half-time and only a one-point lead, Bendigo exploded in the third term to score 43 (a club record) on 14-16 shooting including 7-9 three-point shooting. Nadeen Payne scored 19 of her 24 points in the third quarter alone, single-handedly destroying the Lynx while Betnijah Laney (25 points, nine assists), Rachel Banham (19 points, five assists) and Kelsey Griffin (17 points, eight rebounds) starred throughout the contest. Perth received a combined 31 points from Courtney Williams and Sami Whitcomb but they will need to put some serious work into their defensive end as a team.
Boxscore: http://www.fibalivestats.com/u/wnbl/681911/
Simon Pritchard, Spirit coach: "We had been happy with 42 points in the first half. In that third quarter where we scored 43 points, it was something for the ages. They were combining and playing off each other so well… it was great basketball and great to watch."
Brydens Sydney Uni Flames 70 def. Jayco Dandenong Rangers 65
Asia Taylor was the heroine for the Flames in the Grand Final re-match, finishing with 17 points and 11 rebounds and hitting a late three-pointer to give her side the victory. All five starters for the home team scored 11+ to answer Kayla Pedersen (19 points, nine rebounds) and Sara Blicavs (14 points, three steals) whose best efforts were not enough to help the Rangers avoid a 0-2 start.
Boxscore: http://www.fibalivestats.com/u/wnbl/681912/
Cheryl Chambers, Flames coach: "Once again, our first half was really slow. We really lacked energy. We found ourselves in a hole we had to dig out of. [But] it was a great shot. Asia has been working on that so to see it come off is pretty pleasing."
Larissa Anderson, Rangers coach: "We led for 33 and a half minutes and they led for four and a half minutes. We're hurting because we know we should have won that. But at the moment, we just need to spend more time together."
University of Canberra Capitals 63 def. by Deakin Melbourne Boomers 92
After a close first quarter, the Boomers blew the game open on the back of a 33-11 third period and romped home to a comfortable win as they swept Round 2. Their front court duo of Cambage (27 points, nine rebounds) and Jenna O'Hea (19 points) did the damage while Brittany Smart chimed in with 16 points. After two straight victories in Round 1, the Caps have dropped to 2-2 with Ezi Magbegor's 11 points off the bench a rare bright spot for them on Sunday.
Boxscore: http://www.fibalivestats.com/u/wnbl/681913/
Paul Goriss, Caps coach: "For them to go out and score 92 against us, it's not the team we want to be and it's not the way we want to play. I'm disappointed in the way we acquitted ourselves, especially in that third quarter again."
Media Links
Lachie Young from the Geelong Advertiser covered the Boomers and Spirit's trip down the highway: http://www.geelongadvertiser.com.au/sport/local-sport/wnbl-2017-melbourne-boomers-too-strong-for-bendigo-spirit-at-the-arena/news-story/c66fcd432c98e0669970263c69ca5ca8
Caden Helmers reported on the Caps' first loss of the season for the Canberra Times: http://www.canberratimes.com.au/sport/act-sport/wnbl-canberra-capitals-suffer-first-loss-of-the-season-against-townsville-fire-20171013-gz0vae.html
Helmers then chronicled the Caps' interrupted road trip to face Melbourne on Sunday: http://www.canberratimes.com.au/sport/act-sport/wnbl-canberra-capitals-left-stranded-in-brisbane-ahead-of-melbourne-boomers-clash-20171013-gz0sd4.html
Reece Homfray wrote about the Lightning's selfless basketball through the opening rounds for the Adelaide Advertiser: http://www.adelaidenow.com.au/sport/basketball/adelaide-lightning-spreading-the-load-and-getting-early-results/news-story/d148f7d788be06443a752f6689fa6d07
Mia Murray played her 150th game for the Fire this weekend as reported by Trent Slatter for the Townsville Bulletin: http://www.townsvillebulletin.com.au/sport/mia-murray-to-play-150th-game-for-townsville-fire-against-canberra/news-story/6f82bc1ab04e1b09d751bdc7215fc510
David Turners reported on the Rangers lamentable 0-2 start to the season for the Greater Dandenong Leader: http://www.heraldsun.com.au/leader/sport/wnbl-dandenong-rangers-are-02-but-just-warming-up-despite-frustrating-loss-to-sydney-flames/news-story/2e3b4f5c5b25162094c3ad185adb05dd
Amanda Lulham wrote about Asia Taylor saving the day for The Daily Telegraph: http://www.dailytelegraph.com.au/sport/swoop/asia-taylor-saves-day-for-sydney-uni-flames-against-dandenong/news-story/5ae03ba867d3b4b98cba3ed9f6fc7565
Catch up on all the news around the league via the Basket Case podcast here: https://www.spreaker.com/show/basket-case
You can also listen to Megan Hustwaite's WNBL podcast with Sara Blicavs and other guests each week here: https://itunes.apple.com/au/podcast/the-wnbl-show/id1292447514?mt=2#episodeGuid=85fa7997-cdbf-463a-ba63-6880c78e48f9