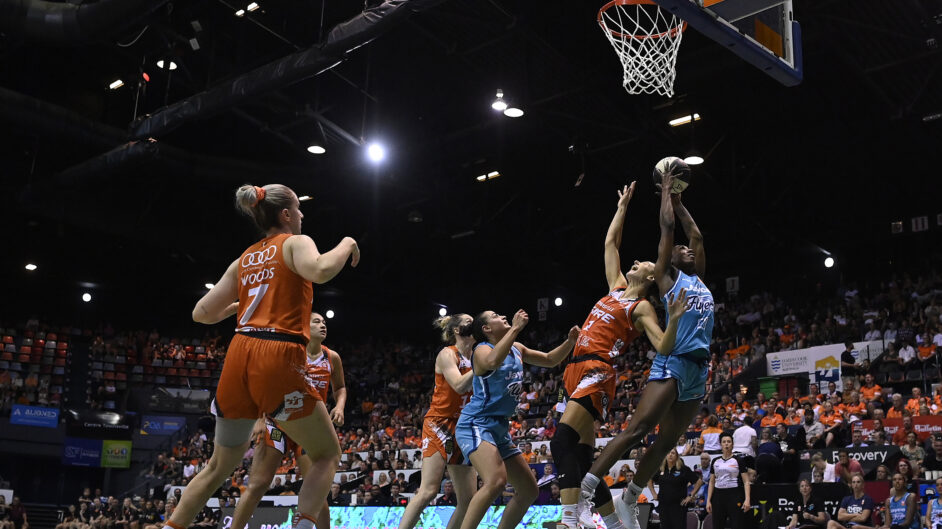 November 15, 2023 | WNBL news
Written by Mark Alabakov
SYDNEY VS UC CAPS
WED 15 NOV
7:00pm AEDT
📍 Quaycentre
The Wednesday night special pits a Flames team, who responded from a round 1 loss to Perth by looking more in-sync at both ends and beating Bendigo, with an opportunity to show their mettle and bounce back stronger yet again from a defeat.
You can always be 'putting bricks in the wall' of the team's development and Guy Molloy will no doubt be tinkering with strategy and player roles in the lead up.
It was evident late in the game against the Boomers, and when challenged by the Spirit, that the largest difference making gains can be made at the defensive end. The Flames have allowed an average of 81 ppg in 3 games, 2nd most in the league, and that figure is something they'll be looking to bring down to keep opponents to beatable scorelines.
Big positives from their previous weekend's games are both the role clarity of DiDi Richards who is understanding where and how she can impact the game offensively with her quick first step and agile step throughs to the basket, as well as the emergence of Paige Bradley and Kiera Rowe as offensive threats.
Whilst Bradley, traditionally an organizing point guard and Rowe, traditionally a '3 and D' presence still need to do what they do best – the Flames looked far harder to hold down when those 2 athletes picked their moments to shoot or drive when the situation presented and make effort-based plays to keep their defenders honest. If they can continue that trend, the likes of reigning MVP Cayla George and reigning WNBL Champion Lauren Nicholson will have more space to operate.
The Caps are still seeking their first win of season 2024, looking continue to fit together some new, handy additions to their roster. The additions of Alex Sharp and Alex Fowler make the team better right now, as the 2 leading scorers for the Caps so far with 17.5 and 14.5 ppg respectively, whilst also providing a great platform for growth with a large role and the team's reliance on their output.
In the very early stages of the season, the Caps have some work to do on the defensive end. They currently sit in last place for scoring defense and in 3pt percentage defense – with their first 3 opponents shooting at a combined 45% which won't be what they are aiming for.
Every game provides a chance to rectify what's needed to present a team's best version. Jade Melbourne and crew have a lot of pride, will have made adjustments this week at practice and they'll be looking at the Flames as an opponent they could snatch a morale-building result from, as the Flames aren't shooting the 3 particularly well so far at 26% which could provide them a game they can take some risks in, grow by trial and error, and ultimately keep building their season with.
LOOK OUT FOR: Who bounces back best and makes the necessary adjustments on the defensive end to strike a balance of disruption, contesting and containing.
PERTH VS BENDIGO
FRI 17 NOV
6:30pm AWST
📍 Bendat Basketball Centre
The undefeated Perth Lynx have run teams off the floor for 4 quarters, getting on the rim or an open 3pt shot within 7 seconds or less of gaining possession. They lead the league in team ppg and have been lead superbly by the other-worldly Aari McDonald. McDonald has put herself on the map with explosive quickness, on-time passing and the will and want to have the ball in her hands in key moments. Amy Atwell had become more than just a world class shooter, doing an exceptional job making plays off the dribble and by cutting. Anneli Maley is thriving in her new digs, averaging 16 ppg and 17 rpg, back to her MVP level of confidence. The possession play she adds is a perfect fit for Perth.
The Lynx have looked like the most in-sync team at both ends of the floor so far this season, 3rd in the league each for field goal percentage, assists and rebounds, leading to 2 wins and momentum.
The winless Spirit are persistent and have competed their way back into contests against Townsville and Sydney. Early strong performances by Mehryn Kraker and Alex Wilson have been very helpful on the offensive end, with the size of Ruth Davis helping to change shots at one end and then create extra possessions by her length at the other. The Spirit don't have a single player in the top 10 for scoring, instead sharing the load and having at least 4 athletes in double digits for points scored in each of their games so far.
They'll be looking to continue to score-by-committee and create challenges for the Perth defense to solve as a result.
LOOK OUT FOR: Anneli Maley VS the Spirit. Maley played 2 seasons at the Spirit, one of which she was league MVP and it's largely unprecedented for a league MVP to change colors. The intel she will have on the Spirit and that they will have on her will make this an epic arm-wrestle of a contest.
ADELAIDE VS SOUTHSIDE
SAT 18 NOV
6:00pm ACST
📍 Adelaide 36ers Arena
The Adelaide Lightning welcome a fired up Southside to town. Southside had a character building, come-from-behind win in Townsville – particularly impressive as they had to cover for relentless competitor Bec Cole who missed with injury, and problem solve her absence and the scoring punch she brings, in a short turnaround.
Adelaide come into the game with a 1-2 record, their 2 losses being games they'd strung together some good basketball and utilized the playmaking ability of Brianna Turner and play-finishing ability of Isobel Borlase.
Borlase has been a shining light offensively, being in attack-mode off the dribble, doing an exceptional job of playing with and through physicality to make plays. She is 7th in league scoring with 16.5 ppg and is 2nd in the competition for getting herself to the free throw line.
The challenge the Lightning face is their ability to make adjustments when an opponent's defense changes, and their clarity of decision making and priorities when it's winning time. Southside is a worthy opponent to show growth against.
Southside are getting better with each game together, aligning their literal 100s of games of WNBL games and finals experience their roster boasts. Mercedes Russell hasn't skipped a beat since her last stint at the Flyers, averaging 19 points and 9 rebounds a game to go with almost 2 blocks also.
The size and experience of the Flyers give them an edge in being able to manage the game and create time and space advantages for the right people at the right time.
LOOK OUT FOR: The battle of the bigs, Russell and Turner are 2 of the most impactful imports we've had in the league, both have delivered in crucial WNBL games and both enter their second seasons in the league on fire.
TOWNSVILLE VS UC CAPS
SAT 18 NOV
7:30pm AEST
📍 Townsville Entertainment Centre
Townsville gets a few extra days of practice and rest, prior to Canberra heading north on their road double header.
The Caps will look to have found more rhythm after the Sydney game, but will have a defensive hurdle to overcome to put the Fire under the pump. Townsville boasts 3 of the top 5 players in the league for made 3pt shots, in Whitcomb, Reid and Kunek. They're a handful for any team, but as mentioned earlier – the Caps themselves have a challenge to overcome with finding ways to defend the 3pt line better, or this could be a really troublesome opponent for them, stylistically.
Townsville have had a red hot start to the season by Zitina Aokuso as a focal point in the keyway, sitting 5th in league scoring with 17 ppg on 61% shooting – this helps create some of the open looks the trio above continue to knock down. Expect to see some experimenting on the defensive end by the Caps to try find a solution and not allow Townsville to find their flow, which they're so good at.
The point guard match up of Reid VS Melbourne is a showcase of the future of the Australian Opals backcourt, and worth the price of admission alone.
LOOK OUT FOR: The poked bear. Townsville will be gutted to have snatched defeat from the jaws of victory against Southside and will have spent the week reviewing, addressing findings, and most dangerously for Canberra – chomping at the bit to get back on court and right their wrongs.
MELBOURNE VS BENDIGO
SUN 19 NOV
3:00pm AEDT
📍 Melbourne Sports Centres – Parkville
The undefeated Melbourne Boomers will be riding the confidence of a big road win in Sydney last weekend. Result aside, the Boomers were impressive on the offensive end, showcasing clarity and confidence. The electric Jordan Canada can get to the rim at will, but strikes an elite balance of being a scoring threat with using that gravity to get others involved.
Froling and Blicavs had their first game where the talents of this athletic duo fit neatly and to their strengths, whilst an under-the-radar, highly efficient performance by Tera Reed put the league on notice.
They'll welcome the Bendigo Spirit to town who, depending on the result of their prior game in the round, may still be looking for their first win of the season and anticipating the return of Kelsey Griffin. The Spirit lost their way early against the Flames in Mildura, last week and faced a double digit deficit, but they stayed the course and a hot streak from the 3pt line brought them back within striking distance. 2 games in the same weekend can be helpful for team development as it allows you to make corrections and adjustments quickly, and carry momentum from one game to the next. The Spirit will have their work cut out for them to stop Jordin Canada, but have the athletic, tall guard and one of the most versatile defenders in the league, Abbey Wehrung, who could get an important 'Jordin Stopper' role.
LOOK OUT FOR: Whichever team wins the possession game. Bendigo will need the height of Davis and length of Alicia Froling to make an impact, whilst the Boomers physical trio of Blicavs, Keely Froling and Hillmon will be competing for every edge they can get.
__
#WEAREWNBL 
 APP  |  WATCH  |  SHOP  |  FIXTURE  |  TICKETS