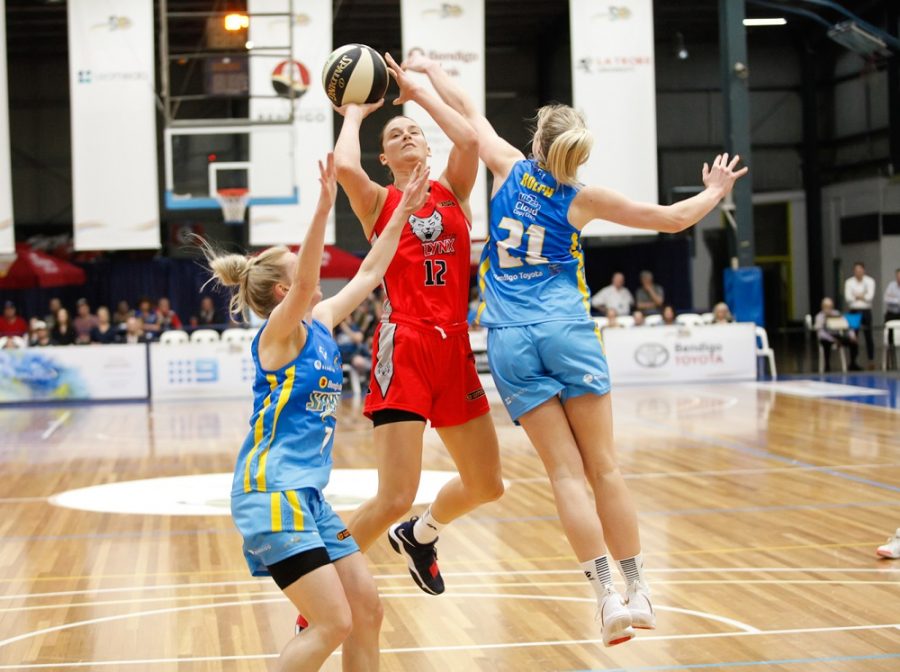 October 19, 2017 | WNBL news
Photo courtesy of Akuna Photography.
ROUND 3 PREVIEW
Game of the Week
MAC Adelaide Lightning v Bendigo Bank Spirit at Titanium Security Arena, Saturday, 2.30pm (local time)
The Lightning have a chance on Saturday afternoon to already equal their win tally from last season but the Spirit showed last weekend that they have the potential to be the most dangerous team in the competition.
Bendigo were undersized in a loss to Melbourne in Round 2 but with their full contingent against Perth two days later, they completely blew the Lynx out of the water on the back of a 43-11 third quarter as Betnijah Laney and Nadeen Payne starred.
Kelsey Griffin continues to lead the team but Ashleigh Spencer is providing a scoring boost and Rachel Banham is settling into the line-up while Ebony Rolph and Ash Karaitiana proved last weekend that they can perform off the bench.
The Spirit's main concern lies in containing big opposition forwards and on the back of a Player of the Week performance, Abby Bishop looms as their biggest obstacle on Saturday.
In a full four-quarter performance, the 2015 MVP recorded 35 points, ten rebounds, two assists, three steals and three block as the Lightning also took care of Perth.
While they have lost Laura Hodges to a finger injury, they have the depth to cover for her and are not seeking a replacement with Lauren Nicholson (ninth for rebounds in the league) and Nicole Seekamp able to crash the glass while Seekamp and Natalie Novosel both sit inside the top eight for assists.
That ability to share the ball is another area of the game that Bendigo need to cover and you can expect a fast-paced game on Saturday afternoon but if Bishop asserts herself under the rim, the home side should prove too strong.
Tickets at the door.
Live stats: http://www.fibalivestats.com/u/wnbl/681916/
Perth Lynx v Bendigo Bank Spirit at Bendat Basketball Centre, Thursday, 6.30pm (local time)
Before they head to Adelaide on Saturday, Bendigo will meet Perth for the second time in five days.
At the conclusion of Round 3, the Spirit will have played four games on the road but have an opportunity to move ahead in the win column if they can perform as they did against Perth last Saturday.
The Lynx will have studied the footage from that contest and know it all stems from their defence which they must resurrect as soon as possible to get back into the playoff race.
Courtney Williams and Sami Whitcomb are starting to gel, while Alex Ciabattoni, Alice Kunek and Kayla Standish have had little trouble in keeping the scoreboard ticking over but they all need to step up at the other end of the floor.
Standish will find the going tough as she comes up against Laney and Griffin while the likes of Amanda Dowe and Nat Burton can be exposed by those athletic and quick Spirit forwards. At 0-3, this is a critical weekend for Perth and that desperation could show a new side of the club.
Tickets: http://www.ticketmaster.com.au/Perth-Lynx-tickets/artist/2165336
Live stats: http://www.fibalivestats.com/u/wnbl/681914/
JCU Townsville Fire v Brydens Sydney Uni Flames at Townsville Stadium, Thursday, 7.00pm (local time)
The Fire have been clinical in their opening two games and sit on top of the ladder as the only unbeaten team but they face their biggest test so far against the defending Champions.
Led by Suzy Batkovic and Cayla George in the front court, Townsville have still had a multitude of contributors over their first two wins including Darcee Garbin, Mikhaela Donnelly and Laurin Mincy who will be joined by fellow import Sydney Wiese this weekend.
Wiese is a sharp-shooter with WNBA experience who is sure to help the Fire improve their offence (currently seventh best in the competition) while her work at the other end of the floor will also help them maintain their league-best defence.
Sydney Uni are averaging over ten points per game more than Townsville but will need their bench to continue to produce after their starting five were the only players to score last weekend in a victory over Dandenong.
The three-point barrage from Belinda Snell, Alex Wilson and Sarah Graham will stretch the hosts perimeter defence and Katie Ebzery will provide a headache for Kelly Wilson at the point guard position but the size and agility of Asia Taylor will be matched by George while Batkovic should be too strong for Jennifer Hamson.
If the Flames forwards can negate Batkovic and George's influence they will be right in with a shot as Townsville's front court duo are likely to be the barometer for the team all season.
Tickets: https://whatson.townsville.qld.gov.au/categories/ticketshop
Live stats: http://www.fibalivestats.com/u/wnbl/681915/
Jayco Dandenong Rangers v JCU Townsville Fire at Dandenong Stadium, Saturday, 3.00pm (local time)
Both these clubs have enjoyed quiet starts to the season in terms of their schedule with just two games through the opening fortnight but a double-header in Round 3 will truly test their depth and stamina for the first time.
The Fire will be backing up from a game on Thursday night, travelling down to Melbourne from home and the Rangers will welcome them on the back of a week's break.
Dandenong pushed Sydney Uni all the way in Round 2 but were out-scored 10-4 in the final four minutes to remain winless. Holding a team to 70 points (nine points below the league average) should be enough to win but the Rangers need to find more production as they average a competition-low 63 points per contest.
That part of their game will be severely tested against Townsville with Kayla Pedersen set for a big day against the Fire's forwards while Dandenong will be looking for more production from Tessa Lavey and import Laia Palau who debuted last weekend.
If those point guards can have more of an impact, it will take the pressure off Sara and Steph Blicavs who are the Rangers' main offensive weapons.
Tickets: https://rangerstownsville.in-tix.com/
Live stats: http://www.fibalivestats.com/u/wnbl/681917/
Watch: FOX Sports Australia channel 503.
Deakin Melbourne Boomers v Perth Lynx at State Basketball Centre, Saturday, 7.30pm (local time)
A refreshed Boomers team will be aiming to run Perth off their feet as the Lynx head over following a game on Thursday night.
Setting the early pace with a 3-1 record, Melbourne crushed the Spirit and Caps by an average of 28 points last weekend and while Liz Cambage is still playing limited minutes, her combination with Jenna O'Hea is working wonders as they combined for 38.5 points and 18.5 rebounds per game in Round 2.
Maddie Garrick and Bec Cole also hit double-figures against Bendigo before Brittany Smart tallied 16 against Canberra and they will need to continue to find different avenues to the basket to maintain their record.
Their shooting will be tested against Perth's impressive guard duo of Williams and Whitcomb though while the Boomers have also been dealt a blow with Courtney Duever set to miss the rest of the season with an ACL injury.
That said, Cambage is the biggest worry for the Lynx with the likes of Dowe and Opals team mate Burton tasked with keeping her quiet.
Tickets: https://www.trybooking.com/book/event?eid=272971
Live stats: http://www.fibalivestats.com/u/wnbl/681918/
University of Canberra Capitals v Jayco Dandenong Rangers at National Convention Centre, Sunday, 3.00pm (local time)
After surprising a few with a 2-0 start to the season in Round 1, the Caps crashed back to Earth with consecutive defeats last weekend.
They sit just outside the top four at the beginning of Round 3 but a match-up with the Rangers should be able to provide a clearer snapshot of how this team is set up for the season.
Through Olympian Rachel Jarry as well as Ezi Magbegor and Kate Gaze, the Caps have a deeper bench which should be able to punish Dandenong on their second game of a double-header.
However, they will be looking for more from their front court of Jordan Hooper and Lauren Scherf who struggled last round and could be exposed by Pedersen while Carley Mijovic will have an entertaining shoot-out with Hooper.
Where the Rangers look to have an advantage is through Sara Blicavs with the Caps not really possessing a proper match-up for her as Keely Froling may take her on or Jarry could be injected into the starting line-up.
That said, Blicavs may still need upwards of a 30-point night to help defeat the home team.
Tickets: http://premier.ticketek.com.au/shows/show.aspx?sh=CAPITALS17
Live stats: http://www.fibalivestats.com/u/wnbl/681919/