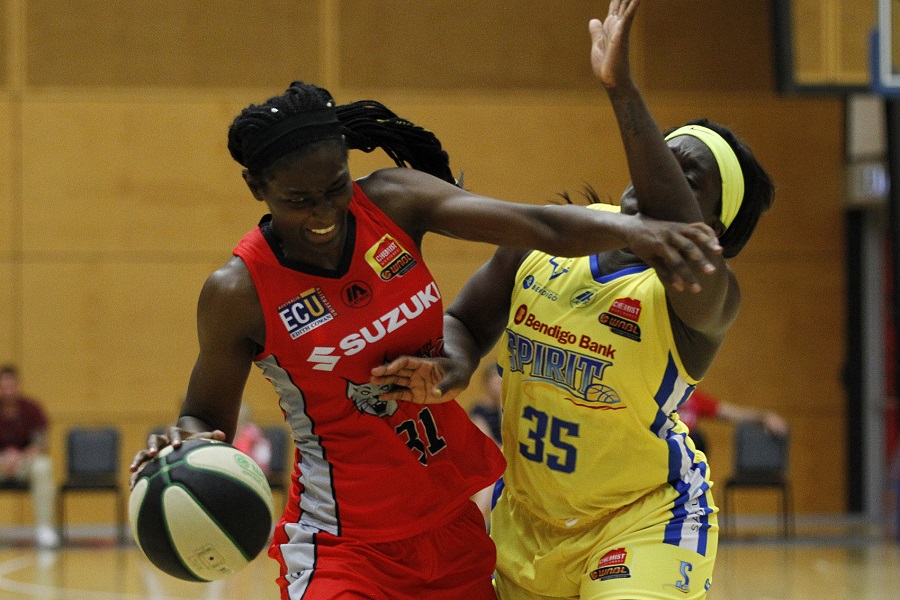 October 29, 2018 | WNBL news
The Perth Lynx have raced to the top of the ladder after sweeping Round 3 while the Bendigo Bank Spirit and University of Canberra Capitals suffered their first defeats of the season.
Perth Lynx 77 def. Bendigo Bank Spirit 72
Despite a furious comeback in the final term, Bendigo Bank Spirit fell just short of the Perth Lynx to be handed their first loss of the 2018/19 season. Trailing by as much as 28 points late in the first half and 12 at three-quarter time, the Spirit closed within five with five minutes to go as Kara Tessari hit consecutive three-pointers and Louella Tomlinson (16 points, eight rebounds) added four points in the final term. Asia Taylor (26 points, nine rebounds) and Alison Schwagmeyer (16 points) were able to hold the visitors off though as Perth's 61-point first half proved enough. Becoming the 49th player to reach the 250-game milestone, Nat Hurst recorded 14 points and seven assists in the loss.
Boxscore: http://www.fibalivestats.com/u/wnbl/913485/
Andy Stewart, Lynx head coach: "We were all-world in the first half, and we were B-grade Tuesday night amateur hour in the second half. Our effort stayed the same, but our execution just went out."
University of Canberra Capitals 78 def. by Deakin Melbourne Boomers 84
Holding off a late charge, the Boomers got the job done defensively as they held the Caps to 33% shooting for the game while owning a 46-22 edge in the paint. All five Boomers starters hit double-figures, paced by 17 points from Steph Talbot and Lindsay Allen while Ezi Magbegor had a big night with 15 points, nine boards, two assists and three blocks. Kia Nurse led all scorers with 29 points in the Caps' first loss of the season.
Boxscore: http://www.fibalivestats.com/u/wnbl/913486/bs.html
Paul Goriss, Caps head coach: "We're still a work in progress, I don't think we were ever getting too far ahead of ourselves. Like every other team, we're going to continue getting better as we play together more as a group."
Lindsay Allen, Boomers: "We did a great job of sharing the ball [in the third term] and our shooters made shots. Ezi did a great job down low that they were concerned about her that when they were collapsing she was kicking out to our shooters and they made timely shots."
JCU Townsville Fire 79 def. Brydens Sydney Uni Flames 76
Missing three of their starters due to injury, a valiant Flames side fell just short of causing a major upset against the reigning Champions. The lead changed hands 17 times throughout the contest as every time Townsville drew close, the Flames would have an answer with Brittany Smart scoring a career-high 24 points. Suzy Batkovic (30 points, 12 rebounds) took over in the fourth quarter, giving the home side a five-point edge with five minutes left but Ally Wilson (21 points, eight assists) caught fire for Sydney Uni, knocking in three three-pointers to put her side back in front by six just two minutes later. Eventually, Townsville's free-throw shooting got them over the line as they hung on to win a thriller after Sarah Graham missed a game-tying attempt on the buzzer.
Boxscore: http://www.fibalivestats.com/u/wnbl/913487/
Suzy Batkovic, Fire: "It wasn't pretty. It was a real grind out there and to Sydney's credit they took us right to the wire."
Cheryl Chambers, Flames head coach: "A lot of teams with three starters out would have crumbled. But they didn't. There is a real belief and desire in the girls now.''
Jayco Rangers 65 def. by Perth Lynx 90
The Lynx used a 21-6 third term to get the better of the Rangers, ensuring a sweep of Round 3 that also moved them to the top of the ladder. Perth controlled things from inside, out-scoring the home side 50-28 in the paint and 25-11 in second chance points while grabbing 14 more rebounds overall. Asia Taylor had 23 points and Brittany McPhee 21 while Dandenong's Betnijah Laney recorded 16 points, nine rebounds and five assists.
Boxscore: http://www.fibalivestats.com/u/wnbl/913488/
Larissa Anderson, Rangers head coach: "They absolutely smacked us on the rebounding count which is unforgivable any time, let alone on our home floor and in their second game of the weekend. It was a range of little things that just didn't work for us today, but that's normally not us, so I think we will just put it down to just one of those games."
Adelaide Lightning 91 def. Bendigo Bank Spirit 63
Leading by only a point at half-time, the Lightning pulled away in the second half to secure a comfortable victory behind a monster performance from Nia Coffey. The import had 21 points and 20 rebounds while also adding two assists, a steal and a block as Adelaide got back on the winners list after two straight defeats. Lauren Nicholson added 14 points while Colleen Planeta recorded nine points, nine boards and four blocks off the bench. After starting the season 2-0, Bendigo crashed back to Earth with consecutive losses in Round 3 but Louella Tomlinson stood tall with 16 points off the bench.
Boxscore: http://www.fibalivestats.com/u/wnbl/913489/
Chris Lucas, Lightning head coach: "If we shot the ball a little bit better in the first half, [the assist count] might have been a little bit higher. 24 assists are something I'm still pretty pleased with."
Media Links
Roy Ward headed to the nation's capital to report on Melbourne's victory over the Caps for The Age: https://www.theage.com.au/sport/basketball/boomers-hang-on-after-third-term-burst-20181026-p50c8p.html
Ward was back in Victoria on Sunday to cover the Rangers' loss to Perth: https://www.theage.com.au/sport/basketball/rangers-called-out-for-inexcusable-lack-of-effort-in-lynx-loss-20181028-p50ch1.html
Caden Helmers covered the other angle from the clash on Friday night for the Canberra Times: https://www.canberratimes.com.au/sport/basketball/canberra-capitals-taste-first-wnbl-defeat-20181026-p50c62.html
The Bendigo Advertiser recapped the Spirit's loss to Perth, their first of the season: https://www.bendigoadvertiser.com.au/story/5725380/spirit-surge-in-second-half-but-fall-short-against-perth-lynx-in-wnbl/?cs=81
Trent Slatter of the Townsville Bulletin reported on Batkovic's heroics to get her side over the line against the Flames: https://www.townsvillebulletin.com.au/sport/suzy-batkovic-stars-as-townsville-fire-hold-out-sydney-flames/news-story/d2dec177bd3f0032aa8202724d2d340c
Amanda Lulham looked at Sydney Uni's gallant performance on Saturday: https://www.dailytelegraph.com.au/sport/swoop/sydney-uni-flames-ready-to-ignite-against-perth-in-wnbl-after-close-call-with-fire/news-story/fe0d91bac458b7017c0c1d9878dd9b2d