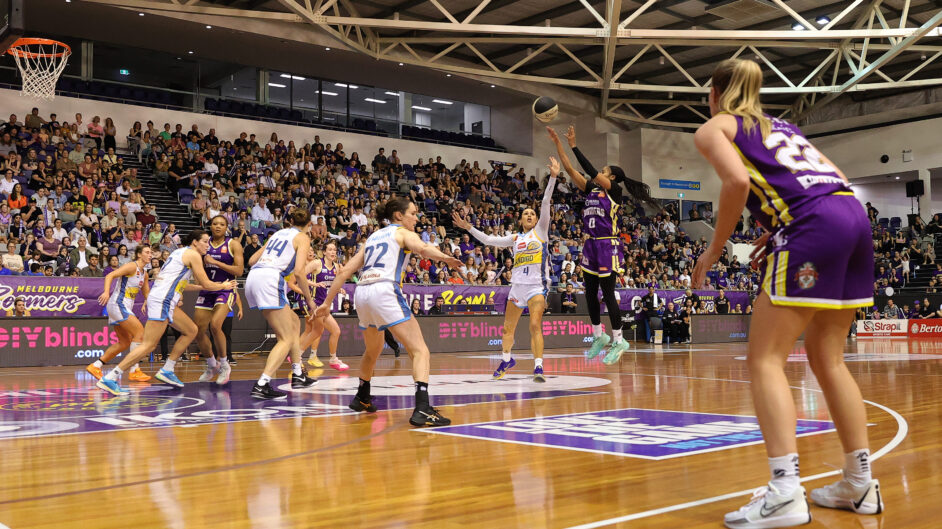 November 22, 2023 | WNBL news
Written by Mark Alabakov
WED 22 NOV
7:00pm AEDT
The red hot Perth Lynx get themselves a great test as they hit the road for their first away game of the Cygnett WNBL season, taking on the Southside Flyers. The Lynx are the in-form team in the competition, with a clarity of plan and purpose that sets them apart in the early stages. Their fast and furious style, and the recruitment of defensive-minded pieces like rebounding demon, Anneli Maley, the shot-changing Emily Potter, and the agile defensive work of Aari McDonald and cameo by Steph Gorman has been a treat for fans to watch and a nightmare for opponents to prepare for.
It takes a lot of mental energy for teams to try strategize how to slow them down and causes opponents to play with angst and hesitation because a turnover, unforced error or bad shot turns into a 5 player sprint race to the other end. Last week against the Bendigo Spirit they scored 20 fast break points and 15 points off turnovers – 35 points at breakneck speed !
The star of the show continues to be WNBL Player of the Round, Aari McDonald who, yet again, grabbed 9 other Lynx players and said 'get on my back, I'll carry you to the promised land' when it was winning time against the Spirit, to the tune of 34 points, 6 rebounds, 3 assists and 3 steals.
They get a worthy test against the Flyers, who boast an incredible amount of WNBL games-played and championship experience and are coming off a flat performance where they had challenges defending fast breaks and at the other end it felt like the rim had a lid on it, against the Adelaide Lightning.
The ball not quite falling in was an anomaly, as the Flyers have plenty of scoring punch with the attacking Bec Cole and post target and offensive rebounder Mercedes Russell, both scoring double digits last weekend, to go with the known 3pt shooting presence of Carley Ernst, Lauren Jackson and Leilani Mitchell who collectively went an uncharacteristic 0-11 between them.
The challenge Southside faces is to flush last weekend and approach the Lynx game as a clean slate. They'll need to have a plan to address transition defense though, as the Lightning had 22 fast break points and 10 points off turnovers against them – and they aren't as offensively potent as the Lynx.
If they can find a way to slow them down, Southside currently ranks #1 in the league for FG% defense which suggests their size and length can make life tough in the half court for opponents. This has to be their plan.
The Lynx will have to maintain exploring their relentless running game, whilst executing in the half court, anticipating there'll come a time – or multiple times – where the Flyers slip up and let them loose, and it landing on the scoreboard in bunches for Perth.
LOOK OUT FOR : Which team has the discipline to win the game slowly. Southside has the experience to be disciplined with a strategy, and the length to shut down time and space advantages – but they'll have their work cut out for them to do this all game long. Perth has to hurry, slowly. Be prepared to withstand attempts to play the game on the Flyers terms and find ways to create stops, steals, blocks and rebounds to run on the back of.
THU 23 NOV
7:00pm ACDT
Brimming with confidence after their first win against a top 4 team this season, the Lightning will get another chance at repeating that feat in Townsville. Isabel Borlase grows in confidence each week, and after her 25 point, 6 rebound and 3 assist performance against the Flyers, she's sure to get a lot of defensive attention this week from the Fire and the challenge of overcoming a team planning to specifically stop you as a match-winning talent.
Lauren Mansfield was an outstanding veteran presence last week with her game management and decision making, and she'll have a match up in Steph Reid who is cut from the same cloth.
The Fire were at their efficient best last week against the UC Caps, tallying 22 assists from 29 made field goals, with 8 Fire players logging an assist – meaning the team is working with and for one another to turn good shots into great shots.
The Fire shot at 40% from the 3, for 12 total made shots from downtown. Alice Kunek knocked down 5 of them on her way to 27 points to lead all scorers, followed by Sami Whitcomb with 16 points and import 3pt shooter Cassandra Brown with 11.
Adelaide will need to keep attacking and have a 'play to win' mindset, even when challenged by Townsville's class and the inevitable plays they'll make at either end which can knock a team's confidence. They can leverage last week's confidence and the fact that they achieved it without a big offensive game from Brianna Turner, knowing she's always a double-double threat. Turner did have 16 rebounds, however, to control possession for the Lightning and she'll need to do similar when competing with Aokuso and Ruef who are solid rebounders in their own right.
The Fire will look to keep the pressure on with their ability to solve problems presented to them by opposing defenses and then turning that into a string of open shots. If the Lightning don't present different tactical moves on the defensive end, the Fire will get into a rhythm and have the game on their terms.
LOOK OUT FOR :
The Whitcomb and Kunek duo. They're tough to stop individually, have great chemistry dating back to being teammates in Perth, and they both will get a great supply of on-time, on-target passes by Steph Reid. Adelaide will be challenged by the fact that likely match ups, in Borlase and Willoughby, could be compromised by having to expend energy shouldering the scoring load at the Lightning's end, then having try to stop this dangerous duo at the other end, risking foul trouble and pressure on the team's depth, if so.
PERTH VS TOWNSVILLE
SAT 25 NOV
6:30pm AWST
Appointment viewing.
The reigning champs are tough to beat in North Queensland and were clinical against the UC Caps last weekend. They present a formidable opponent for anyone, with clarity and simplicity of their system, coupled with genuine world class talents who can win a game off their own performances, in Whitcomb, Kunek and Reid.
Perth will have their biggest challenge yet – but a critical one, as there is so much to gain from a win. This is the kind of game where a Perth win elevates them to another level. McDonald, Maley and Atwell have built entire careers thriving on challenges like this. This isn't new to them. It's just another one.
While both teams will showcase their brilliance offensively, the defensive side of the ball will be key, to stem the flow of scoring or curb someone's impact.
Townsville will need to plan to limit Perth's scores in transition, limit Maley and Potter's extra possessions on the offensive glass and keep McDonald from getting in the lane to create. They'll need to keep an eye on Atwell – she doesn't need much time and space to land timely 3s also.
Perth will have to brainstorm how to limit Reid's ability to control and manage the game, make Whitcomb and Kunek take tough shots, and keep Aokuso out of easy looks from actions. They'll also need to be aware of Courtney Woods, she's a great decision maker, is never in a hurry and adds game management or scoring, if the team needs it, in a handy supporting role.
LOOK OUT FOR : A game of runs. Both teams will score in bunches and have momentum shift their way on the back of the stringing together of hot shooting moments or someone with a hot hand. Which team can do the most damage on the scoreboard in theirs ? Which team can generate more runs of baskets ? Which team responds to an opponent's run best ? And most importantly, who can time theirs to matter most, come Q4 ?
SAT 25 NOV
6:30pm AEDT
There's not much scarier for an opposition coach than Kelsey Griffin in 'refuse to lose' mode. The returning former 2-time WNBL Grand Final MVP turned back the clock with a scintillating 33 point performance, shooting 8-9 from the 2pt range and 4x 3s at 40% against the Melbourne Boomers. The only trouble was a 4th quarter fadeout, coupled with a brave team response by the Boomers when 17 points down meant that the Spirit remain winless.
Bendigo faced the Flames in Mildura earlier this season, dug themselves out of a double digit deficit and were back in the game in the latter stages, with a chance to steal it. They can draw confidence from that and being in a winning position against the ladder leaders for much of last weekend's game.
Alicia Froling and Alex Wilson worked together in a productive tandem when in pick and rolls, with Wilson's ability to explode to the basket a threat, as was her game sense in hitting Froling rolling to the basket for open layups when they had the defense beaten.
The Spirit will need them to again be firing, and the playmaking of the evergreen record-breaking Kelly Wilson to continue to impact within her role, as Bendigo have a small acclimation period of having the important Kelsey Griffin back in the lineup and roles adjust to best fit around one another for the Spirit to get a win on the board.
Sydney continues the growth of their identity with another game together and will take confidence from being able to hold off a desperate Caps outfit last week. Lauren Nicholson was back to her best with a 25 point effort, and there was a team effort in overcoming an uncharacteristic shooting night from Cayla George – with DiDi Richards stepping up for 18 points, Paige Bradley finding ways to get on the scoreboard for 12 and then cameo appearances by Panoussis, McSpadden and the exciting Emma Clarke. The Flames will need to continue to be a 'sum-of-the-parts' operation till they can get key pieces in Madgen and Swain back in the lineup.
LOOK OUT FOR : This game to be decided by a big performance from a team's supporting cast, who flies under the opposition's radar to become a difference maker.
SUN 26 NOV
3:00pm AEDT
📍 Gippsland Regional Indoor Sports Stadium
The Melbourne Boomers will be breathing a sign of relief this week after coming back from a 17 point 2nd half deficit against the Spirit to snatch victory and keep their unbeaten streak intact.
Jordin Canada again showcased why she's one of the premier players in the competition, picking apart the Spirit's defensive coverages for 26 points and 7 assists, once again the catalyst for the team's performance in the clutch.
But it was big time shot making from Sara Blicavs that started the comeback, and by Keely Froling that finished it off for the Boomers, scoring 15 and 14 points respectively. Most impressively, they both had a fearless and purposeful intent in making plays when the team needed it, over and over again.
The UC Caps remain winless this season, but will be leveraging the lessons learned and development opportunities afforded to them early in the season, looking to keep improving. This growth mindset and the ever present threat of a match-winning performance by Jade Melbourne means the Caps can't be taken lightly.
Though this game pits first vs last, you're most vulnerable when you think you can't lose. The Boomers will have to impose their identity on this game for 4 quarters, whilst the Caps have nothing to lose and can draw confidence from the Spirit being in a winning position, a fellow team looking for their first win, after catching Melbourne with their guard down.
LOOK OUT FOR :
Canada VS Melbourne. Speed, skill, fearlessness and an elite 'will to win'. Absolute Cinema.