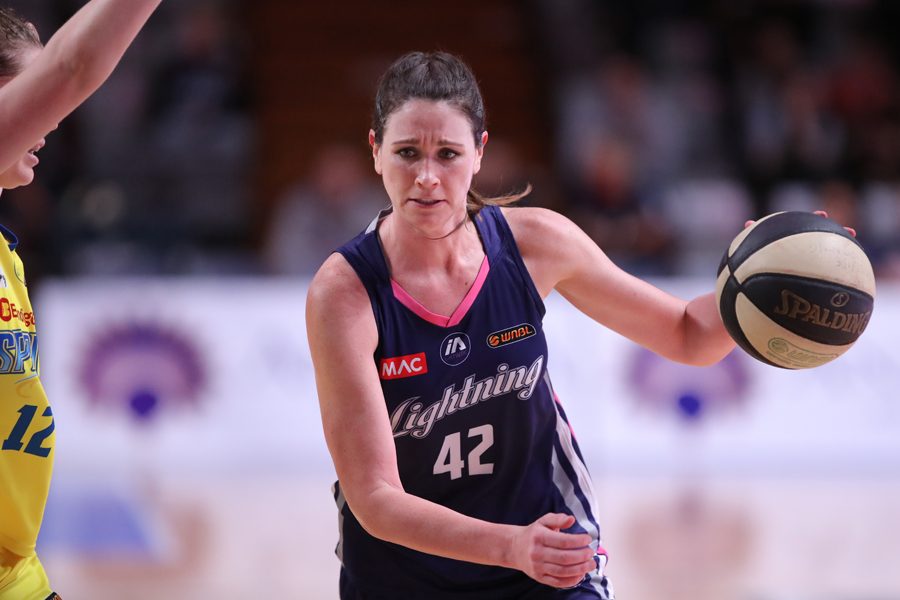 October 30, 2017 | WNBL news
The MAC Adelaide Lightning have moved a game clear on top of the ladder thanks to a Round 4 sweep while the JCU Townsville Fire also had a successful weekend to entrench themselves in the top four.
MAC Adelaide Lightning 80 def. University of Canberra Capitals 77
Courtesy of playing the opening game of the round, Adelaide moved clear on top of the ladder in a nail-biter against the Caps. Abby Bishop was strong early on, finishing with 21 points and 12 rebounds while Natalie Novosel's defence was sensational, picking the picket for six steals! Four players reached double-figures for the visitors and they trimmed an 11-point deficit to bring the scores level inside the final two minutes. Nicole Seekamp as well as Novosel and Lauren Nicholson from the free-throw line were able to ice the game although a Colleen Planeta rejection on Nat Hurst's game-tying attempt finally clinched the win.
Boxscore: http://www.fibalivestats.com/u/wnbl/681920/
Chris Lucas, Lightning coach: "We know in our own group that we've got so much more improvement that we want to get done, offensively and defensively. It's great to get a good start (to the season), but we need to keep in mind that it's a long season and it's going to be really tough to make the top four."
Perth Lynx 88 def. Jayco Dandenong Rangers 78
The lead changed hands ten times in the first half of this contest but once Perth got their noses in front early in the third period, they were not headed again as a 31-20 third quarter proved the difference. Every starter hit double-figures including debutant Alison Schwagmeyer while Sami Whitcomb (22 points, 12 rebounds, seven assists) flirted with a triple-double. Sara Blicavs paced the Rangers with 24 points on 56% shooting which included 4-7 three-point shooting.
Boxscore: http://www.fibalivestats.com/u/wnbl/681921/
Andy Stewart, Lynx coach: "We fought like crazy. We knew that (Schwagmeyer) was going to give us everything we want to set the standard for the game, she's going to pick up Tessa Lavey from the minute she steps on the court and pressure her the whole way up. That standard that Swags came in and set, the tempo was ours, we knew their legs would start to fatigue."
Bendigo Bank Spirit 66 def. by MAC Adelaide Lightning 79
A hot start from the Lightning saw them lead by ten points at quarter-time and they maintained that advantage for most of the contest. Four of Bendigo's starters hit double-figures with Rachel Banham (11 points, five rebounds, seven assists, two steals) doing a bit of everything but in the absence of Betnijah Laney, they were undersized and lost the rebound count by 19. Colleen Planeta scored 15 points on 7-11 shooting for the visitors while Ruth Hamblin dominated inside with 15 points and 17 rebounds (six offensive).
Boxscore: http://www.fibalivestats.com/u/wnbl/681922/
Simon Pritchard, Spirit coach: "This is the third game in a row I have had to call a time-out two minutes into the game because it was seven or eight-love. Players aren't switched on to start the game defensively, it keeps happening."
University of Canberra Capitals 68 def. by JCU Townsville Fire 83
An exciting back and forth contest saw the Fire overcome a five-point deficit at the main break with a strong defensive performance in the second half to end their losing streak. Suzy Batkovic was dominant again with 27 points, 11 rebounds, four assists and five steals while Laurin Mincy and Darcee Garbin combined for 25 points off the bench to help hand the Caps a fifth consecutive loss on the season.
Boxscore: http://www.fibalivestats.com/u/wnbl/681923/
Paul Goriss, Caps coach: "As the game wore on we turned the ball over too much and as soon as they got momentum with fresh legs it didn't help our defensive transition. We won our first games and we've hit a hump now but the girls and I have spoken and we'll bounce back, there is trust and belief in this group."
Claudia Brassard, Fire coach: "We knew they would come out aggressive, they'd lost four in a row and it's almost their season on the line, so we knew they'd come out strong and they did. They're a very good team and have scorers everywhere but it was always going to be hard for them to match our running in that second half purely because of the scheduling they've had."
Brydens Sydney Uni Flames 65 def. Deakin Melbourne Boomers 56
The Boomers struggled to get their offensive game going all night as they shot just 33% as a team with only Liz Cambage (19 points, two steals, two blocks) hitting double-figures. Sydney Uni led by 12 at quarter-time but had to withstand a couple of charges from Melbourne as they cut the deficit to four in the final term before Asia Taylor (27 points, 15 boards, two blocks) and Alex Wilson (14 points, seven rebounds) secured the win for the defending champs. A sprained ankle to point guard Katie Ebzery was the only downside to the night for the Flames.
Boxscore: http://www.fibalivestats.com/u/wnbl/681924/
Cheryl Chambers, Flames coach: "You have to love Asia. She takes the whole game on her back when needed and Alex was great as well. We always knew it would take time to adjust just after Katie came off but they rode out the storm."
JCU Townsville Fire 64 def. Deakin Melbourne Boomers 57
Townsville repeated their performance from Round 1 with a win over Melbourne, overcoming a three-quarter time deficit to win on the back of a 26-18 final term. Suzy Batkovic top-scored with 26 points including nine in the fourth period while Kelly Wilson scored seven of her 15 down the stretch as well and Darcee Garbin added ten off the bench. The Boomers were paced by Brittany Smart's 16 points but scored 15 below their season average in a second consecutive defeat.
Boxscore: http://www.fibalivestats.com/u/wnbl/681925/
Claudia Brassard, Fire coach: "The way the season is, you're going to have to win ugly and I thought we did a better job of executing our scout without training. I thought the girls did a good job of watching [the scout] on their own and translating it on the floor."
Jayco Dandenong Rangers 70 def. Brydens Sydney Uni Flames 68
The Rangers came from behind with a 16-8 final term and a double-digit deficit to defeat the Flames as four starters hit double-figures led by Steph Blicavs' 14 points while Kayla Pedersen had the game-winning steal on Asia Taylor. Despite the heart-breaking finish, Taylor still starred for the defending Champs, who were missing Opals point guard Katie Ebzery, with 24 points, six rebounds and three assists.
Boxscore: http://www.fibalivestats.com/u/wnbl/681926/
Larissa Anderson, Rangers coach: "We're getting better at closing out games. We were on the end of a few of them last year whereas this year it is going the other way. I put that win down to keeping them to eight points in the last quarter."
Cheryl Chambers, Flames coach: "We certainly had our chances and we missed Katie out there. The last minute was a bit of a rollercoaster."
Media Links
Rob Greenwood covered Adelaide's mid-week victory of the Caps for the Adelaide Advertiser: http://www.adelaidenow.com.au/sport/adelaide-lightning-downs-university-of-canberra-capitals-by-three-points-to-move-joint-top-of-the-wnbl/news-story/d16737060214f2b53a7b45c0dae38161
Kieran Iles reported on the Spirit's mental lapses in their loss to Adelaide: http://www.bendigoadvertiser.com.au/story/5018187/lightning-strike-spirit-down-on-home-court/?cs=4783
Eamonn Tieran filed this on the Caps losing a fifth straight game for the Canberra Times: http://www.canberratimes.com.au/sport/basketball/canberra-capitals-slump-to-fifth-straight-loss-in-defeat-against-townsville-fire-20171027-gz9o20.html
Amanda Lulham penned this coverage of Sydney Uni's Friday night victory for the Daily Telegraph: http://www.dailytelegraph.com.au/sport/swoop/wnbl-sydney-uni-flames-beat-melbourne-boomers-6556/news-story/820383888f47e8da85b94800d3a5ded4
Craig O'Donoghue looked at the cause of Sami Whitcomb's slow start to the year for The West Australian: https://thewest.com.au/sport/basketball/wnba-pine-cause-of-perth-lynx-star-sami-whitcombs-slow-start-ng-b88639020z
O'Donoghue also wrote about Alison Schwagmeyer's debut: https://thewest.com.au/sport/basketball/long-wait-over-for-alison-schwagmeyers-perth-lynx-debut-ng-b88643713z
Trent Slatter of the Townsville Bulletin wrote about the Fire's Sunday win as they swept the weekend: http://www.townsvillebulletin.com.au/sport/townsville-claims-6457-win-over-melbourne-in-seesawing-contest/news-story/dca06c8b466999f229c2591b4e84b5f3
Roy Ward analysed the late-game heroics of the Rangers in their win against Sydney Uni: http://www.theage.com.au/sport/basketball/wnbl-dandenong-rangers-import-stars-with-late-heroics-to-seal-win-20171029-gzahku.html
Catch up on all the news around the league via the Basket Case podcast here: https://www.spreaker.com/show/basket-case
You can also listen to Megan Hustwaite's WNBL podcast here: https://itunes.apple.com/au/podcast/the-wnbl-show/id1292447514?mt=2#episodeGuid=85fa7997-cdbf-463a-ba63-6880c78e48f9