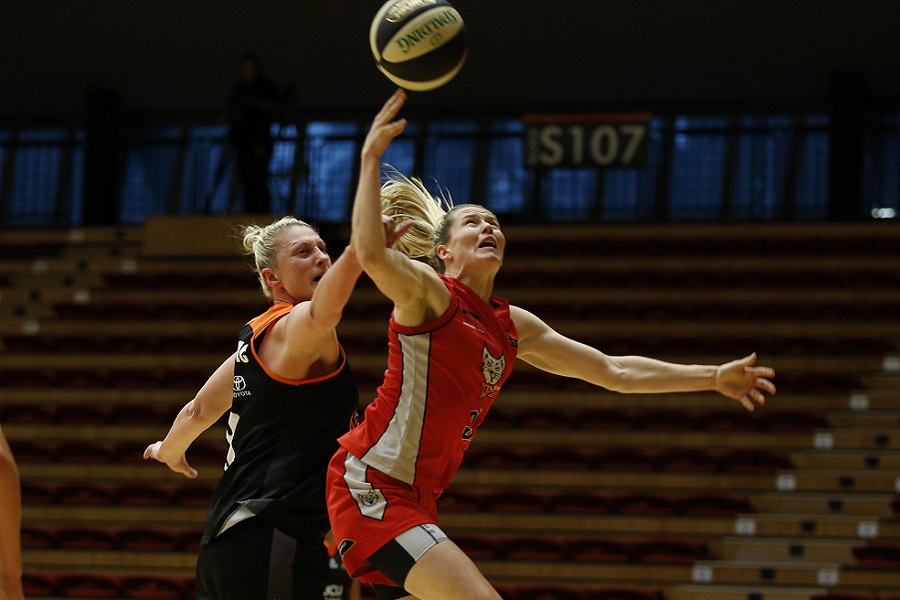 November 2, 2017 | WNBL news
Game of the Week
JCU Townsville Fire v MAC Adelaide Lightning at Townsville Stadium, Sunday, 3.00pm (local time)
In a complete reversal from last season, the Lightning sit on top of the ladder as we start Round 5 but they face their toughest test of the 2017/18 campaign so far when they head to Townsville on Sunday while a successful weekend for the Fire could see them move back on top by round's end.
Both teams will be playing their second game of the weekend when they clash but Townsville must be wary of Adelaide's league-best offence which sees them average 82.5 points per game while the home side only manage 69.7.
The front court battle between WNBL MVP's Suzy Batkovic and Abby Bishop will be the key match-up as they both are placed in the top five for points and top ten for rebounds.
Batkovic's partner under the rim in Cayla George will make life difficult for Colleen Planeta although Planeta has more than a few tricks up her sleeve and will be riding high after her game-saving block last weekend while she also has Ruth Hamblin for back-up off the bench.
The Lightning have a young guard combination but they have been highly efficient and with Aimie Clydesdale finding her place within the team, they are becoming even more dangerous.
It will be up to Townsville imports in Laurin Mincy and Sydney Wiese to keep them quiet while Kelly Wilson has been effective for the Fire, shooting a career-best 48% from the field for 7.5 points per game to add another dimension to their back court.
Tickets: https://whatson.townsville.qld.gov.au/categories/ticketshop
Live stats: http://www.fibalivestats.com/u/wnbl/681932/
Perth Lynx v JCU Townsville Fire at Bendat Basketball Stadium, Thursday, 6.30pm (local time)
Before they host Adelaide, Townsville take a trip west to battle the Lynx on Thursday night and while Perth only sit sixth on the ladder, they seem to have found form in recent weeks.
Since starting the season 0-3, the Lynx have won two of their past three games with their only loss coming in overtime to Melbourne. They were without Courtney Williams last weekend but Sami Whitcomb stepped up her in absence with a near triple-double while tenacious point guard Alison Schwagmeyer also made her debut.
Their speed and shooting are concerns for Townsville but if their shots don't fall, the Fire should dominate them on the glass through Batkovic and George as the hosts are the worst rebounding team in the competition.
Amanda Dowe and Natalie Burton will have to be at their best defensively to contain that duo while Kayla Standish will be aiming for a big game against her old club.
Tickets: http://www.ticketmaster.com.au/Perth-Lynx-tickets/artist/2165336
Live stats: http://www.fibalivestats.com/u/wnbl/681927/
Brydens Sydney Uni Flames v University of Canberra Capitals at Brydens Stadium, Thursday, 7.00pm (local time)
In a condensed season, time is quickly running out for the Caps whose impressive start in Round 1 has been forgotten after following up with five consecutive losses.
They could take advantage of the Flames though if Katie Ebzery's sprained ankle keeps her out of this weekend as Sydney Uni struggled down the stretch in a two-point loss to Dandenong last weekend.
That will give the Caps confidence that if they can stick close to the home side through most of the contest on Thursday night, players like Nat Hurst (the league's leader in assists) and Jordan Hooper will be experienced enough to overrun them.
Expect a shoot-out as the visitors, who have hit 13 more three-pointers than any other team courtesy of the likes of Abbey Wehrung and Kate Gaze, aim to out-score the likes of Belinda Snell and Alex Wilson who are both averaging over 12 points per game.
Tickets: https://www.eventbrite.com.au/e/brydens-sydney-uni-flames-vs-jayco-dandenong-rangers-tickets-36709636511?aff=social
Live stats: http://www.fibalivestats.com/u/wnbl/681928/
MAC Adelaide Lightning v Jayco Dandenong Rangers at Titanium Security Arena, Thursday, 7.00pm (local time- note game time change)
One of three games on Thursday night, the Lightning will welcome Dandenong to Titanium Security Arena in the first match of the round for both clubs.
The Rangers are finding their form with a 3-3 record and sit just outside the top four but if results go their way this weekend, they will be right back in the hunt for first place.
Last round, they surrendered 88 points in a loss to Perth but got their defence back on track by holding Sydney Uni to just 68 and they must bring that level of defensive intensity to keep Adelaide to a manageable total as they average six points above the league average.
Kayla Pedersen shone in the final seconds of Dandenong's win over the Flames, picking up a game-saving steal on Asia Taylor and they will be looking to her to contain Bishop again on Thursday night.
Tessa Lavey is also finding her form, shooting 35% from distance to average five points and 4.2 assists per game and her services will be required against the Lightning's high-scoring back court including Clydesdale who will be taking on her old club for the first time.
Tickets: http://www.ticketmaster.com.au/Adelaide-Lightning-tickets/artist/1703394?tm_link=edp_Artist_Name
Live stats: http://www.fibalivestats.com/u/wnbl/681929/
University of Canberra Capitals v Brydens Sydney Uni Flames at National Convention Centre, Saturday, 3.00pm (local time)
In a rare occurrence for the WNBL, the Caps and Flames will meet again for the second time this round in the true definition of a back-to-back.
This will also be the televised game of the week on FOX Sports Australia and the first such game for the Caps which will be an added incentive to perform but playing their second game in three days will be a true test of each team's depth.
The likes of Mistie Bass and Ezi Magbegor bulk up the home team's front court off the bench while Gaze is a sharp-shooter who provides a real punch and the Caps will also welcome back Rachel Jarry from concussion.
The Flames have been struggling to produce when they go to their second unit this season and a heavy schedule could expose them so a big game from a player like Shanae Greaves or Susannah Walmsley could be required for them to get over the line.
Tickets: http://premier.ticketek.com.au/shows/show.aspx?sh=CAPITALS17
Live stats: http://www.fibalivestats.com/u/wnbl/681930/
Watch on FOX Sports Australia channel 503.
Bendigo Bank Spirit v Deakin Melbourne Boomers at Bendigo Stadium, Saturday, 7.00pm (local time)
Bendigo will have made the most of their week-long break in between games and will be keen to atone for their 27-point loss to the Boomers from Round 2.
Languishing at the bottom of the ladder, the Spirit sit three games outside the top four but they put up a fight against Adelaide last weekend, ultimately just out-matched on the glass in the absence of Betnijah Laney.
Melbourne are also coming off a poor weekend, dropping consecutive games for the first time this season against Sydney Uni and Townsville to drop to fourth place on the ladder.
Without Jenna O'Hea, the Boomers scored just 56.5 points across the two games which was 15 below their season average as Bec Cole struggled to find her touch while Liz Cambage also scored well below her season average.
If Bendigo can contain Cambage again on Saturday, they have the firepower through the likes of Nadeen Payne and Rachel Banham as well as the ever-reliable Kelsey Griffin to cause an upset but the Boomers will be desperate to avoid a three-game skid.
Tickets: https://www.trybooking.com/book/event?eid=303111
Live stats: http://www.fibalivestats.com/u/wnbl/681931/
Deakin Melbourne Boomers v Jayco Dandenong Rangers at State Basketball Centre, Monday, 7.30pm (local time)
Continuing their tradition, the Boomers finish off Round 5 with their Melbourne Cup Eve clash against Dandenong in the second game of the Michele Timms Cup for 2017/18.
The Boomers took their first meeting by 15 points back on opening night when Cambage had 17 points and O'Hea had a double-double.
With O'Hea not available, the door could be open for a player like Sara Blicavs to take over while Melbourne's back court will need to find their stroke quickly to answer Steph Blicavs who is shooting 41% from the field and 50% from deep for 15.5 points per contest (tenth in the league).
Amelia Todhunter will also be keen to have a big game as she celebrates her 200th against a club she played for across four seasons in front of what is expected to be one of the biggest crowds of the season.
Tickets: https://www.trybooking.com/book/event?eid=272971
Live stats: http://www.fibalivestats.com/u/wnbl/681933/