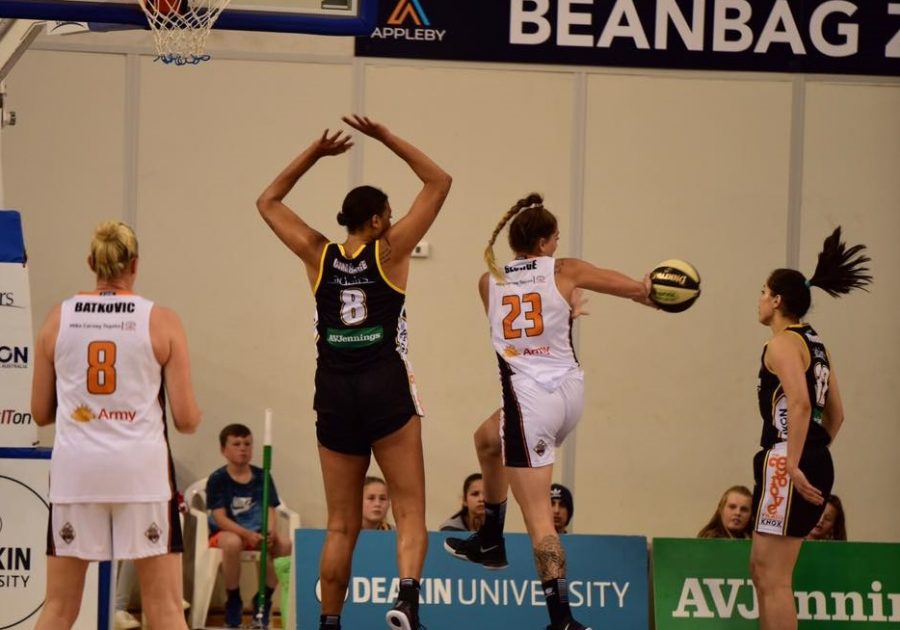 October 9, 2017 | WNBL news
Photo courtesy of Townsville Fire.
It was as if Cayla George never left the WNBL, slotting perfectly back into the JCU Townsville Fire roster in Round 1 as she put the competition on notice in her team's big win over the Boomers, televised nationally on FOX Sports.
The forward was a monster in the paint with 17 points and 22 rebounds while her work at the defensive end was outstanding, helping to keep Liz Cambage quiet with three steals and two blocks as well.
With front court partner Suzy Batkovic suffering foul trouble throughout most of the afternoon, George's size and strength in the paint proved crucial to Townsville's win as they recorded a 63-54 victory, restricting the Boomers to 24 points less than they had scored against Dandenong on Thursday night.
George also kick-started the Fire's offensive game after they had scored just two points through the first three and a half minutes.
With a steal, the forward pushed the ball up the floor and then as no Boomer came up to stop her, she halted at the three-point line and knocked down a triple.
On the following possession, George stayed at the same spot beyond the arc where she hit another three before making it eight points in a row to give Townsville the early running.
Pulling down six boards in each of the first and second terms, George also had a double-double by half-time and out of the main break, her defence stepped up with rejections on Bec Cole and Ash Grant, holding off any fairytale comeback that Melbourne may have had in mind.
With a total of 22 rebounds, George is only matched after Round 1 by Jenna O'Hea who needed two games to equal her tally and if Batkovic has more of an influence in future rounds, the league will be very wary of the Fire's front court combo.
Cayla George Round 1 Stats: 17 points on 7-17 shooting including 3-6 three-point shooting, 22 rebounds (two offensive), one assist, three steals, two blocks.