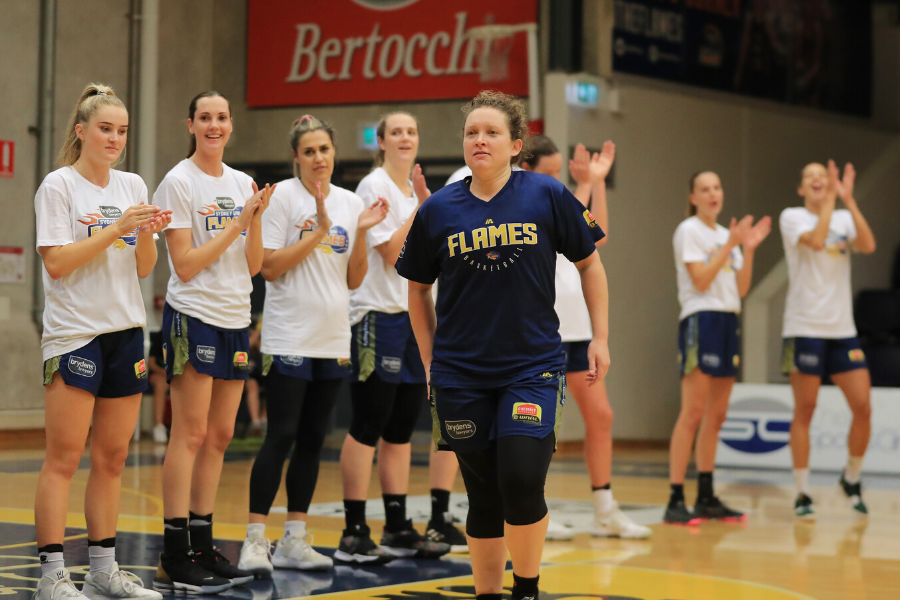 January 31, 2020 | WNBL news
As the home-and-away season draws to a close this weekend, the Chemist Warehouse WNBL community bids farewell to three great servants of the competition.
This trio has displayed longevity, consistency and loyalty all while achieving greatness and getting the chance to represent their home WNBL clubs.
Sydney Uni Flames captain Sarah Graham and dual Bendigo Spirit championship player Gabe Richards take to the court for the final time in Round 16, while Nat Hurst will be celebrated on her old stomping ground in Canberra on Saturday night before embarking on a finals series with the Adelaide Lightning.
NAT HURST
Few players win a championship in their first season then go on to win another six titles but legendary point guard Nat Hurst can lay claim to just that.
Born and bred in the nation's capital, the 36-year-old suited up for the UC Capitals at the ripe old age of 16 and was part of the club's 1999-00 title.
She would go on to etch herself into the Caps' illustrious history by playing in a further six titles putting her behind superstar Robyn Maher (10) for winning the most WNBL titles.
"They're all special in their own right,'' Hurst explains.
"The championship that probably sticks most with me is when we beat Sydney in Penrith. They were tipped to win and touched us up in the semi-finals. We had the second chance and won through to play against them. I remember it being 40c that day, we were playing in a tin shed and it was probably 45c in the stadium. That was the season Lauren Jackson had left us and everyone said the Caps won't win another championship now she's gone, we did and we lost our star player but it was a massive, massive team effort."
Representing Canberra was simply a dream come true for Hurst.
"I grew up watching the Caps, even when Canberra wasn't a winning team but I was in awe of the players and wanted to be them, from as early as I can remember. Kerryn Owens was the point guard and I wanted to be her. I just wanted to represent the Caps and I was lucky enough to come into the program at 13 and later be a part of that,'' she says.
"To win a championship that first year was a dream start. This little kid from Canberra who got a call up to go and train with the Caps and it was the year Lauren came out of the AIS. I walked into my first practice and looked at everyone thinking 'what the hell is going on?' I managed to find a spot on that squad and always felt part of everything we did at training, rebounding for the girls and I think everything I did that season set the standard for the next 20 years."
Following successful stints overseas, Hurst returned to the Capitals before joining Bendigo last season. In #WNBL20 she has reunited with her former Caps assistant coach Chris Lucas at Adelaide and hopes to add another championship to her mantle.
GABE RICHARDS
Growing up in Seymour, in central Victoria, Gabe Richards never envisaged she'd carve out a wonderful WNBL career so close to home.
After returning from college in Oregon, the 188cm centre signed on as part of the inaugural Bendigo Spirit team. She would have a big impact and go on to become a hometown hero.
"I played two seasons in the WNBL with the AIS before going overseas to college. When I came back I got a phone call to say Bendigo had got a licence to play in the WNBL. I weighed it up and thought it would be cool to play close to home for a year or so,'' Richards, 35, recalls.
"Mum and Dad could come to the games, especially after I'd been away for so long, that was my thought pattern and then along the way something happened and I stayed here at Bendigo.
"We do trivia Thursdays and a few weeks ago one of the questions was "who scored the first-ever points in the WNBL for the Bendigo Spirit? I sat back, knew the answer, a few girls guessed and got it wrong then it was revealed that I scored the first points and the girls couldn't believe it. It's pretty cool, it's been an amazing journey and I'm just so very grateful."
Richards celebrated 250 club games for the Spirit last round, she will end her career with a total of 252, and it's one of many highlights in a glittering career spearheaded by Bendigo's first championship in 2012-13 and back-to-back title the following season.
"On the court, success wise, the championships are special and definitely the highlights,'' she says.
"Wins and losses come and go, we all know how sport works, and I recognise the friendships and the lifelong friends I've made from playing this sport, more so for Bendigo, are the things that last and that's really the true success."
SARAH GRAHAM
On Saturday night at Dandenong Stadium, Sarah Graham will come full circle.
It was at Stud Road where she got her first taste of the Chemist Warehouse WNBL with the Dandenong Rangers in 2007-08 and now after more than 200 games, representing several clubs and winning a championship, she will play her last game where it all began.
The 30-year-old Brisbane export says it's been an incredible journey.
"My first season I was 17-18 and got a 'no money' contract down at Dandenong. I was playing SEABL at Knox so that was the natural progression. I had a year then moved home and played for Logan once they started the team up there,'' she said.
"It was pretty special to play for my home town and being part of the inaugural year with girls who were already my family – friends growing up in that area."
Graham's career has also featured stints at Sydney, West Coast Waves then returned to the Flames.
"Obviously the championship in 2016-17 when Cheryl (Chambers) was coaching us is up there but my time, and growing up playing for Logan with my best friends and the likes of Nat Purcell and Kristen Veal is the highlight,'' she said.
"I had a coach say that the friendships are what you'll remember most from your career once you retire and I was 14-years-old at the time and thought 'yeah whatever, I just want to win'.
"For me now as I reflect a lot that's all I think of, the wonderful friendships and people you meet along the way, whether you're still in touch with them or not."