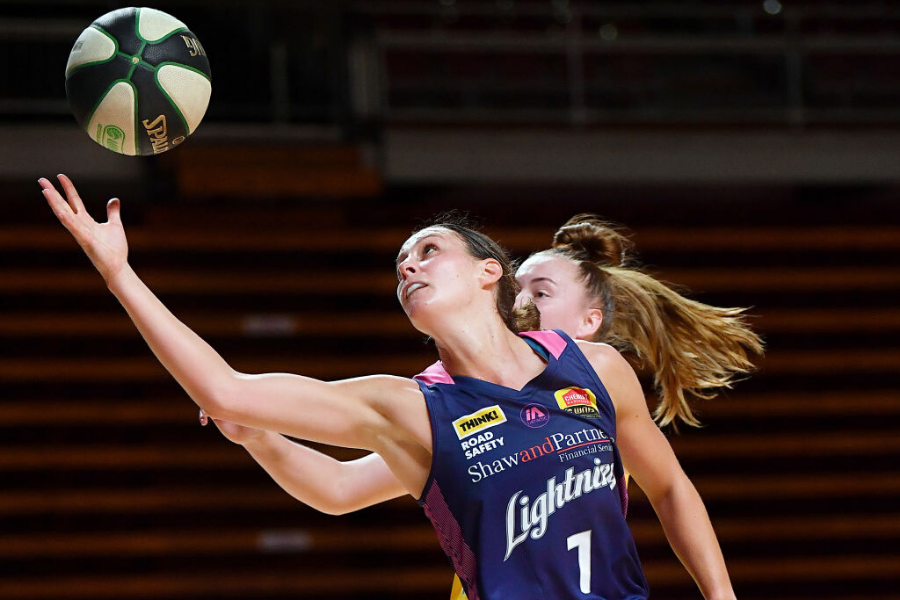 December 19, 2019 | WNBL news
Up until last round, the Perth Lynx's 3 wins of #WNBL20 all came against the Sydney Uni Flames.
But, after hanging on to win a thriller over the Melbourne Boomers in Perth, the Lynx have some confidence and are out to build on momentum this week against the Townsville Fire.
Star Alison Schwagmeyer-Belger says getting the win over the Boomers was a relief.
"After we beat Melbourne it was kind of like 'OK, well we've got another team under our belts so that feels good'.
"Two in a row, that's the plan. It's going to be another tough-fought battle."
The Fire's first win of the season came over Perth and marked an incredible 3 consecutive defeats in extra time for the Lynx.
Schwagmeyer-Belger believes her side has improved since Round 4.
"When we played them last, at home, it was a close game, I think we led by 15 at one point," she said.
"Some of the things that let them back into the game we've worked on and hopefully got a bit better at so hopefully we'll be able to be a bit better than we did the last time."
The Fire are also eyeing consecutive wins for the first time this season following last Sunday's impressive home victory over Sydney.
Townsville Fire v Perth Lynx
Saturday, 6pm*
Townsville Stadium
Watch live via Livestream
THURSDAY
Bendigo Spirit v Sydney Uni Flames. Bendigo Stadium, 7pm*
5 points separated the Spirit and Flames when they last met in Bendigo in Round 7 and the story since has been contrasting for both teams.
Bendigo has slumped to 7 consecutive defeats and sent home import centre Becca Tobin last week while Sydney proved anything is possible in #WNBL20 with an impressive upset victory over Adelaide a fortnight ago.
The Spirit need to show just that and aside from a consistent performance and spread of contributors, must display some fight. Carley Ernst was good against the Lightning and now comes up against Sydney's form bigs with Colleen Planeta, Jess Kuster and Alice Kunek all proving reliable for first-year coach Katrina Hibbert.
Watch Livestream via the WNBL website.
SATURDAY
UC Capitals v Bendigo Spirit. National Convention Centre, 5pm*
The Caps were good against the Flyers in what felt like a final last round but can play even better.
The defending champion will be without superstar Kelsey Griffin (ankle) so Keely Froling returns to the starting 5 after filling Marianna Tolo's spot in the opening rounds. Kia Nurse was off her shooting game against Southside and is unlikely to go 5/22 again. Her campaign has been brilliant and Griffin's absence means the young gun import can shoulder some more responsibility and add leadership to her all-round game.
Kelly Wilson returns to Canberra to face her championship team of last season and will go head-to-head with Olivia Epoupa who continues to blossom each week. Expect a big game from determined Wilson who continues to edge closer to Jess Bibby's WNBL games record.
Watch Livestream via the WNBL website.
Southside Flyers v Sydney Uni Flames. Dandenong Stadium, 7pm*
The Flyers will finish 2019 top of the ladder no matter what happens in the next two rounds but coach Cheryl Chambers has been giving her whiteboard a workout with stars Mercedes Russell and Jenna O'Hea sidelined with niggles.
Bec Cole guided her side to victory in Canberra last round with 12 final-quarter points and has a great opportunity to lead Southside in all facets of the game in the absence of her captain. Louella Tomlinson and Kiera Rowe are also ready to step up and play key roles.
It may be the Flames second game of the weekend but they are primed for an upset and, after knocking off Adelaide, know they can snare another major scalp.
Watch Livestream via the WNBL website.
SUNDAY
Melbourne Boomers v Adelaide Lightning. State Basketball Centre, 5pm*
Caps v Flyers last week was a glimpse at play-offs action and this top-4 battle looms as a real pre-Christmas treat.
The Boomers and Lightning have produced some great battles over the last 2 seasons – Adelaide's fairy-tale Grand Final series came to life after sending the Boomers out of the semi-final series in straight sets.
Melbourne return home after a loss to the Lynx in Perth but are rapt with import guard Sophie Cunningham's purple patch of form over the past month.
Adelaide are spearheaded by the sensational performances of Brianna Turner and the consistent Steph Talbot.
Spectators at the stadium and watching live on Fox Sports will their eyes peeled all over the floor with tantalising match-ups in every spot.
*All times are local