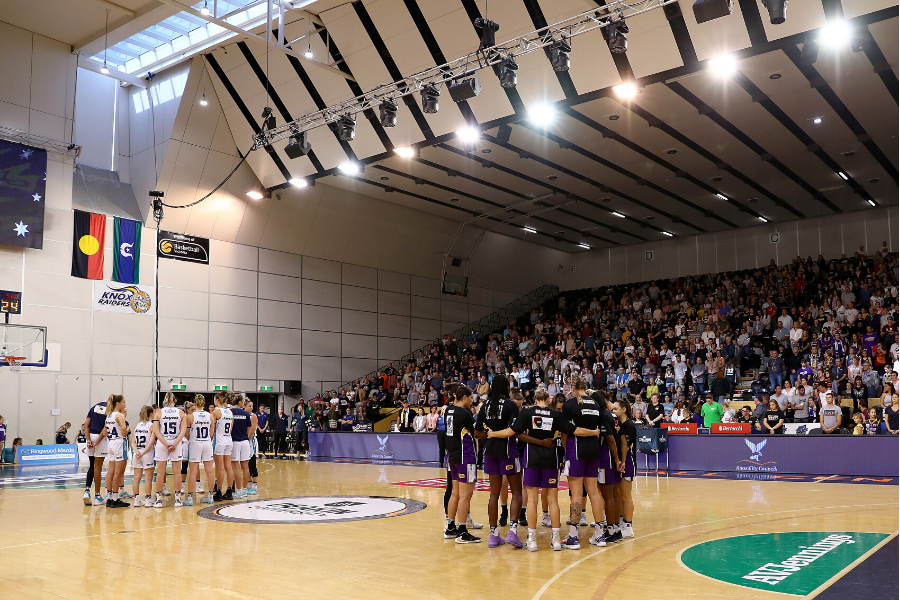 January 13, 2020 | WNBL news
The Chemist Warehouse WNBL world is still catching its collective breath after an epic Melbourne derby which had it all.
Arch rivals Southside Flyers and Melbourne Boomers facing off is a spicy contest itself so throw in a top-of-the-table clash, some injuries, a dash of drama, foul trouble and overtime and we got a tantalising taste of what finals may hold.
Melbourne was in control in front of a crowd of 3,015 at the State Basketball Centre but the Flyers were able to force the game to extra time, then prevail by 2 points.
Southside coach Cheryl Chambers pleased with the fight her ladder-leading team displayed.
"It was like a final. It was exciting. The crowd was great, we had lots of supporters in the crowd as well. To win in that kind of environment is great experience and I thought our veterans Leilani Mitchell and Jenna O'Hea experience really stood up and helped us in that fourth quarter then overtime,'' she said.
"Last week (against Adelaide) we were really disappointed with our defence and pressure. On Sunday, our defence most of the time was solid, had we not defended we would have been in all sorts of trouble because offence was difficult for us."
Mitchell (21 points, 5 rebounds, 3 assists) was a cool customer down the stretch and Captain O'Hea (19 points, 6 rebounds, 2 assists) literally shook off a wrist injury to lead her side home.
Bec Cole (15 points, 6 assists, 5 rebounds) and Mercedes Russell (18 points, 11 rebounds) were pivotal.
The Boomers were without their star Lindsay Allen (knee soreness), lost Maddie Garrick late after clashing heads with team mate Toni Farnworth, while Sophie Cunningham fouled out in the final term.
Ezi Magbegor (WNBL career-high 24 points, 12 rebounds) was sublime and at times unstoppable, Co-Captain Cayla George had 13 points, 9 rebounds, 5 assists, while Stella Beck landed a huge triple amongst her 11 valuable points off the bench.
Southside Flyers 75 d Melbourne Boomers 73
Melbourne Boomers 74 d Adelaide Lightning 69
While the final margin was narrow, the differential in shooting beyond the arc was telling with Melbourne going at 45% to the home side's 10% at Titanium Security Arena.
The win also marked a series-sweep for Guy Molloy and his team.
Import Sophie Cunningham topped the winners' stat sheet with 18 points, George (14 points, 7 rebounds, 7 assists) was busy across the floor, Magbegor teamed 8 boards with her 14 points as Garrick (9 points, 9 rebounds) came oh-so-close to a double-double.
Brianna Turner (23 points, 11 rebounds) was yet again a force for Adelaide, fellow import Kathryn Westbeld (18 points, 5 boards) backed up from a season-best game the previous round and it was back-to-back double-doubles for Nicole Seekamp (11 points, 11 assists).
Townsville Fire 102 d UC Capitals 69
Another week, another upset and the Fire's thrashing of the Caps is right up there with the shock results of #WNBL20.
Moving on from the departure of Abby Bishop, the Fire got to work, established a lead, built on it and hit 100 points for the first time since 2017.
Six Townsville players passed double figures led by Tess Madgen's sensational game-high 26 points, Julie Vanloo (16 points, 10 assists) and Bridget Carleton (13 points, 11 rebounds) who registered double-doubles plus Darcee Garbin (14 points, 6 rebounds), Kate Gaze (12 points) and skipper Micaela Cocks (10 points, 6 rebounds).
In their lowest moment of the season, the Caps still conjured 17 points apiece from Marianna Tolo (who also grabbed 8 rebounds) and Kia Nurse, a double-double from Keely Froling (15 points, 10 rebounds) and 14 points from guard Maddi Rocci.
Townsville Fire 83 d Sydney Uni Flames 76
Not content with one win for the round, Townsville completed the perfect weekend with a big win over the Flames.
Sydney led by 12 points at half time at Brydens Stadium before the visitors mounted a stirring comeback.
Just like on Friday night, coach Shannon Seebohm's starters all hit double figures – Garbin (18 points), Cocks (17 points, 4 assists, 2 rebounds), Carleton (15 points, 9 rebounds), Vanloo (13 points, 7 rebounds, 6 assists) and Madgen (10 points, 5 rebounds, 5 assists).
Alice Kunek (30 points) conjured another big game for Sydney; for the second straight week Lauren Scherf collected a double-double and import Jess Kuster finished with 12 points and 8 boards.
Perth Lynx 100 d Bendigo Spirit 81
After two straight losses, the Lynx returned to the winners list with a convincing victory over the Spirit.
And it was two former Spirit players, Nadeen Payne and Marena Whittle, who made their former side pay with 19 points each. Alison Schwagmeyer-Belger (17 points) and Co-Captains Katie-Rae Ebzery (14 points, 6 rebounds, 6 assists) and Lauren Mansfield (12 points, 6 assists) all playing their part.
For Bendigo, teen guard Shyla Heal fresh off a WNBL career-best performance last week eclipsed her own record by sinking 30 points plus hauling down 6 boards. Carley Ernst posted a double-double, with Kelly Wilson dishing out 11 assists.