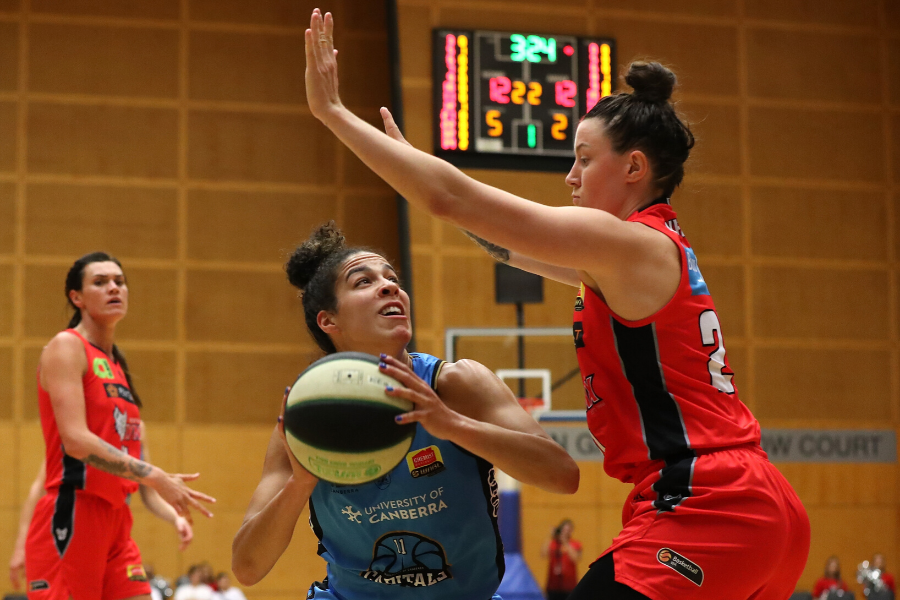 January 22, 2020 | WNBL news
It'll be double the celebration for two of Bendigo's greatest WNBL servants when the Spirit host the Perth Lynx in Round 15 of #WNBL20.
Four-time champion Kelly Wilson breaks Jess Bibby's league games record when she takes to court in game #495, while her long-time team mate Gabe Richards will represent the club for the 250th and final time on her home floor.
Richards, a crucial part of Bendigo's back-to-back titles in 2012-13 and 2013-14, says it's only fitting the pair get to share their achievements together.
"It's all going on. We couldn't have timed it better, could we?
"Kelly and I have celebrated so much of our careers together so it makes sense we get to do it again.
"It hasn't sunk in for anyone let alone Kelly that she's about to have the all-time record. You watch her and she's so unbelievably competitive, talented and running around out there you wouldn't know she's even close to giving it up. I'm unbelievably proud of her.
"I've played my whole career at Bendigo. Coming back from college I was incredibly lucky it was the same time Bendigo got their license. The championships are a highlight on the court, but the true success is the friends and connections I've made along the way."
Bendigo Spirit v Perth Lynx
Friday January 24
Bendigo Stadium, 7pm*
Watch live via Livestream on the WNBL website
Wednesday January 22
UC Capitals v Perth Lynx
National Convention Centre, 7pm*
A midweek fixture sees the Caps home to the Lynx after the smoke haze in Canberra forced the postponement of this game several weeks ago.
Still riding high after an incredible Round 14, the Caps are boosted by the inclusion of their champion Kelsey Griffin who hurt her hamstring at practice last week on the eve of her return from injury.
The league's reigning MVP is set to suit up for around 15 minutes game time.
Player of the week Kia Nurse confirmed her world class status last weekend, while Maddy Rocci is coming off a career-best display against Southside and Olivia Epoupa continues to pose a threat across the court with her dominant all-round game.
Perth, meantime, is fresh from two straight home-wins and received game-deciding contributions from Alison Schwagmeyer-Belger, Katie-Rae Ebzery and Marena Whittle against Townsville. Following the departure of Imani McGee-Stafford, Perth will have its work cut out containing Marianna Tolo and Griffin.
Watch live via Livestream on the WNBL website
Saturday January 25
Townsville Fire v Melbourne Boomers
Townsville Stadium, 6pm*
After two dramatic overtime losses in succession, Melbourne returned to its winning ways accounting for a gallant Sydney last Saturday night. In Townsville, they can defeat the Fire and maintain their hold on second spot as the Caps make a late run for a top-two finish.
In the absence of star import guard Lindsay Allen (knee) Stella Beck has slotted into the starting 5 and proven she is more than capable of the task. Ezi Magbegor has hit some strong form which is not only important for Melbourne but promising ahead of the Opals' Olympic Qualifiers in France next month.
Tess Madgen and Darcee Garbin were the standout performers for the Fire during last weekend's road trip to Adelaide and Perth. As Shannon Seebohm's group showed just two weeks ago with a jaw dropping victory over Canberra, anything is possible when they produce their best team basketball.
Watch live via Livestream on the WNBL website
Southside Flyers v Adelaide Lightning
Dandenong Stadium, 7pm*
The penultimate round of the season boasts another top 4 tussle and a potential finals preview.
Adelaide were convincing winners over Southside last meeting and Cheryl Chambers will have plenty of boxes she'll want ticked by her Flyers this time around.
Southside were well below their best in last Sunday's comprehensive loss to Canberra and need more energy and to handle the ball better for starters. Mercedes Russell and Brianna Turner are critical to the winning chances of their respective sides and will bring the highlights. The guard battle, with a who's who of names including Leilani Mitchell, Nicole Seekamp, Lauren Nicholson and Bec Cole, should be fascinating particularly in the absence of injured Southside captain Jenna O'Hea.
Watch live via Livestream on the WNBL website
Sunday January 26
UC Capitals v Sydney Uni Flames
National Convention Centre, 5pm*
A 4th game in 10 days for the Caps and every match and win is pivotal for the defending champs in the chase for 2nd spot.
Canberra will be without Keely Froling (broken nose, fractured cheekbone) for the next few weeks and one rotation down, will have some tired bodies. Increased opportunities will be shared between Alex Delaney, Abby Cubilo and Gemma Potter who are all more than capable of impacting both the scoresheet and game off the bench.
Sydney were brave and fought it out for three quarters against Melbourne Boomers at Brydens Stadium last round but are feeling the huge losses of Colleen Planeta (ACL), Tahlia Tupaea (PCL) and Alice Kunek (season-ending elbow surgery).
Lauren Scherf's efforts over the past few weeks at both ends of the floor will have pleased coach Katrina Hibbert who is focused on finishing the Flames campaign on a high.
Watch live via FOX Sports

*All time listed are local