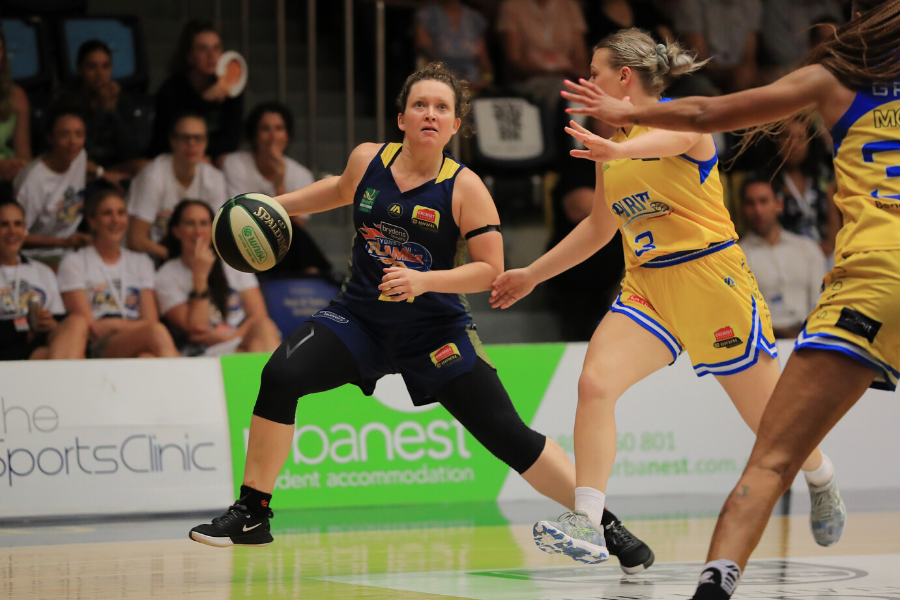 February 3, 2020 | WNBL news
Just 2 points determined semi-final home court advantage, Melbourne clubs warmed up for post-season action with big wins while the disappointing campaigns of Sydney and Bendigo came to a close with final-round victories.
Round 16 of the Chemist Warehouse WNBL, just like the 15 before it, had it all.
Adelaide Lightning 75 d Perth Lynx 74
The Lightning's last-gasp win was marred by an ankle injury to captain Nicole Seekamp in the final minute of this Thursday night fixture.
While the vision of the incident was sickening, the news is a little more positive for Seekamp. While the right ankle sprain has ruled her out of the Opals trip to the FIBA Olympic Qualifying tournament in France, she hasn't experienced any serious damage and is hopeful of returning for the opening game of Adelaide's semi-final series with Southside starting on February 18.
The skipper topped the stat sheet for Adelaide with 17 points, 8 assists and 5 rebounds as Brianna Turner hauled in a jaw-dropping 24 rebounds in addition to her 16 points and 3 assists.
The visiting Lynx had 5 players pass double digits led by Ariel Atkins (16 points, 5 rebounds, 3 assists) and Katie-Rae Ebzery (16 points) with Maddie Allen (15 rebounds) huge on the glass.
Sydney Uni Flames 78 d Bendigo Spirit 68
The Flames farewelled Captain and long-time league servant Sarah Graham in style with a 10-point victory over Bendigo in their final home game of #WNBL20.
Graham, a championship player with Sydney in 2016-17, wound back the clock in the opening term with 11 points. She finished with 16, as Britt Smart ended an injury-hit campaign on a high with a game-high 22 points. Jessica Kuster (16 points, 9 rebounds, 3 assists), Lauren Scherf (12 points 8 rebounds, 4 assists) and Ally Wilson (10 points, 9 rebounds, 8 assists) all shining for the winners.
For Bendigo, teen star Shyla Heal (17 points) was again the stand out as Abbey Wehrung (15 points, 5 rebounds, 3 assists), Tessa Lavey (14 points, 6 assists, 5 rebounds) and the retiring Gabe Richards (10 points, 6 rebounds) all hit the stat sheet.
UC Capitals 73 d Adelaide Lightning 71
The Caps had to fight hard to secure this win over the Lightning and in turn home-court advantage over Melbourne Boomers in the semi-finals.
Adelaide established an early lead and despite missing their star and leader in Seekamp took this one right to the end but it wasn't enough against the defending champs.
Kia Nurse played the full 40 minutes and yet again was the MVP for the Caps with 28 points, 9 boards and 3 assists. High on confidence and form, Maddy Rocci scored 16 points, Marianna Tolo registered 13 while Kelsey Griffin teamed 10 boards, with 7 rebounds and 7 assists. The icing on the Capitals' cake was the early return of Keely Froling from a broken nose and cheekbone injury.
In the absence of Seekamp, Lauren Nicholson (16 points, 4 assists, 3 rebounds) set the tempo, Steph Talbot (15 points, 12 rebounds, 9 assists) was huge, Turner grabbed 12 boards and Kathryn Westbeld contributed 10 points.
Bendigo Spirit 89 d Townsville Fire 69
The Spirit finished their campaign on a high, earning their 5th win of the season.
Carley Ernst was the dominant force for the visitors with a brilliant stat line of 26 points, 10 rebounds and 7 assists. Heal (14 points, 5 rebounds, 5 assists) lit up, Lavey (21 points, 7 assists, 4 rebounds) shone ahead of her Opals call-up and Richards registered 11 points and 6 rebounds in her final WNBL game.
For the Fire, Christina Boag grabbed her opportunity with both hands, top scoring with 22 points and 15 rebounds in a tick over 30 minutes court time. Darcee Garbin had 14 points and 6 boards, while captain Micaela Cocks scored 11 points and dished out 5 assists.
Townsville, like Bendigo, also ended #WNBL20 with a 5-16 record.
Melbourne Boomers 104 d Perth Lynx 75
Boom! Melbourne warmed up for a fascinating play-offs showdown with Canberra by thumping the Lynx and posting a three-figure score.
Co-Captain Cayla George was outstanding with 24 points, 12 rebounds and 9 assists and richly deserved a triple-double. Her fellow leader Maddie Garrick added 17 points, Kalani Purcell (17 points, 6 rebounds, 3 assists) enjoyed one of her best WNBL games to date, Ezi Magbegor (15 points, 12 rebounds) was big, Stella Beck hit 11 points and Sophie Cunningham 10.
Atkins (24 points, 8 rebounds) ended her debut season on a personal high, Marena Whittle (17 points, 8 rebounds) was a shining light as Ebzery scored 15 points including 11 to half time.
Southside Flyers 78 d Sydney Uni Flames 61
The minor premiers prepared for the play-offs with a comprehensive win over Sydney and gained more than just a final-round victory.
Sara Blicavs headlined the stat sheet with 18 points, on 100 per cent shooting, 8 rebounds, 6 assists while the consistent Mercedes Russell sunk 17 points in 19 minutes court time while coach Cheryl Chambers got valuable minutes into, and contributions from, her bench by the likes of Anneli Maley (11 points, 6 rebounds), Louella Tomlinson, Amy O'Neill, Bec Pizzey and Keira Rowe.
Kuster (21 points, 6 rebounds, 2 assists) led the way for Sydney as they finished their first season, under new coach Katrina Hibbert, in sixth place with 7 wins.