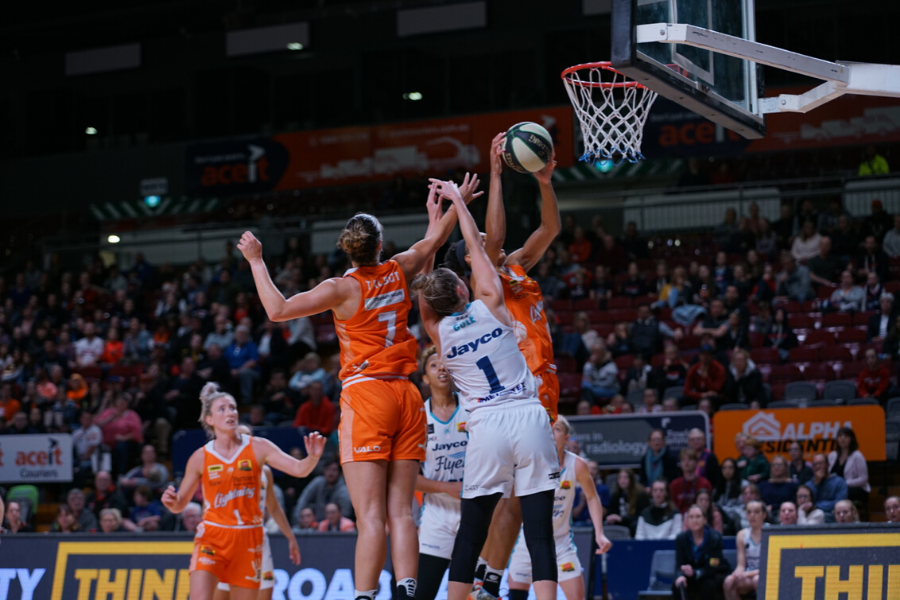 December 2, 2019 | WNBL news
Cheryl Chambers has been coaching in the WNBL long enough to know how tough the Perth-Adelaide double is to win.
So, the Southside Flyers coach was proud and pleased when her ladder-leading side beat the Lynx then the Lightning in Round 7.
The 2-0 weekend sees the Flyers move to 9-1, 2 games clear of the Melbourne Boomers and UC Capitals at the top of the ladder.
"I don't think many teams will come away with 2 wins from this road trip because it's very tough and it's physically tough with the flying as well,'' she said.
Chambers was delighted with the even spread of contributors in both games and highlighted the efforts of import Mercedes Russell and general Leilani Mitchell who were critical when the game against the Lightning was there to be won.
"We just had lots of contributors and that's how we want to be – we talk about it all the time about being a selfless team and giving up an OK shot to get a great shot for someone else and I think everyone's bought in,'' she said.
"Mercedes has been good but she's getting better and better and you can see her finding her confidence and niche with us, it helps us at both ends, and when we needed a big bucket, I thought Lei came up with some big plays."
Sydney Uni Flames 80 d Bendigo Spirit 75
In a battle between 2 teams hungry for a much-needed win, it was the Flames who overcame the Spirit in a tense last quarter to post win #3 of the season.
Sydney was up by 2 points at the first break, then the Spirit fought back to lead at half and three-quarter time before the visitors piled on 29 last-term points to prevail.
The reliable duo of Jessica Kuster (23 points, 11 rebounds) and Alice Kunek (17 points) guided Sydney home, Ally Wilson had 17 seconds rest for the game and scored 17 points, dished out 8 assists and collected 6 rebounds, while Colleen Planeta shot 15 points.
Pleasingly for Tracy York, 5 of her players posted double figures – Tessa Lavey (16 points, 11 assists), Shyla Heal (13 points), Demi Skinner (12 points, 7 rebounds), Carley Ernst (11 points) and Kelly Wilson (11). Becca Tobin big again on the boards with 16 rebounds in addition to 8 points and 5 assists.
Southside Flyers 82 d Perth Lynx 68
When these sides last met in Round 2 it was an overtime thriller but no extra period was required here as the Flyers ground out an important win.
The visitors' stat sheet was again filled by the starting 5 – Bec Cole (21 points, 4 rebounds, 3 assists), Mercedes Russell (16 points, 7 rebounds), Leilani Mitchell (15 points, 7 assists, 3 rebounds), Jenna O'Hea (13 points, 6 rebounds, 5 assists) and Sara Blicavs (12 points, 8 rebounds).
For Perth, Alison Schwagmeyer-Belger scored 16 points and grabbed 5 rebounds with Marena Whittle adding 14 points and 5 rebounds and Co-Captain Katie-Rae Ebzery (14 points, 8 rebounds, 4 assists) producing a steady all-round effort.
UC Capitals 87 d Townsville Fire 78
On paper it looked like this was a duel between hot and cold sides of the league but what eventuated was a fascinating, high intensity four-quarter contest.
Star bigs Kelsey Griffin and Abby Bishop provided plenty of highlights in a sizzling opening term as they paced their respective sides.
The Caps got out to a 15-point advantage midway through the second term before Townsville went on a stunning 26-6 run to snatch the lead, 53-48, at half time.
A 9-0 run to start the third quarter set the home team on their way as they went on to capture their seventh win of the season.
Kelsey Griffin was her usual dominant self with 27 points and 7 rebounds and Kia Nurse came off the bench, after hurting her ankle at training during the week, and was superb with 24 points.
Abby Bishop finished with 23 points and 5 rebounds and guard Julie Vanloo lit up for 20 points and sunk some big shots to get her side back into the game. The Fire were without Micaela Cocks in the second half with a shoulder injury.
The victory marked Canberra's 16th consecutive win at home.
Melbourne Boomers 94 d Sydney Uni Flames 81
Sydney were hot early at the State Basketball Centre romping to a 20-12 advantage at quarter time before the Boomers bounced back to take control of this contest.
Maddie Garrick produced her best performance of the season to date with a game-high 26 points (9 of 16 from the field), 4 assists and 3 rebounds. Ezi Magbegor (20 points, 5 rebounds), Sophie Cunningham (14 points) and Stella Beck (10 points) all registered double figures.
For the Flames, Kunek (24 points, 5 rebounds, 2 assists) was again a model of consistency, Planeta (17 points, 6 rebounds), Kuster (16 points) and Wilson (8 points, 8 assists, 5 rebounds) were all busy.
Southside Flyers 91 Adelaide Lightning 85
Adelaide unveiled new import Kathryn Westbeld and she made an immediate impact, scoring the first points of the game, finishing with 16 and 6 boards on debut.
But it was Southside's American – Russell – who was unstoppable at both ends with 24 points and 14 rebounds, Mitchell (21 points) proved a calm head down the stretch and had an answer for everything Adelaide conjured while Blicavs 20 points (11 in the opening term) and Cole 18 were lively.
Steph Talbot (25 points, 8 rebounds) was tough and almost dragged Adelaide over the line in the final term, Lauren Nicholson combined 13 points with 7 rebounds and 5 assists and Laura Hodges (4 points, 1 rebound, 1 steal in just under 10 minutes court time) received a warm welcome, returning for her first game in 2 years.