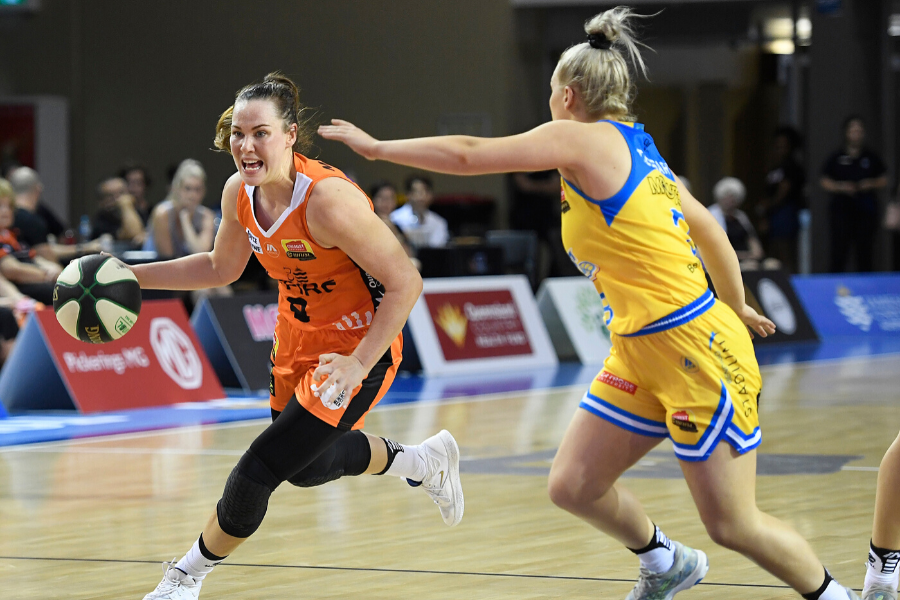 December 9, 2019 | WNBL news
There was a mix of excitement and relief for Townsville Fire who broke through for their second win of the #WNBL20 season on Sunday.
The Fire were too hot for Bendigo Spirit on Sunday, prevailing by 14 points, and they did it without their captain Micaela Cocks (shoulder) who sat on the sidelines for the first time in her 9-year league career.
Townsville was holding out for a hero and found one in Opal Darcee Garbin who amassed 27 points plus 7 boards.
"Relief. We're just trying to go after every win and get on a roll,'' a delighted Garbin said.
"Mic hasn't missed a game since under-16s so it was heartbreaking for her but everyone stepped up, I thought Julie (Vanloo) was amazing and Bridget (Carleton) as well.
"I've been a little inconsistent this season so it was nice. It's always good when you make your first couple of shots so you can get into some rhythm and get going."
Townsville now turn focus to the Flyers, in Melbourne on Friday night, before returning home to host the Flames.
"I think we owe it to Southside, we had a close one against them in Round 1 so it'll be nice to go down there. Hopefully we can get another win on our home court on Sunday against Sydney and string some wins together,'' Garbin said.
UC Capitals 91 d Bendigo Spirit 66
Ballarat hosted the game and Kia Nurse provided the entertainment as the UC Caps banked their sixth straight win.
Nurse stormed out of the blocks with 10 points in under 3 minutes and led her side from start to finish with a career-best 32 points, 70 per cent from the field.
And while the Spirit mounted several comebacks and even claimed the lead at one stage of the second term, the class of Kelsey Griffin (15 points, 12 rebounds), Marianna Tolo (16 and 8 rebounds) and Olivia Epoupa (11 points, 6 rebounds, 6 assists) was telling.
Tessa Lavey (17 points) and Shyla Heal (15 points, 5 rebounds) were Bendigo's best as Gabe Richards wound back the clock with 14 points and 6 boards.
Adelaide Lightning 79 d Perth Lynx 69
This mini final under Friday night lights saw the Lightning return to the winners list with a 10-point victory.
Star import Brianna Turner (24 points and 13 rebounds) continues to have an outstanding debut campaign, Lauren Nicholson (21 points) hit some big shots, Steph Talbot snatched 14 rebounds and captain Nicole Seekamp shook off an injury scare last round to score 14 points.
Katie-Rae Ebzery (18 points) and Ariel Atkins (15 points) led the way for the Lynx who were boosted by the return of towering centre Imani McGee-Stafford (14 points, 11 rebounds) who posted a double-double in her first game back from injury.
Southside Flyers 89 d Melbourne Boomers 82                                                         
The Michele Timms Cup is headed to Dandenong. After a few years residing at the State Basketball Centre, this prestigious trophy belongs to the Southside for now after the Flyers took the series 2-0 with a thrilling win over their arch rival.
This game between top-two sides lived up to its billing and had everything from a Flyers 20-point lead, jaw dropping Mercedes Russell blocks to a Maddie Garrick-inspired Melbourne comeback in the opening seconds of the third quarter.
Jenna O'Hea (22 points, 6 assists) was tremendous against her former side, leading the Flyers stat sheet which was filled by Leilani Mitchell (18 points, 6 rebounds, 4 assists), Sara Blicavs (17 points, 10 rebounds), Mercedes Russell (14 points, 9 rebounds) and Bec Cole (12 points, 5 assists).
For the Boomers, Co Captains Cayla George (19 points, 8 rebounds) and Maddie Garrick (18 points) led by example and imports Lindsay Allen (15 points, 8 assists, 4 rebounds) and Sophie Cunningham (11 points) were lively.
Sydney Uni Flames 81 d Adelaide Lightning 69
The Flames were sizing up a major WNBL scalp and claimed it in the form of top-four team Adelaide.
Coach Katrina Hibbert has been asking for a consistent four-quarter display from her team and that's what she got in front of a big crowd at Qudos Bank Arena and it was Colleen Planeta who dominated against her former side.
She sunk 28 points and grabbed 12 boards in an MVP performance with Alice Kunek (21 points) and Jessica Kuster (14 points and 6 rebounds) chiming in. Tahlia Tupaea was a welcome return for Sydney.
The victory puts the Flames (4-7) within just 1 win of the top 4 and the Lightning (5-5).
Turner (19 points, 7 rebounds) and Talbot (18 points, 7 rebounds, 4 assists) paced the visitors.
Townsville Fire 94 d Bendigo Spirit 80
A collective sigh of relief could be heard from Townsville Stadium on Sunday afternoon as the Fire claimed their second win.
In Cocks absence, Garbin stepped up to the plate leading her side both on floor and on the stat sheet. Carleton (18 points, 7 rebounds), Tess Madgen (17 points, 6 rebounds, 5 assists) and Valoo (15 points, 9 assists) were influential in Townsville's first victory in 6 weeks.
For Bendigo, young gun Demi Skinner scored a career-best 26 points.
Melbourne Boomers 72 d Perth Lynx 63
After playing the night before, the Boomers came from behind, at half and three-quarter time, to stun the Lynx.
Melbourne found itself behind with 5 minutes to play but shook off tired legs and fought back, then hit the lead off the back of massive plays from Garrick (17 points) Cunningham (15 points) and Allen (12 points).
With Adelaide going down to Sydney earlier in the day, the Lynx will be rueing a missed opportunity to claim a critical win to stay in touch with the play-offs race.
Alison Schwagmeyer-Belger (13 points, 6 rebounds), McGee-Stafford (11 points, 11 rebounds) and Maddie Allen (12 points) were key play makers for the Lynx who have now dropped to sixth spot with a 3-8 record.