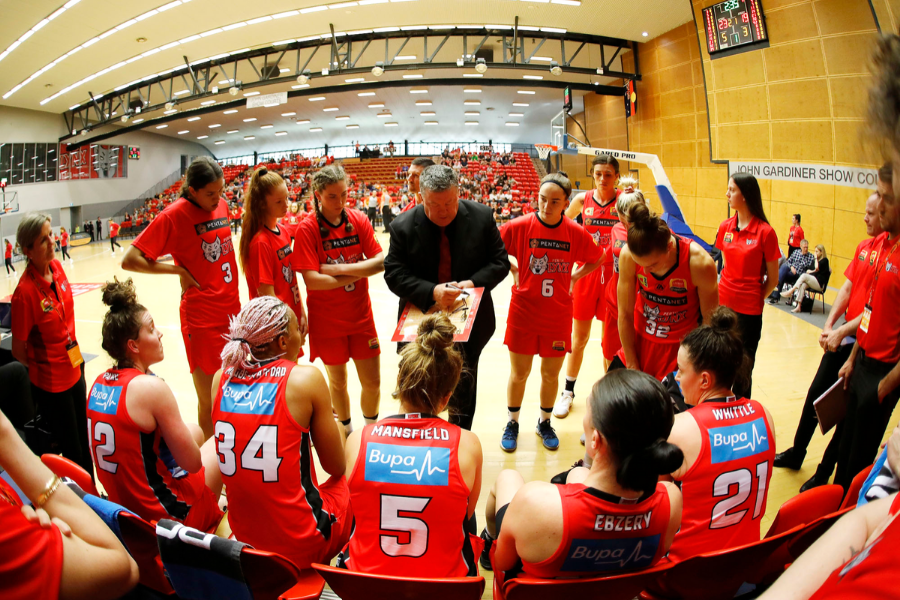 November 14, 2019 | WNBL news
While the Opals continue their journey towards Tokyo 2020 at this week's FIBA Pre-Olympic Qualifying Tournament in Malaysia*, the Chemist Warehouse WNBL takes a breather after 5 action-packed, high quality, exciting rounds.
Here, we conduct a temperature test on the league's 8 clubs as things continue to heat up in the 40th season anniversary of the WNBL.

HOT
Southside Flyers 6-1
Coach Cheryl Chambers couldn't have hoped for a better start to the Flyers inaugural WNBL campaign. A 6-0 run to tip off #WNBL20 was even more impressive considering 2 early-season stars in Jenna O'Hea and Leilani Mitchell didn't suit up in a practice match. These 2 plus import Mercedes Russell have been consistently good, while Bec Cole and Sara Blicavs have stepped up with game-winning performances over the last 3 rounds.
The only blemish, so far, a defeat to the Caps which marked 3 games in a gruelling 5 days.

SUNNY
UC Capitals 5-2
The Caps are back on track. 2-0 quickly became 2-2 after a horror Round 3 where the Caps were smacked by the Boomers and humbled by Sydney. A steadying win over the Flames came in Round 4 before a trip to Victoria netted an upset-win over the previously unbeaten Flyers and an emphatic response against Melbourne.
The triple K's – Kia Nurse, Kelsey Griffin and Keely Froling – have been integral. Marianna Tolo is coming into solid form and Olivia Epoupa is slowly but surely settling into her playmaking role.
Melbourne Boomers 4-2
This experienced group thumbed its nose at critics who predicted their tumble down the ladder in #WNBL20 with a strong 4-0 start.
Cayla George is enjoying career-best WNBL form and looks to be relishing the Co-Captaincy. Hard to believe Lindsay Allen is coming off no pre-season; she's already matching the numbers she produced in #WNBL19 and fellow import Sophie Cunningham has had a good couple of weeks, impressing coach Guy Molloy.
The Boomers lacked some spark in their first loss, to Southside, then couldn't fight off a determined Capitals. A tough Round 6 with away games against Adelaide and Bendigo will reveal plenty.
Adelaide Lightning 4-2
The Lightning's 4 wins have showed the league their good is seriously good. Adelaide's thrashing of Bendigo last start and overtime victory over the Lynx in Perth said plenty about last season's runner-up.
Brianna Turner leads the early MVP race off the back of her dominant displays, Steph Talbot is revitalised and enjoying her basketball on return to her home state and it shows. Nicole Seekamp continues to blossom as a leader and display why she's one of the best guards in the country. Setbacks, Adelaide's had a few. Crystal Langhorne (knee) has returned to the US and the Lightning has been without 4x Olympian Laura Hodges so far, but she will return from a calf strain after the bye.

SHOWERS CLEARING, MOSTLY FINE
Perth Lynx (2-4)
So, who broke the mirror, spotted the black cat and walked under a ladder in Perth?
Three overtime defeats in as many rounds? You can't make that stuff up.
The Lynx shook off the extra time curse last week with a confidence-boosting win over Sydney and have been paced by the stunning form of co-captain Katie-Rae Ebzery. Alison Schwagmeyer-Belger remains a force and Marena Whittle and Nadeen Payne have added plenty to Andy Stewart's line-up. The return of towering centre Imani McGee-Stafford will be a welcome one following the break and WNBA championship player Ariel Atkins now has 2 games under her belt and will only get bigger and better as the season rolls on.
Bendigo Spirit (2-5)
The Spirit are 1 of 3 sides who have failed to enjoy the ultimate rewards for their early-season performances. Victories over Perth Lynx and Adelaide Lightning are major highlights but Tracy York would have liked a win or two against the Boomers and Flyers who her team has now played, and fell to, twice.
Bendigo boasts the best-performing bench in the league with Abi Wehrung, Shyla Heal and Demi Skinner all fulfilling their roles and more. Carly Ernst has put up some good numbers but needs to find a happy medium of consistency, while the Spirit are a better side with Becca Tobin starting. Thankfully she is back on court after a nasty pre-Round 1 concussion.
Sydney Uni (2-5)
Under new coach Katrina Hibbert, Sydney has shown its best basketball is good enough against any opposition. The problem is the Flames haven't been able to produce it for long enough in games and only have 2 victories to show for it so far. Alice Kunek's start to the season cannot be faulted, Jessica Kuster has added plenty and Colleen Planeta has welcomed increased opportunity at her new club. The likes of Alex Wilson, Tahlia Tupea and Lauren Scherf have showed some great glimpses but need to do it more often in the next stretch of Sydney's season.

OVERCAST
Townsville Fire (1-6)
The Fire are so much better than their current season record indicates.
Their lone victory, in over time against Perth, showed guts and class but coach Shannon Seebohm will have rued a few missed opportunities in the early rounds, namely against the Boomers at home in Round 3.
Abby Bishop missed Round 1 with concussion but has been a revelation since making her debut for Townsville. A seasoned campaigner, Bishop is consistent and reliable. Opals squad members Darcee Garbin and Tess Madgen have been productive and Micaela Cocks is one of the best leaders in the league. New faces Julie Vanloo and Bridget Carleton have both had busy and quiet outings and the Fire will be an even better team once they are fully accustomed to their new team and league.
*Want to catch the Opals in the FIBA Pre-Olympic Qualifying Tournament in Malaysia? Visit the FIBA YouTube to stream all games live. Visit the Basketball Australia website for full fixture details.