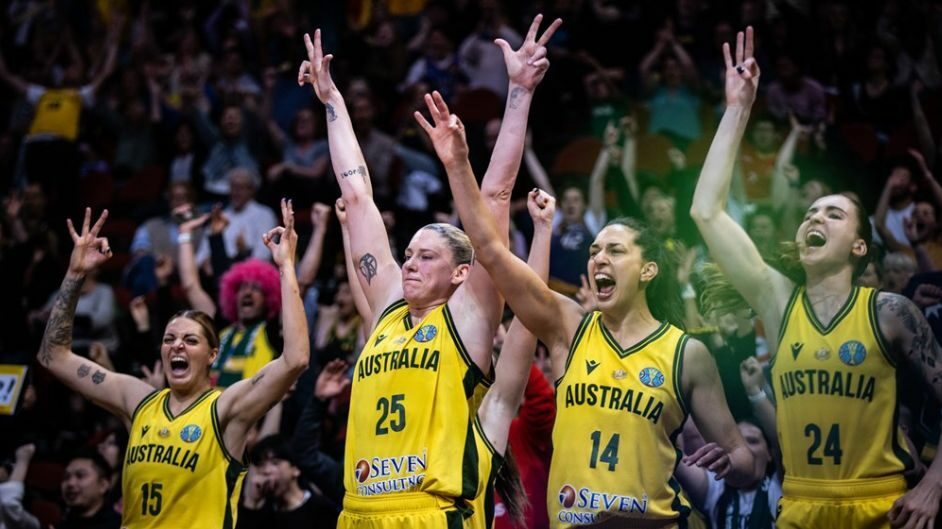 October 19, 2022 | WNBL news
By Ben Mallis | The Pick and Roll
The 2022 FIBA Women's Basketball World Cup ended last month with a predictable turn. Team USA came and won gold. Australia fell two points short of facing the Americans in the championship decider. While the Opals left following their semi-final defeat, they departed Sydney with a bronze medal, and with the Australian sporting consciousness focused on their every move. While it was inevitable that sporting aficionados from around the country followed these twelve women on their quest for gold, the impact of this tournament cut deeper than anything we have seen before with female sporting tournaments in Australia. Sydney became the melting pot for a booming women's basketball community to congregate, connect and thrive around the very best athletes in the world.
The World Cup only reinforced the commercial appeal for women's sport locally. It comes on the back of Cygnett —an Australian-owned and locally operated digital accessories brand— investing to become the major for the Opals and naming rights partner of the WNBL. Flash forward twelve months and Sam Kerr will be leading the Matildas during the first FIFA World Cup to ever hit Australian shores. At a micro level, these events signal platform the very best athletes in the world to a growing audience. That alone carries commercial benefit, but these events hit broader than just getting women participating in the sport.
These events support the ecosystem around the athletes just as much – think about the supporting administrators who got firsthand experience of a global event during the World Cup. Also, the media members and coaches who observed industry leaders up close for two weeks. The growing trend is that these events are not just about getting people playing the sport. The macro impact reverberates into the community.
One such example is Lauren Jackson. Jackson recently launched the She Hoops platform, whose mission is to empower women in basketball through visible pathways.  Jackson's impact is only amplified when the best basketballers on the planet are playing in Australia. While Jackson's on-court legacy was secured long before her comeback tour this year, the lasting impacts of a local World Cup will likely be felt for generations to come.
Dr Kasey Symons, a Research Fellow and co-founder of Siren: A Women in Sport Collective, gave voice to the long-lasting legacy of Australia hosting large scale events.
"I think they definitely have the potential to help change the narrative and leave legacies," said Dr Symons. "I think the term "legacy" is something we see attached to large scale global sporting events a lot. We see it with the Olympics and Commonwealth Games; what legacy do these events leave? And I think the Legacy '23 piece that Football Australia has been working on and the Organising Committee here in Australia and New Zealand is really strong and identifies areas around the game, as well as driving participation in the game."
Women's sport in Australia has been experiencing noteworthy gains over the past decade, so these landmark events are landing at the perfect possible time. 82% of Australian women participate in sport weekly, per a 2017 study from the Australian Sports Commission, titled, Ausplay focus: Women and girls participation. For girls under the age of 15, participation remains significant, with 62% participating weekly. It follows that women's professional sport in Australia is growing, both in raw numbers and popularity. At the 2016 Rio Summer Olympics, Australia had more women competing than men for the first time ever. Women won six of Australia's eight gold medals in 2016, before claiming 10 of 17 five years later in Tokyo.
While the WNBL has been operating since 1981 —which makes it Australia's longest-running elite women's sporting competition— other sports have historically been lacking a professional equivalent for women. That wheel is turning too. Australian women's national sport leagues are now establishing themselves. The past decade has seen AFLW (Australian rules football), WBBL (cricket), NRLW (National Rugby League) and W-League (football) leagues spring into action. Growth offers greater opportunities for coverage, media engagement and in time, dollars for the industry at large, and all while supporting some of the best athletes in the world.
Cygnett CEO, Paul Santoro, explained these as key reasons behind his company's landmark deal with Basketball Australia and the WNBL. "With the Opals and WNBL, they are one of the best [sporting leagues] in the world," explained  Santoro to The Pick and Roll. "We're a global company and basketball is a globally recognised sport. This is an opportunity to help improve women's sport and give back."
Women's sporting events have demonstrated their mass market appeal, and thus monetary potential, on multiple occasions, per data released in a 2021 Deloitte publication titled Women's sports gets down to business: On track for rising monetization. The same report found that 66% of people were interested in at least one women's sport, with this number jumping to 84% amongst sports fans. Data published by Deloitte mirrors that of a recently completed study from The Fan Project, a North American based study backed by Sports Innovation Lab. In a study based on more than 10 million data points collected from fan-supplied social data files (Facebook and Twitter, from women and men), The Fan Project unlocks the financial merit behind investment into women's sports:
"The balance of power is clearly shifting. The pipeline of talent for women's professional sports is growing at six times the rate of the men's pipeline. NCAA data, collected since the early 1980's on participation rates of men and women in college sports, shows that women's participation has been experiencing exponential growth. This growth is not slowing. Gen Z is now commanding the social spaces, and current NCAA women athletes often drive more and deeper engagement with their fans."
The above comment, albeit in a North American context around NCAA athletes, carries equal sentiment inside the Australia economy. Women's sports is ripe for greater monetisation. Relative to established brands, women's sports sponsorships offer greater value, while also appealing to female customers as a signal of societal change. Women have significant buying power, and sponsorships can help a wider audience develop their fondness for brands.
The impact of leading global events like the FIBA Women's Basketball World Cup carries extra meaning when backed by data. Studies like those from Deloitte and The Fan Project are helping commerce better understand the different audiences accessing women's sport. With greater data comes greater ability to target corporate spend from brands that align to the audience. More research into audiences around these sports will unlock greater crystallisation of the untapped markets that have been overlooked historically. With global events hitting Australian shores, different audiences are starting to reveal themselves.
"We have a huge audience to reach and I think that's a really important piece," explained Dr Symons. "When I talk about getting more people in these spaces, yes, I think it is the "nice thing to do" and I think it's the "right thing to do." There is this fear that it's just an altruistic thing and that it's not going to drive revenue, but I think that is also fundamentally flawed.  If you're bringing more people into sport, you're reaching much more audience. There's a market share out there that is completely untapped."
Technology has created direct access between athletes and their fans. It also narrows the gap for content creators. Just look at Her Way Magazine; run by a teenager who is producing more (and better) content about women's sports than all the mainstream media companies combined. Her Way leverages the accessibility of female athletes to seize market share and produce content that is cutting through. This one example is systematic. Fans of women's sport in Australia have been forced to leverage leading technologies to access the sport more than fans of the male equivalent. Free-to-air television coverage has always slanted male, as does mainstream media coverage at large.
Dr Symons, in conjunction with her research team at Swinburne University, tracked media coverage from mainstream media online platforms in 2020 when the COVID-19 pandemic first broke out. The results of their study confirmed that women's media coverage stayed at around 10% of the total, despite a lack of various influencing factors from competing sports to minimal sport advertising. Despite the perceived increase in diversity of media coverage around women's sport, some due to the advent of technology that has enabled easier content creation, men's sports continue to dominate. Long-term systemic change needs to happen.
"Traditionally, women's media coverage has hovered around 10% of [total media] coverage," says Dr Symons. "Sometimes there are some peaks and troughs but usually, it stays around that level. And it hasn't changed out, even though, what we think we might be experiencing at the moment.
"I would attribute this research to Dr. Fiona McLachlan, who's done a lot of research in looking at these particular peaks and troughs, and these progress narratives that we see in women's sport. We are probably the bit of a boom period, as she calls it, in that we're seeing a lot of coverage that we might not have thought we've seen before. We see more people and more voices in the media covering women's sport, some more diverse coverage, and a lot more platforms emerging. Side platforms to mainstream media, and also independent platforms, are popping up because technology is making things a little more easier to produce more content. So that stuff is great. But what we're also seeing is that's not counteracting the coverage that is mostly dominated by men's sports. All of these factors are still occurring in the men's sports space, too. So if you still average that all out, it's still sitting around that 10% mark."
While mainstream media circles are yet to fully grasp the power of women's sport, the gap is being filled with innovative media organisations. The WNBL partnered with The Pick and Roll, an independent Australian-owned media organisation, to amplify coverage of the women's national pro basketball league. The government run ABC recently implemented the 50:50 The Equality Project, as it attempts to bring greater balance to coverage of men and women. Siren: A Women in Sport Collective is a key contributor to the ABC's efforts. The Next is an independent digital newsroom —led by founder Howard Megdal— devoted to growing women's basketball coverage. These independent environments are creating spaces for people who have previously felt ignored and excluded when it comes to consuming their fandom of professional sports. While frustrating for those wanting to easily consume the product, the need for independence and technological competence is developing a more savvy customer base. Again, The Fan Project, summarises this perfectly:
"If Fans of Women's Sports wanted to watch their favorited teams or athletes, they were forced to go online. If they wanted to buy merchandise, they had to go through ecommerce channels. They began establishing connections with athletes directly via social media and other digital communities, because those athletes made themselves accessible on those channels. That means, while the industry was debating whether demand for women's sports existed and continued to use outdated metrics to evaluate them, money was being left on the table — as much as 5 years worth of revenue."
Information extracted from research validates that fans have a new relationship with athletes facilitated by technology. Women's sports are ideally positioned to monetise against this new business model. Historically, the leading narrative has been the "need" to invest in women's sport. As Dr Symons explains, that is the right thing to do, but noble motives aren't a sustainable business model for growth. Real life data that proves return on investment is scalable. With the wider industry around women's sport growing, commerce can now be looking at "how" to invest in women's sport to amplify the impact. Increased investment from leading Australian brands like Cygnett reinforces the upwards trend within the sport, with brands now targeting women's sport to alignment their brand.
"Just from a business point of view," Santoro says, "Being an Australian business that's global, you have to work hard to punch above your weight and compete in other countries that you're not located in.
"I certainly see that with Australian sport. We're very successful as Australians in a range of sports to push the limits and win on the global stage. So I think there's a huge alignment there. I think women's sport is similar to [Cygnett]. We're quite humble about what we do. The men's sport scream from the top of the buildings with how good they are. We don't have an ego and I feel as though the women's basketball and women's sport doesn't get the profile they should. They just get on and do the job as we do it at Cygnett."
Women's sports remain the startup segment of a larger sporting ecosystem. Much work is still required, with closing the mainstream media gap fundamental to balancing out commercialisation endeavours across genders, but growth is continuing to reveal itself around the industry. Opportunities are revealing themselves to corporate businesses, with resources getting to the world class athletes who deserve them.