WNBL in Gippsland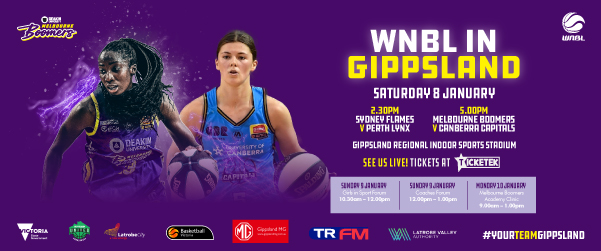 The WNBL is coming to Gippsland in a 3-day extravaganza!
Whether you're a basketball lover, someone who plays, watches or participates in sport, or just enjoys a great day out with the family, the WNBL in Gippsland, held at the Gippsland Regional Indoor Sports Centre, has something for everyone.
WNBL DOUBLE HEADER
Saturday 8 January 2022
Get along and see world-class basketball, and some of the best basketballers in the world.
2.30pm Sydney v Perth
5.00pm Melbourne v Canberra
Get your tickets HERE.
SPORTS FORUMS
Sunday 9 January 2022
Join one of these FREE Forums and hear from some of the best in the business.
GIRLS IN SPORT FORUM
Hear from Gippslands own Jade Melbourne, along with Boomers and Opals stars Ezi Magbegor, Cayla George and Tess Madgen. These ladies have incredible stories to share, and will be happy to answer questions. This forum is not just for basketballers, but for any girls who might like to hear from some inspiring women.
Register for this FREE event HERE.
COACHES FORM
Deakin Melbourne Boomers and New Zealand Tall Ferns Head Coach Guy Molloy leads this Coaches Forum. Guy is one of the most experienced and respected coaches in Australia – you won't want to miss this.
Register for this FREE event HERE.
BOOMERS ACADEMY CLINIC
Monday 10 January 2022
Are you a boy or girl aged 6 – 16 years, love basketball, want to improve your game and be inspired by some of the best female athletes in the country?
Then join us at the Boomers Academy in Gippsland on Monday 10 January, and be your best.
You'll be coached by Deakin Melbourne Boomer and Australian Opals star Tess Madgen, plus other members of the Boomers team.
Develop your skills and have fun in a safe and encouraging environment.
$80 non-members
$72 members
Secure your spot HERE.
We can't wait to see you at one of the WNBL in Gippsland events.
#YourTeamGippsland  #BringTheBoom